Record heat will make for a very toasty week in the eastern US well ahead of the first day of summer, with more than 80 record warm temperatures expected.
High temperatures in many cities in the Southeast will be above 90 degrees this week, with little relief from the heat until at least this weekend, when temps will drop.
The Northeast will see dramatic temperature swings, starting cooler than normal early in the week, with a warmup slated for the middle of the week.
This comes after a weekend of heat. In Newark, New Jersey, the temperature reached 96 degrees on Saturday, which was over 20 degrees warmer than normal. Washington, DC at Dulles tied its record high Sunday at 92 degrees. Atlanta hit 90 degrees for the first time this year on Sunday, about a week ahead of schedule.
Dominant Southeast heat
A strong area of high pressure will be centered over the Southeast and will remain rather stagnant across the region this week. This high pressure will essentially keep the Southeast hot and dry.
Temperatures will generally be five to ten degrees above average this entire week in the southeastern US, which translates to temperatures in the low to mid 90s.
A couple record highs may be tied or broken on Monday, including in Nashville. More records may be set on Tuesday, with Atlanta and Birmingham at risk for surpassing previous high temps with this intense heat.
Thursday and Friday will likely be the hottest days of the week, with some inland locations in Georgia and the Carolinas hitting 100 degrees. Additional record highs will remain possible, with Savannah, Augusta, Atlanta and Montgomery expected to have temperatures near the daily record high.
Air quality alerts are in place for several metro areas, including Atlanta, Birmingham, Nashville, Knoxville in Tennessee and Greenville and Columbia in South Carolina.
The good news with this heat is it won't be terribly humid. It will still feel a little moist outside, but this will not be an oppressive, sticky heat situation that you would expect in summer.
Record highs in the far north
The Northeast and Midwest will contend with record heat as well, although on different schedules.
Temperatures early week will be up to 15 degrees above average in the Midwest while in the Mid-Atlantic, it will be up to 10 degrees below average to start the week. High temps that are below average for this time of year in this part of the country won't necessarily mean it will be chilly. Temperatures will just be cooler – in the 60s and 70s after the weekend's stifling heat.
Low temperatures in the Midwest will be record warm Tuesday morning, in the mid-to-upper 60s. Those records will shift toward the Northeast for Wednesday and Thursday mornings.
By Wednesday, warm weather will return to the Mid-Atlantic and Northeast. Not only will temperatures take up to a 30-degree temperature shift compared to Monday, but widespread record heat is possible. Highs will be in the 90s as far north as New Hampshire, representing as much as a 20-degree uptick compared to the typical temperature for this time of the year.
"Wednesday still appears that it will be the hottest day of the week… Highs will remain in the 90s on Thursday and remain near 90 in most locations on Friday," says the National Weather Service (NWS) in New York.
More than a dozen records could be broken, including in New York City and Philadelphia. Central Park in New York has yet to hit 90 degrees this year, so that could happen this week and ahead of the typical first 90 degree day, June 3.
Storm threat lingers for rain-soaked regions
Around this area of heat, heavy rain and storms are expected.
There's a risk for storms Monday in the central US as well as the Mid-Atlantic. A level 2 out of 5 'slight' risk of severe weather is in place for the Texas Panhandle and extending north through central Nebraska.
The main threats will be damaging winds and large hail. "Golf ball hail and wind gusts to 60-70 mph will be possible," says the NWS office in Amarillo.
The same high pressure bringing heat to the East will also be driving these storms. The arrival of the high pressure system is creating a southerly wind direction, resulting in moisture from the Gulf of Mexico being pulled into the central US. This will feed the atmosphere and help the thunderstorm potential.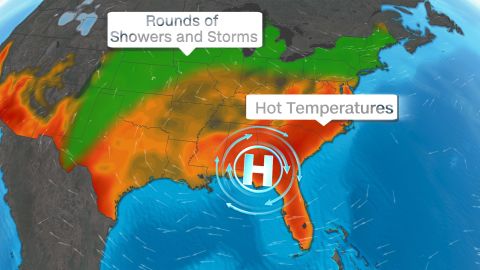 This is the same region that has been drenched for the past week and any additional rainfall could be dangerous, especially for southeast Texas.
The possibility of flooding will also extend to areas much farther north. Even portions of Kansas and Nebraska could see flooding. "The threat for locally heavy rainfall and thus flash flooding can`t be ruled out and should be monitored," says the NWS office in Goodland, KS.
There's also a possibility of a few storms across the Mid-Atlantic on Monday as well. A back-door cold front, or a cold front that travels from the east vs the west, will create the possibility of a few showers and storms in the region.
The bigger story is the resulting contrast in temperatures for this area. After DC's 92-degree day, the high will only be 70 on Monday and most likely falling throughout the day.
The temperature roller coaster will continue as highs will be back around 80 and climbing as early as Tuesday.
Heat comes to an end this weekend
Temperatures will cool from north to south beginning Thursday. Highs will be 10 to 15 degrees below normal in the northern Plains and Upper Midwest on Thursday. The magnitude of this cool air will lessen as it tracks south, so by this weekend temperatures will be 5 to 10 degrees below normal across the Midwest and Northeast.
The Southeast will fall to near-average by Sunday: "Temperatures will remain around 10 to 15 degrees above normal for the week, but start [to] approach more normal values for the weekend as the cloud cover and chances for rain increase," says the NWS in Atlanta.