Human contact is back – modified for the pandemic, of course. And while you may not be rushing back into shaking hands or doling out high fives, there's likely one show of affection you've been craving: hugs!
Yep, we can hug each other again. Next week, UK officials will give residents the green light to resume "cautious hugging." It's curious guidance for Brits, who are famously reserved, but it's a milestone that benefits both fully vaccinated and unvaccinated people who've missed physical touch during the Covid-19 pandemic.
What exactly constitutes "cautious hugging," and who needs to exercise caution, is less clear. While the US Centers for Disease Control and Prevention has not released guidance on hugging yet, we asked two physicians in the US who've followed Covid-19 since the beginning – CNN medical analyst Dr. Leana Wen and Vanderbilt University infectious diseases professor Dr. William Schaffner – about what a safe snuggle looks like.
"If an unvaccinated person wants to hug someone else, I think they should wear a mask," Schaffner said. "And make it brief."
If you're fully vaccinated, though, you have even fewer guidelines when it comes to contact. Here's how the experts say you can keep yourself safe while embracing.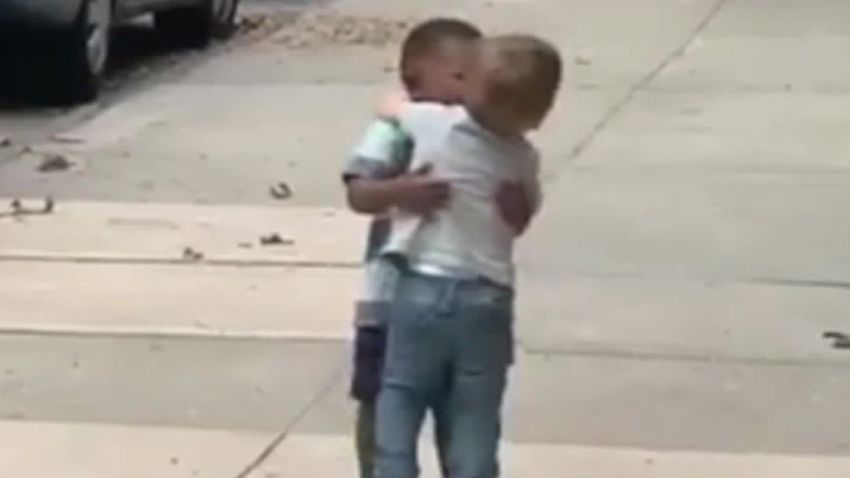 Internet falls in love with these two toddlers hugging
What a 'cautious hug' looks like
A cautious hug is one that's outdoors, without face-to-face contact, that doesn't last very long, the physicians said. Anyone who's unvaccinated should use caution when hugging someone else, and they should wear a mask while doing it.
Kids who aren't eligible for the vaccine yet (and are short enough) can hug their vaccinated loved ones around the waist, though they should skip the slobbery kisses. Keeping their face away from the face of the person they're hugging is key here, Schaffner said.
Unvaccinated teens probably won't want to crouch down to hug anyone, so they should keep a mask on while they hug and tilt their face away from the person they're hugging, he added.
Vaccinated people can hug with less caution, the doctors say
Vaccinated people who've missed physical touch are in luck: They can hug each other with abandon, both experts said.
"Fully vaccinated people can hug one another without restriction, including indoors, without masks," said Wen, who's also a visiting professor of health policy and management at the George Washington University Milken Institute School of Public Health.
That goes for all vaccinated people, too. You can hug your vaccinated parents and grandparents for as long as you'd like, but you can also hug an acquaintance or a new romantic partner, as long as you know they're fully vaccinated – which means it's been two weeks since their second shot (or only shot, if they got the Johnson & Johnson) – she said.
Fully vaccinated people can also enjoy extended periods of physical contact, Schaffner said: "I think two vaccinated people can sit on a couch together, shoulder to shoulder, enjoying a bowl of popcorn and being fond and affectionate together."
Whoa.
That was unthinkable even a few months ago.
And that's just one perk of vaccination, Wen said.
You've followed social distancing guidelines for the last year, you've worn your mask and stayed away from loved ones outside of your household. Now that you're fully vaccinated, you can resume hugging and sharing snacks with the people you care about.
The exception here is if you want to hug an immunocompromised person or someone who may not receive the full immunization benefits of the Covid-19 vaccine. You should follow the cautious hugging guidelines when giving them a squeeze, Wen and Schaffner said.
And if you're not ready to hug anyone yet, that's OK, too. Cuddling up to someone you love was unthinkable even a few months ago, and it's a dramatic change from the way we've been living since March 2020. Take post-vaccine life at your own speed, Wen said.
So, if you're comfortable, bring on the bear hugs, the awkward don't-know-if-we-should-hug hugs, the hugs that start with a sprint into each other's arms, as long as you do so with care and safety in mind. If you've done your part to stay safe, you've earned it.