Warm weather is upon us meaning it's finally time to plan those long-awaited summer getaways. With the pandemic still looming in the US, there remains uncertainty around significant air travel and staying at big resorts and hotels.For some, camping might seem like a great alternative to significant travel, but becoming "one with nature" isn't everyone's cup of tea. So how can you have a fun summer vacation without compromising on comfort and safety? Cue RVshare, and the ever-popular "glamping" experience.
While some renters use their rental to plan an extended road trip, others may rent to upgrade from a typical weekend of camping to a more comfortable "glamping" option, which is basically just camping with the bonus of amenities. Who could say no to having a bed, a bar and even a refrigerator at arm's reach while nestled deep in the woods or while parked along a beautiful ocean lookout? No matter what you have in mind this summer, RVshare has exactly what you need to make your trip plans a reality. They even offer ideas for where your next adventure could take you with a dedicated section for travel inspiration, which includes inspiring guides like these:
As reported by CNN in June 2020, some "46 million Americans plan to take an RV trip in the next 12 months, according to findings from the market researcher Ipsos." And there are no signs of this trend slowing down in 2022 and beyond.
RV rentals are there for those who still want to get outdoors without compromising on the comforts associated with a typical lodging experience. You may find, however, that the standard RV rental services are either sold out, have limited options or just aren't very cost-effective. That's where RVshare comes in. It offers a vast selection of RVs from owners across the country who rent to you in your area. You can read more on how to find the perfect rental here.
The RVshare site has a handy guide to help you decide which vehicle or trailer is right for you based on your needs, distance traveled, type of vehicle you have and more. You can filter results by the equipment in the RV or trailer (such as kitchen appliances and entertainment tech) and whether the owner allows pets.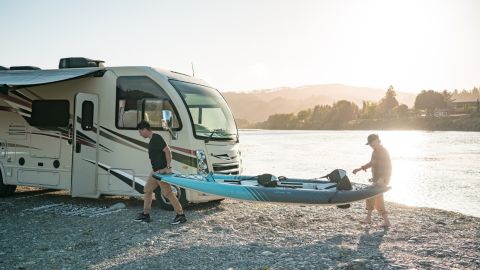 For rentals that are marked as "offers delivery," you can opt to have your RV delivered to a destination. RVshare expects this to be a popular option in 2022, particularly as gas prices are on the rise. You can finally get that glamping getaway weekend planned with your besties without being stressed about actually transporting the RV (or assembling a tent). Book the rental, opt for delivery and meet the RV there! One in five RV renters had their RVs delivered last year, whether to a destination or to their road trip starting point.
Between the variety of RVs available, convenient bonus services like delivery, and affordable prices, RVshare and its owners maintain a pretty impressive track record, with 93% of RV owners on RVshare receiving 5-star reviews from renters.
Versatile. Flexible. Safe. And don't forget fun. These are the key ingredients to a successful summer vacation these days. Whether you want a new cross-country adventure, or a more comfortable outdoor camping experience with your besties, RVshare is a great option to get you out there.
Happy RVing!