As India continues to grapple with an unrelenting second wave of Covid-19, some neighboring countries in South Asia are seeing their own surges in case numbers, prompting border closures and travel bans.
India is now reporting approximately 1 million new coronavirus cases every three days, with the daily death toll exceeding 3,293 on Wednesday, according to data from the Indian Ministry of Health.
The outbreak has pushed the country's healthcare system to near breaking point. With no space left in hospitals, patients are being left to die at home, in ambulances and outside clinics. Even those who are given a bed remain in danger, with hospitals running out of oxygen and asking patients' families to bring their own.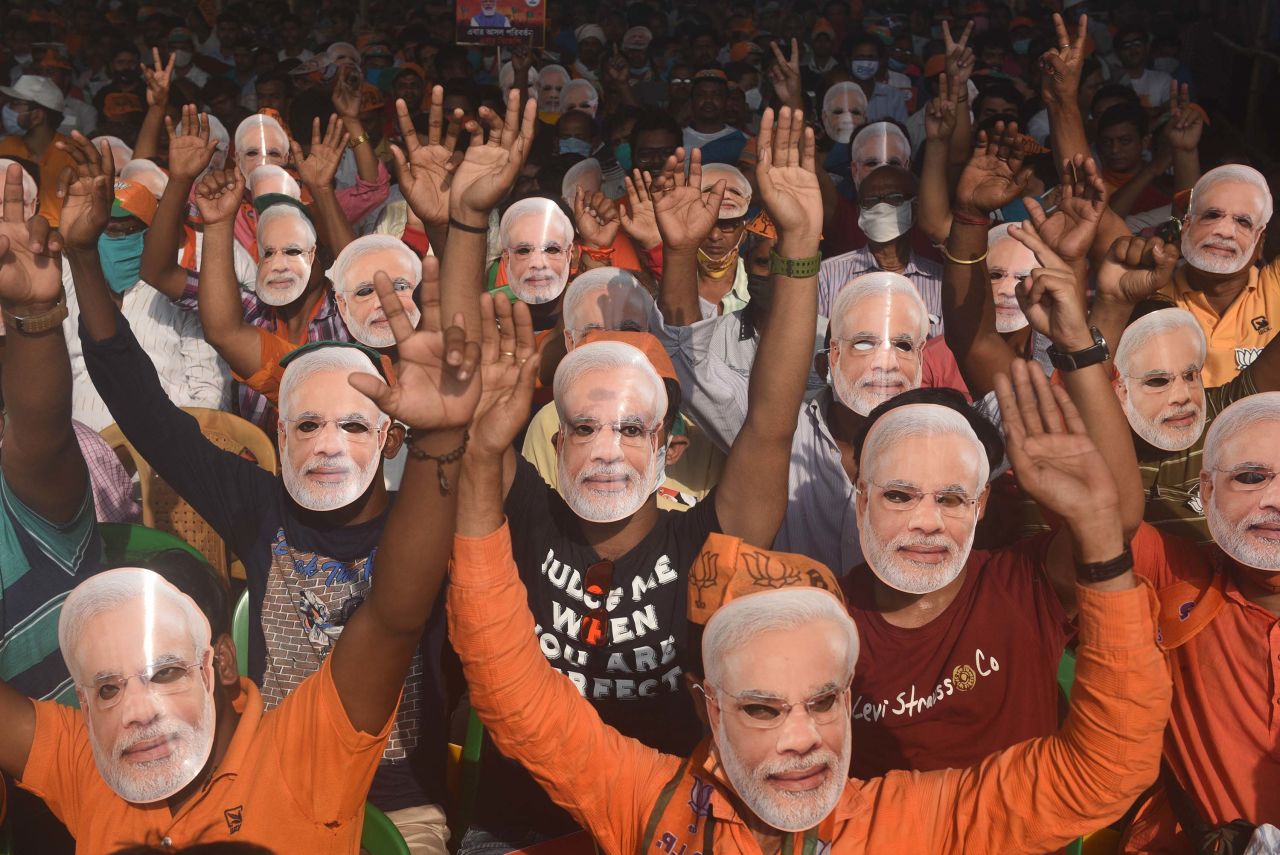 India's Covid-19 crisis, in pictures
In the city of Surat in Gujarat state, nearly 150 people are being turned away from hospitals every day, said Dr. Hiral Shah, president of the state-level Indian Medical Association.
"Our hospitals are overwhelmed with our own population and we are running low on oxygen so we are not able to admit those coming in from surrounding areas," he said. "The supply (of oxygen) is uncertain, hospitals don't know what will happen today or tomorrow.
With desperate scenes like those in Gujarat unfolding across India, neighboring countries have reason to be nervous. India's second wave emerged alongside a new local variant identified in late March, which has since been detected in numerous countries around the world including Italy, Switzerland and the United Kingdom.
Scientists are still conducting genomic sequencing on the Indian variant, and no formal data has been published, meaning it remains unknown exactly how contagious the variant is, or what additional risks it might pose.
But given the speed and severity with which the second wave has devastated India, countries are taking no chances, with many implementing travel bans and suspending flights from India.
In an address Saturday, Iranian President Hassan Rouhani warned that should the Indian variant arrive in Iran, the country "will have a big problem."
India shares land borders with Pakistan, Nepal, Myanmar, Bhutan and Bangladesh. Some of these borders are porous, with residents crossing back and forth every day.
Several of these countries are grappling with their own surges in case numbers, despite closing borders and imposing restrictions. Nepal, which has identified cases of the Indian variant, has limited health care infrastructure and access to life-saving resources, raising fears it is ill-equipped to deal with a massive outbreak like the one ravaging India.
Pakistan, Nepal and Bangladesh
Nepal, which borders India's northeast, had seen case numbers begin to fall in February, with newly identified cases hovering between 50 to 100 each day. But infections erupted in mid-April as India's second wave picked up speed – and daily cases are now in the thousands.
The outbreak is so far centered in the capital Kathmandu, and the border city of Nepalgunj in Lumbini Province.
The rise in cases is partly due to Nepalis returning from India, said Dr. Krishna Prasad Poudel, director of the country's Epidemiology and Disease Control Division. Several variants, including the ones first detected in India and the United Kingdom, have been detected in Nepali patients. Other contributing factors could be the open markets, crowded public spaces, and festivals where people celebrated without maintaining public health precautions, he added.
In an effort to curb the spread of the disease, the government has imposed local lockdowns in a number of cities that go into effect on Thursday, and will last for 15 days.
But hospitals are already feeling the strain. Bheri Hospital, located in the hotspot city Nepalgunj, is seeing patients fill up hospital beds while oxygen supplies are depleting.
"Now the hospital beds are full, this is the beginning of another wave," said Dr. Sher Bahadur Pun of the Sukraraj Tropical and Infectious Disease Hospital in Kathmandu.
Bangladesh, to the east of India, also saw its cases start to surge in March, reaching a peak in early April that far exceeded all previous waves. But cases have since fallen, with authorities imposing a strict lockdown and suspending air travel.
On Monday, the country sealed its border with India for two weeks, though trade will continue.
Oxygen supplies are also running low in Pakistan, which borders India to the west. Cases there began creeping up in early March, accelerating toward the end of the month in tandem with India's outbreak.
The country reported 201 deaths on Wednesday – its highest single-day Covid death toll yet. More than 88,000 cases are still active.
The country's ministry of health confirmed that it has not yet identified a case of the Indian variant. All types of travel from India have been banned since April 19.
In a televised address last week, the head of the National Command and Control Center on coronavirus warned that the country had used up 90% of its oxygen supply and was facing an "emergency" situation.
In response, the government called in the military to help enforce Covid-19 guidelines, and imposed a number of new restrictions including closing outdoor dining, gyms, and schools through grade 12. The country is also banning all tourism and inter-provincial travel during the Eid holidays in May, one of the most important festivals of the Islamic calendar.
But Prime Minister Imran Khan has been wary of lockdowns, saying he wants to avoid ordering one "to save the livelihoods of the poorest in the country" in a televised address last week. However, he warned, if people didn't follow the Covid safety guidelines, he might be left with "no other option."