Editor's Note: Marc Polymeropoulos retired in 2019 after serving for 26 years at the CIA in operational and management assignments covering the Near East, South Asia, and Counterterrorism. The opinions expressed in this commentary are his own. View more opinion on CNN.
"If you don't heal what hurts you, you'll bleed on the people who didn't cut you." I heard my friend Matt Domyancic, a former Northern Virginia area police SWAT team member who now counsels first responders on mental health and wellness, say the quote on an episode of the Leaderist podcast in January. Hearing such sentiment inspired me to diligently push to obtain treatment at the Walter Reed National Military Medical Center's National Intrepid Center of Excellence (NICoE), one of the world's leading centers for traumatic brain injury (TBI).
After suffering from a mysterious health event during a trip to Russia in December 2017, I had endured three years of constant headaches that ultimately caused my retirement from the CIA. More importantly, my life as a husband and a father suffered, as I was dealing with incessant chronic pain –the severity of which I hid from most of my friends and acquaintances – which caused me mounting physical and emotional distress.
Thanks to a study by the National Academy of Sciences, it was determined that what other US officials who have reported similar symptoms experienced was likely an attack from a microwave weapon. But that was not initially a settled question, and the CIA, where I spent 26 years as a case officer, did not agree that I had been injured on the job. (In a statement to CNN in February, a spokesman said that the "CIA is working alongside other government agencies to double down on our efforts to find answers regarding the unexplained global health incidents that have impacted personnel. The Agency's top priority has been and continues to be the well-being of all of our officers.")
So in October 2020, I first went public to plead for my own medical care, which later in 2021 also included an appearance on CNN. This was something unheard of for a highly decorated veteran of clandestine operations at CIA, and sadly this turned some of my former colleagues against me. Yet I had no other choice as the organization that I loved had broken the key pact that we all believed protected us: sign up for the hardest of assignments, with the knowledge that the agency would have your back if you got jammed up and needed any type of medical assistance.
Amid public scrutiny and pressure, the CIA ultimately agreed to send me to Walter Reed in January. My physical scars of this silent wound on my brain were also matched with the emotional wound of feeling betrayed by those who did not believe what occurred and who rejected proper medical care for me. I arrived at Walter Reed pretty broken, but left one month later with the one attribute that had eluded me for three years: hope.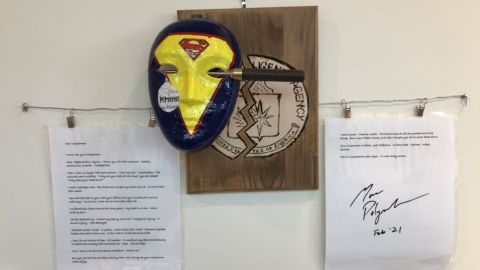 The TBI program teaches you early on that you are not alone. The 18 specialists I saw over a one-month intensive outpatient program provided an integrated system of care that is simply impossible to find outside this unique gem housed on a US Navy facility in Bethesda, Maryland. My group included several members of the US special operations community, who have been battered by nearly two decades of constant war. The camaraderie of our cohort was both inspiring to me and also sobering for the sacrifices of others who I consider to be American heroes.
All the disciplines of medicine were applied, including reviews of imaging, blood work, sleep, biofeedback, audiology, psychiatry and optometry. But what was most useful for me was the softer side of healing that is science based and proven to be effective in treating TBI.
A mask therapy program at the NICoE, in which TBI victims are encouraged by trained art therapists to express themselves by creating masks, helped me tremendously.
I put a great deal of thought and time into my mask – a Superman-inspired one – and wrote an accompanying poem. Both signified what my family thought of me for so long. A once invincible case officer on the tip of the spear for the US government, who served bravely and with distinction in Iraq and Afghanistan and other places I cannot name.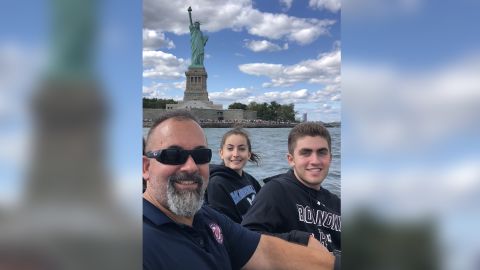 The mask was attached to a wooden plaque, with the background of the CIA seal cracked in half. It symbolized how I later had to fight some in the organization in order to obtain proper medical care. An ice pick is drilled through the mask as well, showing the headaches I still suffer from 24/7. Making this mask was a deeply cathartic experience for me, which – along with talking to the resident chaplain and other talented mental health professionals – has helped me begin to heal from the moral injury that I suffered. My kids recently sent me a text that stated "Dad, you are still our superman." I bawled like a baby.
Along the same lines, learning meditation and deep breathing techniques has been as useful as trying new types of medication for my headaches. The anxiety that gripped, and at times paralyzed, me when I decided to go public— which caused me to be treated as a pariah by some at the agency—has diminished as I learned Eastern practices that have been proven to ease the suffering of TBI patients.
Meditation has also been a useful pain management technique. I am quite confident that those that worked with and for me over the years would never imagine me sitting daily in a zero gravity chair, meditating and using biofeedback techniques to regulate my breath and heart rates. But I do it as part of my daily routine now, and it works damn well.
Sleep is a prime component of the NICoE program because a large percentage of TBI victims suffer from sleep apnea. My severe sleep apnea was having a detrimental effect on my overall health. The use of a Continuous Positive Airway Pressure (CPAP) machine, while not relieving my headaches completely, remains a key component of my ongoing recovery. I am more refreshed and alert than I've ever been in the last three years.
Physical therapy also has been important, as the nerve damage in the occipital region of my head has caused radiating pain in my neck and back. The specialists there were caring yet tough, and I have a daily exercise routine that will be critical for my future recovery over the months and perhaps years ahead. My self-care may take hours each day just to deal with the pain. But that is my reality, and I accept it.
Get our free weekly newsletter
Sign up for CNN Opinion's new newsletter.
In mid-February, I received a formal diagnosis from the Walter Reed medical team of mild TBI, along with insomnia, sleep apnea and anxiety. This diagnosis was a watershed moment for me, given the long struggles I had faced in asking for proper medical care. I wept when I received the diagnosis. The NICoE TBI program at Walter Reed is a national treasure. The US military deserves enormous credit for creating this center to treat its most precious commodity, its people.
With the upcoming Senate vote to confirm William Burns as the next CIA director, it is worth a reminder that both the CIA and the Department of State must send victims of likely microwave attacks to Walter Reed without delay. There can no longer be a debate on the issue of care. Bureaucratic hurdles that have blocked so many from receiving treatment must be eliminated. Robust funding from Congress must be secured so that Walter Reed can receive additional US diplomats and intelligence officers from the civilian agencies who require treatment. Those waiting in line must be seen as soon as possible, as any delay in care for TBI can have a deleterious effect on future recovery.
As this issue has now risen to a proper place in public and classified national security discussions in 2021, I am hopeful that the Biden administration and proper oversight in Congress, all together will allow for mandatory progress on the medical recovery front. Quite simply, America owes it to those that stood up and said "send me," and who now need critical care.