Tornadoes are possible every day for the next four days across the central US. It is a sure sign that severe weather season is kicking into high gear.
"March generally begins the steep climb toward the peak of tornado season in the US, which peaks in May," says CNN meteorologist Brandon Miller. "The warmer the early Spring temperatures climb, the more tornadoes become a likelihood."
Considering how warm this week has been across much of the eastern 2/3 of the country, it is no surprise that the severe weather will follow.
"Many times the first few severe weather events of the season can catch people off-guard," says CNN meteorologist Taylor Ward. "It's important to stay vigilant as severe weather season ramps up in the coming days."
Tornado Threat
The possibility of severe weather will ramp up as we head into the weekend. A cold front will stall across the midsection of the country and provide unsettled weather for several days, which will lead to a favorable environment for tornado development. Much of Nebraska, Kansas, Oklahoma and Central Texas will need to watch out for severe storms Friday and Saturday. But Sunday, the storms push east into Arkansas, Missouri and Iowa.
See if your area could see severe weather
The Storm Prediction Center has highlighted the risk of severe weather for these regions each day through Sunday.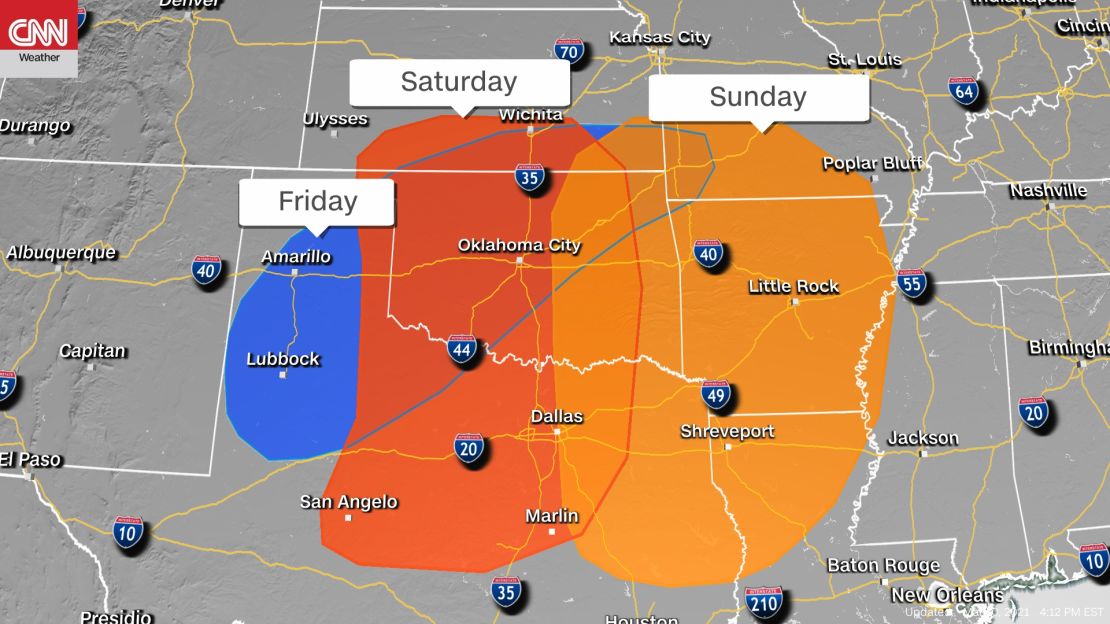 Seeing an uptick in tornadoes
This is the time of year when we start to see more tornadoes. The typical peak of tornado season is May, but we often see the numbers increase in March and April, despite the fact that 2021 has gotten off to a slower start.
"Even though the first 2 months of the year have seen well-below normal number of tornadoes, each month has seen a deadly tornado day, which shows that you do not have to have a major outbreak in order for tornadoes to turn deadly," says CNN meteorologist Brandon Miller.
Tornadoes have been reported in all 50 states and have occurred every month of the year, but this is really the time of year that people should review their tornado plan.
"There have been many seasons that have started out quiet and did just the opposite. And then of course some seasons that were very active early on and then a pattern change led to an almost complete shut off in the severe weather potential. The key is monitoring the forecast and having a plan," says Bill Bunting, chief of Forecast Operations at the Storm Prediction Center.
Flooding Threat
In addition to the threat of severe weather, heavy rain will linger over the region for several days. This will bring widespread rain totals of 2 to 4 inches, with isolated amounts up to 6 inches in portions of Oklahoma, Kansas, and Missouri. With the potential for half a foot of rain in some locations, there will be a decent flood threat for these areas that will last into the weekend.

This is the same system that could bring 1 to 3 feet of snow to portions of Colorado and Wyoming.
CNN Meteorologist Taylor Ward contributed to this report.