While much has been written this year about atmospheric rivers, avalanche warnings and even flash flooding, the western half of the United States is experiencing a crushing drought.
The weather patterns have left parts of the Northwest soggy. Still, 80% of the land in the western states face some official category of drought.
That is nearly half of the entire continental US, or put another way, the size of New York State times 25. The drought is affecting more than 70 million people.
Lack of rain sets records
The scope of the western drought is chilling. All of Nevada, Utah and New Mexico are in drought, according to the US Drought Monitor. Close behind are Arizona at 98.9% and Colorado at 98.6%.
More disturbing is the size of what's called the "exceptional drought" area, according to the US Drought Monitor. Parts of Arizona, Nevada, Utah, New Mexico, Colorado, California and Texas classified as exceptional drought, total 265,200 square miles. For comparison, that is nearly equivalent to the size of Texas.
There are four categories of drought defined by the US Drought Monitor ranging from moderate to exceptional. Exceptional drought areas have defoliated trees and shrubs, the grass is brown or dead and lakes and streams are extremely low or dried up completely.
Drought is not just a lack of rainfall, it is a prolonged precipitation deficit that can and will affect all things. Even a desert can be under drought conditions. In an area that averages 6 inches of rainfall per year, plants and animals thrive. If the rain stops, the consequences will be deadly.
"The Four Corners [Arizona, New Mexico, Colorado and Utah] is the epicenter of this drought," said Brian Fuchs, climatologist at the National Drought Mitigation Center at the University of Nebraska. "When droughts like this happened long ago, the people living there just had to move."
The western US has had no shortage of dry spells over the last year thanks to the failed Southwest summer monsoon.
Check to see when the next chance of rain is for your area.
Las Vegas had a streak of 240 days from April to December 2020 without measurable rain – a trace or less – smashing the previous record of 150 consecutive days in 1959.
Yuma, Arizona had a dry streak of 242 days last year, their third longest streak, while Phoenix was dry a consecutive 110 days. Bishop and Needles, California, also had record dry streaks of over 200 days without measurable rainfall.
Winter usually brings welcome rainfall to the West, but La Nina has made its usual impact, funneling moisture to the Northwest and keeping the Southwest dry.
Los Angeles, Phoenix and Yuma, Arizona all tied for their driest February with no measurable rainfall. Las Vegas only measured 0.01 inch of rain in all of February – the 11th driest.
"Obviously this La Nina has been dry, but even in the last couple of El Nino events, where we should be very wet, our precipitation has only been slightly above normal and not 150-200% above normal like we had in the 1970s and 80s," said Andrew Church, meteorologist at the National Weather Service in Albuquerque.
Mountain snowpack is not enough to dent the drought
In the West, winter snowpack can be more effective at relieving drought than summer thunderstorms, the snowpack melts slowly and doesn't just runoff the parched soil.
"Winter is the bank account of water storage and water accumulation. It sets the stage for summer," said Fuchs.
Those living in wetter climates see rainfall as the main driver of drought reduction, but in the West, winter snowpack is much more important. It acts like a reservoir of freshwater to be used later in the year as the snow melts.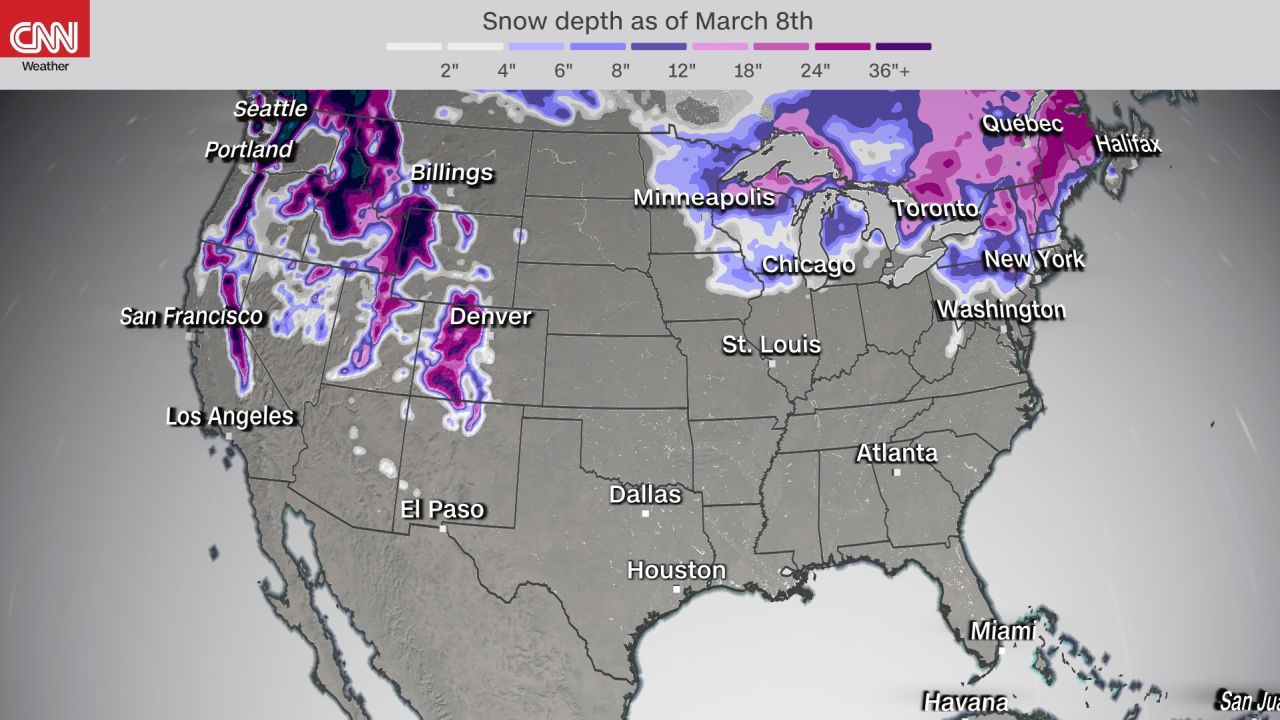 In early February, a series of storms brought a glimmer of relief to parts of Arizona, particularly in the higher elevations where there was a dramatic increase in snowpack. But in general, "there were no widespread changes to the intense, protracted drought across the Four Corners states and some adjacent parts of the High Plains and Great Basin," said the Climate Prediction Center (CPC) in their US seasonal drought assessment.
The snowpack for the 2020-2021 winter season has not been well distributed, with parts of Washington state at 140% of normal to places in New Mexico under 10% of normal.
Unfortunately, those regions with the worst drought are also those with the least amount of snowpack.
Much of the central Rockies are at 70% to nearly 90% of normal. That doesn't sound so terrible, but when you factor in how depleted the water system is, even a 100% normal snowpack won't be enough to end the drought.
"Moving forward, the large area of drought covering much of the western half of the country is expected to generally persist, with areas of intensification possible," the CPC forecasts through the end of May.
Water shortages and wildfires ahead
When below average precipitation occurs over a long period of time, people, the environment, wildlife and economic activity will be negatively affected.
"Snowpack is important, but for lower elevations, summer monsoon rains matter for ranchers and livestock. Many ranchers have been hauling in hay and trucking in water," said Justin Johndrow, meteorologist at the National Weather Service in Flagstaff. "Our normally wet summer monsoon season was among the driest on record."
It's not just livestock that are being impacted, there are over 150 million acres of crops currently experiencing at least a moderate drought in the US, according to NOAA's National Integrated Drought Information System.
"Lots of wildlife depend on the small bodies of water and we will have more impacts to deal with," said Fuchs.
"South of I-40 here in New Mexico has been in a 20-year drought. The new normal is drought and fire season is now just the entire year down there," said Church.
"Fire season could be much worse than normal if we don't get a change in this current weather pattern," Johndrow said. "The Significant Wildland Fire Potential for June (issued by the National Interagency Fire Center) is for an above normal threat."
Droughts have been intensifying, especially in the West and Southwest US, according to the latest National Climate Assessment. Combined with the reduced snowpack and a larger of percentage of precipitation falling in short, heavy downpours (that doesn't allow for as much penetration into the soil), climate change is playing a key role in the scarcity of water in the West.
"As the drought worsens and becomes more prolonged, more people will increasingly have less access to the water that they use for drinking, earning a living, or recreating," warns Andrew Robertson, chief of the Hydrologic Assessment and Modeling Unit at US Geological Survey
But the situation isn't completely dire – we can adapt to minimize the impacts.
"In the Middle Rio Grande basin around Albuquerque, water conservation efforts, like xeriscaping and transitioning to surface water to supply much of the city's drinking water, groundwater levels have actually been rebounding despite the decades of drought," said Robertson. "So, there is hope when people work together to acknowledge and address these resource challenges."
CNN's Jackson Dill and Brandon Miller contributed to this report.