The storm that is dropping snow and freezing rain from Texas through the mid-Mississippi River Valley will head for the Northeast by Thursday and bring more of the white stuff with it.
Two areas of low pressure, which are the driving force of this wintry weather, will travel up the East Coast, one after the other.
"It is looking more and more like an all or mostly all-snow event for most [of southern New England]. Not expecting a heavy snow scenario this time either, but more a prolonged light, sometimes moderate snow event," says the National Weather Service (NWS) office in Boston.
Timing out the snow
The heavier round of wintry weather will take place Thursday into Thursday night for much of the Northeast. There is growing agreement among forecasters that freezing air will have the capacity to affect areas further south, thus increasing the length of time for snowfall.
An area of Arctic high pressure situated over the Northeast will feed in the cold air, the same one responsible for the record cold stretching across the central US. The chilly air by this point will have modified somewhat but widespread high temperatures in the 20s and 30s are still forecast.
During the day on Thursday, light-to-moderate snowfall will impact areas from the Mid-Atlantic through southern New England. This includes cities such as New York and Philadelphia.
By Thursday night, snow will spread over southern New England, reaching the Boston area. Most of this snow will be light, but it will be a nuisance given how long the snow will be falling. In some locations, snow could be falling for more than 36 hours.
Meanwhile to the south, snow will continue to fall across much of the interior Mid-Atlantic.
On Friday, a general swath of light snow will persist across the New York City and southern New England areas. Snow is also expected to creep further north, affecting much of New York and central New England through the day.
By Friday night, the snow should end for most, as low pressure pulls it off the mid-Atlantic coast. Southern New England may experience one final band of potentially heavier snow before all of it clears out by Saturday morning.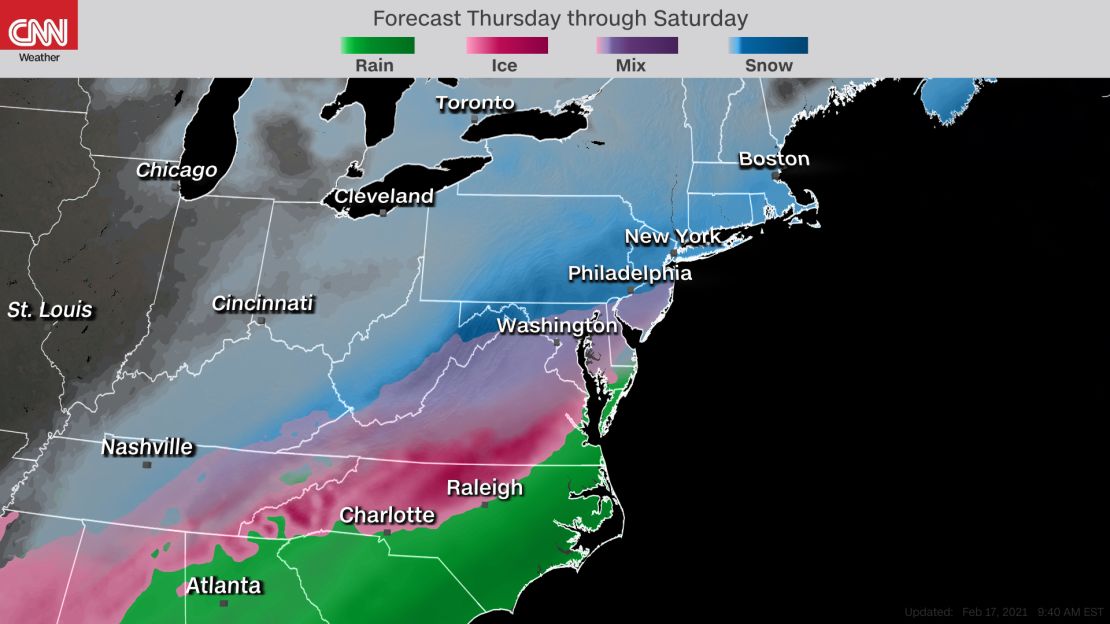 Forecast snowfall amounts between now and Saturday are for a widespread 5 to 8 inches from northwestern Virginia through southern New England.
New York City has received 21.2 inches of snow so far this February. If the upcoming storm brings at least 5.6 inches of snow fall, this month would make the top 10 list for snowiest months ever. The current forecast is for 6 to 8 inches of snow to fall between now and Friday. If the snow totals in the Big Apple miss the mark this storm, there are still nearly two more weeks to get there.
Washington, D.C. is expected to receive 3 to 6 inches. As the city has seen many times this winter, Washington tends to find its way near the mixing line. When this mix of wintry precipitation or freezing rain begins, that will ultimately determine how much snowfall Washington, D.C. ends up with.
Ice further south
South of the areas affected by the snow, there will be ice, mainly impacting the mid-Atlantic Thursday into Friday.
Early Thursday morning, there could be a period of freezing rain as far south as northern Georgia, Alabama and eastern Tennessee, but there is more concern about what will happen north and east of that region.
The NWS office in Raleigh says there is "increased confidence in a prolonged freezing rain event" for much of its forecast area.
In some locations, especially from central Virginia, including Richmond and Durham, through north-central North Carolina, ice accretion could approach half an inch through the duration of this storm.
Across cities such as Washington, D.C. and Baltimore, snow will fall at the onset of the precipitation Thursday morning, but a changeover to freezing rain or a wintry mix is expected by the late-afternoon. Icing is also expected from southern New Jersey through much of Virginia and into western North Carolina.
"In the areas that contend with these devastating ice accumulations, residents can expect dangerous travel conditions, numerous power outages, and extensive tree damage," says the NWS' Weather Prediction Center.
Thursday night, freezing rain is anticipated across much of Virginia toward areas near the Chesapeake Bay.
Then into Friday morning, some lingering freezing rain could remain possible near and along I-95 from northern North Carolina through central New Jersey. There could even be a brief changeover to snow in the afternoon before ending Friday night across these areas.