Golf has traditionally suffered from a reputation of being a tough sport to access.
There's the perception of it being expensive, while until recently, some famous clubs wouldn't even allow women to play.
However, sick and tired of golf's "problem of feeling unwelcoming," Erik Anders Lang's Random Golf Club (RGC) is on a mission to change those perceptions that might surround the sport.
He and co-founder Evan Roosevelt have organized a group in which golfers who are struggling to find playing partners in the game can connect with others in a similar position.
And although it begn with just YouTube videos, now, in addition to interviewing some of the biggest names in sport – such as Tony Finau and Gareth Bale – the RGC is focused on "building an app which will allow golfers to meet each other and have the ability to take the online experience offline.
"I didn't identify with what seemed to be a sport for conservative White guys," Lang told CNN Sport.
"I felt unwelcome in those first moments and in those first years, so much so, that I decided to create this thing that was aimed at solving that problem," added Lang, as he reflected on his struggles to find fellow partners in his formative years in the sport.
"And I'm not alone in that. That's the crazy thing."
READ: How Dustin Johnson's speedy approach could help golf's pace of play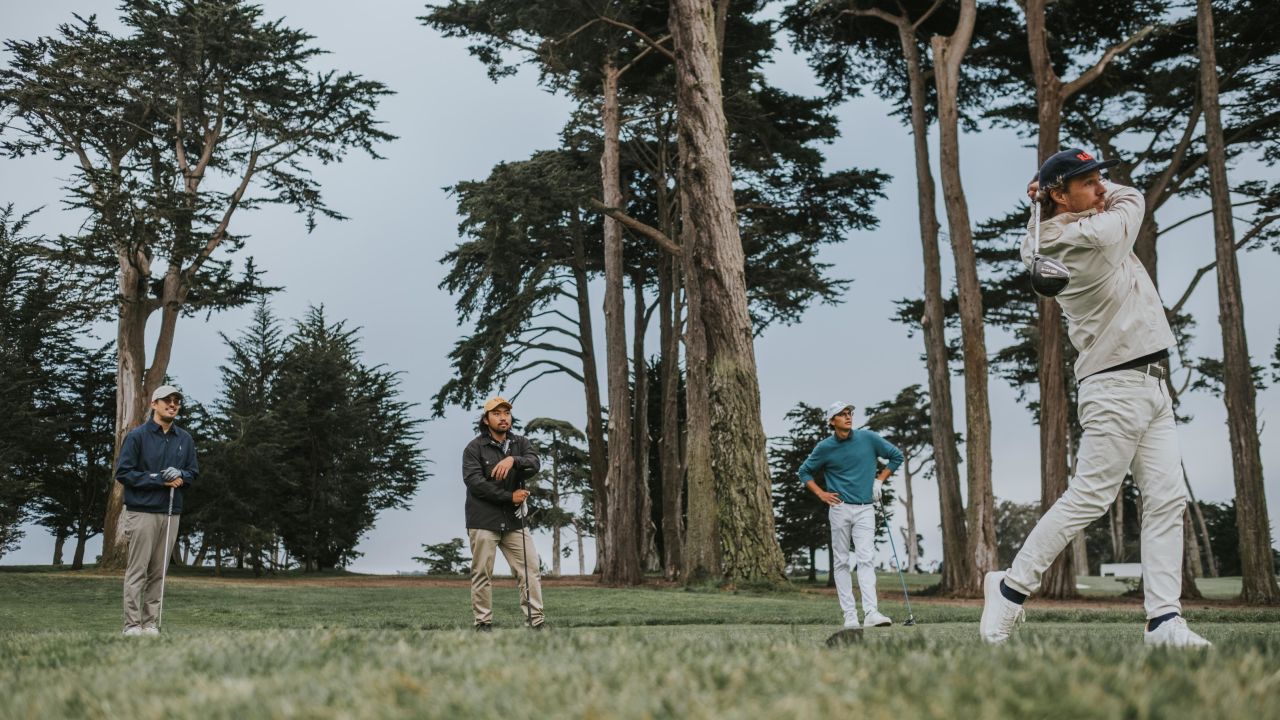 Curiosity
Lang's own curiosity for the game only blossomed thanks to the persistence of his older brother, who eventually got his sibling on a golf course.
Once on the fairways and greens, Lang underwent a Damascene conversion.
"And, as you can imagine, I had a great time," the filmmaker said. "I don't know what happened. "I fell in love with it immediately.
"The next day I was like: 'Can I borrow your clubs? I want to play golf.' It just hit me really hard."
Lang's fascination to test push the boundaries of the sport as the host of the PGA Tour's 'Adventure's in Golf' series – in which he travels the globe "searching for the craziest, most intriguing stories in golf" – is clearly evident. "One of [RGC's] virtues is curiosity. That's sort of the grayed-out word that's sits just behind Random," he says.
"If you truly believe in this culture of randomness, then you believe in behaving in a curious way rather than in an afraid way. And this is how 'Adventures in Golf' became popular is because all I did was model curiosity for a handful of years. And that's really the joy of my life."
READ: The teenage twins pushing each other to pro golf success
'Terrified, totally nervous'
On a trip to Australia in 2018, the first RGC round of golf became reality. Lang and his team had some time off in Melbourne and after receiving numerous invites from fans keen to play a round of golf with them, they accepted.
"We resolved to just all meet in the same place and we ended up being allowed to go play golf as one group. And this was like 11 people who had, for the most part, no one had met each other," said Lang.
The 11-person group played about 10 or 11 holes together, getting to know each other and sharing the common joys – and pitfalls – that golf can bring.
Although Lang enjoyed the playing aspect of the day, his highlight came afterwards, when the group hung around and had drinks together, behaving as if they were reunited old friends, which just epitomizes the goal behind the Random Golf Club.
"Nobody wanted to leave. We played 10 or 11 holes and then they closed the place down and we just sat outside forever," Lang explains.
"Like we never wanted to leave, we never did leave. And that's kind of the main theme behind what Random Golf Club really is, is it's certainly a club that seeks to question the traditional game of golf. But it's also just a hang.
"Certainly there's something pretty awkward showing up to this random event. It's strange; it's an unusual feeling. It's like summer camp as an adult, and it's uncomfortable. Especially when the majority of participants in a Random Golf Club meetup are not going to be like necessarily great at golf. Like, that's not the point."
READ: What a difference a year makes, with 2020 'the best of my career so far' for Tyrrell Hatton
Looking inside
Lang has had many people approach him and say he's the reason they started playing golf.
And while introducing people to golf is a "big deal" for him, hearing that he has changed a golf player's perspective on the game – a game he admits is "pretty flawed" and has "some disconnect that needs to be addressed" – is "one of the highest compliments," Lang says.
"I don't feel as good when I hear that as I do when I hear about: 'I hated golf. I played it all the time. And you changed it for me.' That's the real one; that's a bigger deal for me because just getting someone to the golf course, I don't think it takes as much.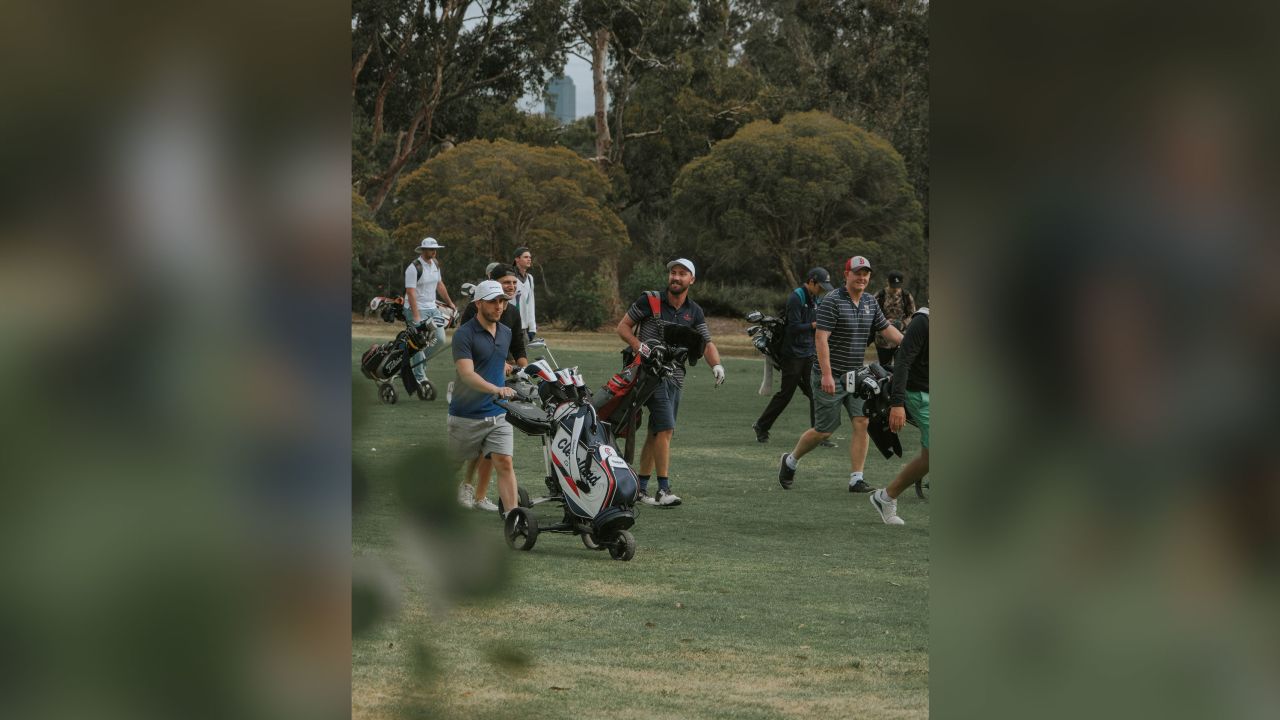 Having traveled the world, playing the sport at lots of locales with people from different backgrounds, Lang strongly believes that golf's solo nature can be a "mirror for yourself."
"If you're interested in that – not from a vanity perspective, but from a self-revealing perspective, like what religion allows us to do is to see ourselves – and so therefore, ideally, honing our character and becoming a different and better version of ourselves, more time, more caring, more patient," he explains.
"And that's the problem, is to people who don't really inspect the game, they think and they see it as a selfish game. And that's because they never went through the second door and they never saw that it's not a selfish game; it's actually a self-realizing game. And if you do go to that second door, it changes your whole life.
Having spent hours and hours of his life on the course discovering his own passion for the game, Lang has had time to think about what golf can mean for the person playing it.
"And that's why the comment about: 'Hey, you changed the way I saw the game of golf.' That's like a wake. Like we've awakened to see past whatever par means."
READ: 'He's not going to like this sh*t at all': Documentary shines new light on Tiger Woods' life
Refreshing
As Lang's RGC attempts to break down barriers for new golfers, the Exeter Golf and Country Club is looking to do similar for with its thriving women's section.
Through the help of the 'Get into Golf' program, the club have created a pathway for introductory golfers to progress from the taster sessions put on – advertised as 'Fun and Fizz' in an attempt to keep things lighthearted – to full academy memberships, which has expanded the women's section of the club hugely.
And while putting on sessions has been vital for growth – for which they were awarded England Golf's most welcoming club of the year award in 2019 – breaking down the myth that the golf is inaccessible to women due to its "traditional" past has been even more pivotal for director of golf Darren Everett.
"We decided to do taster sessions first and say: 'Look, that perception you may have is completely not right. This is what we can give you. We can give you some quality social time here where you can come up and benefit from the facilities we got and have a really good time,'" Everett told CNN Sport.
Visit CNN.com/sport for more news, features, and videos
"The more we did that and then the more we used case studies and we promoted that to other ladies and the buddy system kicked in, all of a sudden you start breaking down those barriers and word just gets out. "
Elsewhere, the PGA Tour has taken a significant interest in growing and diversifying the game from a participatory standpoint.
It oversees the First Tee program – which has extended beyond the US to Mexico and Australia in recent years – which aims to "introduce the game and its values to young people will now have an increased focus on groups that have been marginalized or underserved in our society."