Some road trip therapy can go a long way.
We've been inside for almost a full calendar year, meaning that your roamin', ramblin' clan of wanderers could be suffering from some serious cabin fever.
Thank goodness, then, that with warmer weather coming up — and, with luck, things potentially turning the corner soon when it comes to public health — you have every right to start thinking about what your New and Improved Road Trip Getaway 2021 will look like.
Start your search with RVshare, the largest peer-to-peer RV rental marketplace on the planet. In the US alone, RVshare has over 100,000 units available to renters who get to use everything from hitch trailers to luxury motor homes for everything from tailgates to full-blown travel adventures. RV owners get to make money off their motor homes when they're not using them themselves (which, statistically, is 90% of the time!), and nonowners get to experience the on-the-road lifestyle without a huge investment. It's a win-win all around!
It's a lot easier than it sounds, especially for renters. Simply log on to the RVshare website and set the applicable filters, such as your location, RV type and features you're looking for. Prices and open pickup and drop-off dates pop up right away so you don't waste time negotiating or figuring out whether or not a vehicle is actually available. You can even have your RV delivered to the campground or park you're staying at. Whether it's for a spontaneous getaway or a meticulously planned cross-country odyssey, RVshare makes finding the perfect wheels as hassle-free as possible.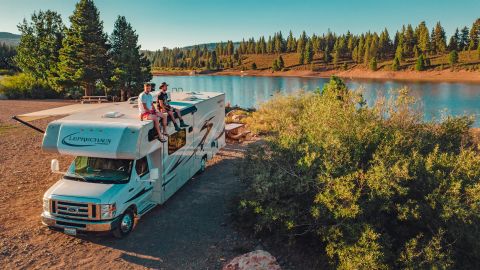 Once you reserve your vehicle for the dates you want, you communicate directly with the owner — no third-party corporate rigmarole — and show up to pick up your vacation palace on wheels! Then it's off to that long-delayed road trip of a lifetime your family's definitely earned over the last year. Finally, once it's time to head home again, you just have to dump the tanks and fill up the gas and return the RV.
Naturally, RVshare is dedicated to ensuring you have the safest vacation possible, both by protecting your payment against fraud and by making sure you're traveling in safe and clean homes away from home. Plus, in these historically unusual times, you can rest easier at night knowing you've chosen a form of both travel and lodging that's pretty much unparalleled in reducing human-to-human contact — once you've bid adieu to the RV owner, you and your family don't have to interact with another person again until the return. That means no battery of flight attendants, security lines or crowded airplane cabins, and no check-in desk, cleaning staff intrusions or uncomfortably packed hotel lobbies with packs of strangers who have somehow still not figured out how to wear a mask properly. And let's face it: A nice bed in an RV is a lot more comfortable than roughing it in a sleeping bag in a tent.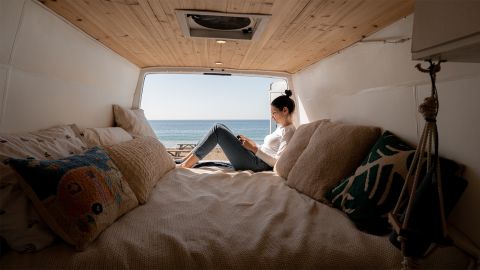 Telling friends last year that the vacation they'd been looking forward to for so long was suddenly off may have been one of the hardest things you had to do in 2020. This year, think of the excitement when you announce you've found a way to not only take back vacationing but to do it safely and in a way to make friend time even more magical.