(CNN) —
We can all agree it's time for a fresh start in 2021, but just as 2020 helped us discover the hidden reserves of strength we've always had within us, the new year — and Decluttr — are going to help reveal the hidden reserves of cash we've had all around us this whole time.
Yes, there's basically free money lying all around your home, and it's an obvious win-win to take advantage of it while simultaneously freeing up desperately needed space. We're talking about all the unneeded tech and media the average American has accumulated over the years that now fills up drawers, cabinets, basements and attics without doing anyone any good — your last-gen phones, PS4s, MacBooks, tablets and even CDs, DVDs, old games and books. Decluttr makes it easier than ever to not only clear up your space but also make you money.
It works this way: Go to Decluttr.com and select the make, model and condition of your device for a free instant valuation. If you're selling media, the free Decluttr app lets you simply use your phone camera to scan the bar codes on what you want to sell. Then it gets back to you with an instant cash offer. From that point, all you have to do is box it up, mail it and stand by for your payment, which comes only one day after Decluttr receives your items. Decluttr even pays for the cost of shipping!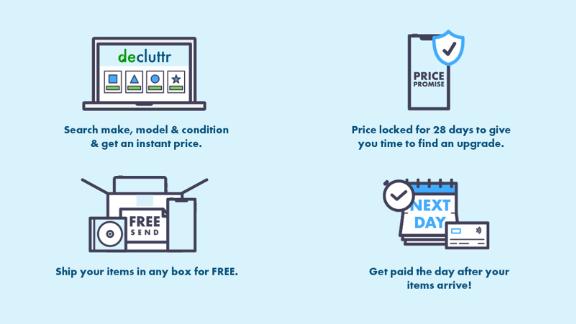 Decluttr's Tech Price Promise guarantees you get the first price you are quoted, or you can request your device back for free. Additionally, Decluttr will help remove your data safely and securely, meaning you don't have to worry about your privacy or sensitive information being passed on. The products are then refurbished and resold to a new owner. If your tech can't be refurbished and resold, it'll be recycled responsibly, with parts reused for other refurbishments. In other words, you don't have to feel guilty about contributing to the planet's e-waste problem.
But back to the bottom line for you: The average American has $199 of tech they don't need taking up space in their home. You can guess for yourself how big a gold mine you're sitting on — the potential earnings are basically limitless! For fun, think of it this way: This will probably be the first time you get paid to clean your own room since you were on a childhood allowance.
Plus, through January only, you can earn an extra 10% on the original quoted price by using the code CNNJANTEN. And that's already on top of the fact that Decluttr pays up to 33% more than buyback programs from cell phone carriers, which means that trading in your old mobile phones this January could mean almost 50% more cash!
It's only smart to want to kick off this new year with a little extra scratch in your pocket. Decluttr makes it easy to find and take advantage of the hidden cash in your own home.