(CNN) —
Gift cards are nice, but they can often be impersonal. Trips to the mall to seek out fun gifts during a global pandemic? Tricky at best. But the desire to reach out to loved ones during this trying time? Never been higher. So how do you show your friends, family and co-workers some thoughtful holiday cheer while shopping online? Gift baskets!
Feeling the food vibe? From cookies to cheese to coffee, there's a slew of options sure to elicit oohs and aahs. Looking to pamper? Spa-themed baskets dripping with face masks, bath salts and lip balms are a great choice. We rounded up our favorite gift baskets and boxes that will bring the holidays to your loved ones — even if you have to meet up on Zoom to do your annual present exchange. Looking for more gift ideas? Check out all our gift guides here, and be sure to check out our tips for making sure your gift arrives on time too.
Harry & David gift baskets
Harry & David Holiday Sled and Cookies Gift ($89.99; harryanddavid.com)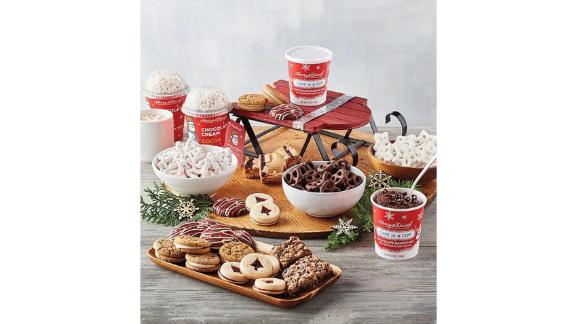 Harry & David
Another twist on the traditional gift basket, this fun offering comes with a slew of treats delivered on a retro-style red wooden sled. Complete with white chocolate raspberry and German chocolate cookie bars, gingerbread sandwich cookies, dark chocolate-covered peppermint cookies, raspberry-filled tree-shaped shortbread cookies and yogurt-covered snowflake-shaped and peppermint tree-shaped pretzels, it also has dark chocolate instant-cake cups and cocoa cups. Just the thing to follow up a day playing in the snow.
____________________________________________________________________________
Harry & David Cozy Mornings Brunch Gift ($119.99; harryanddavid.com)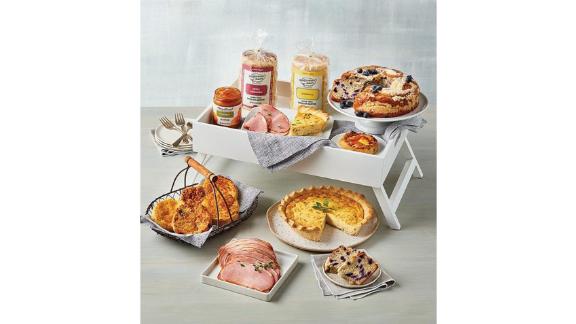 Harry & David
You probably won't be able to meet your friends or family for your annual holiday party this season, but you can let them know you're thinking of them with this brunch-themed gift basket. Mouths will water over the super-thick apple cinnamon and oatmeal English muffins, a triple-cheese and caramelized onion quiche, Canadian-style bacon, blueberry coffee cake and pumpkin butter. And maybe best of all? It comes with a Paulownia wood tray with legs — perfect for future breakfasts in bed.
Starbucks gift baskets
Zoom Life Starbucks Gift Set ($35; etsy.com)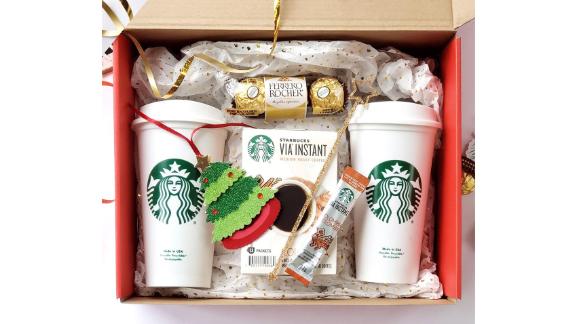 Etsy
Sure, coffee gift cards are nice, but take your holiday giving up a notch this year with this gift box that includes two reusable acrylic 16-ounce Starbucks cups, 13 packets of Starbucks Via Instant Colombia coffees, three Ferrero Rocher hazelnut chocolates and a personalized card.
____________________________________________________________________________
Starbucks Holiday Morning Gift Basket ($75; proflowers.com)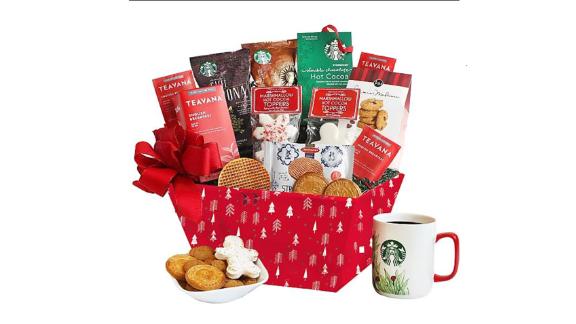 Pro Flowers
Recipients of this festive gift basket will start their mornings off right all season long with a choice of three assorted 2.5-ounce Starbucks coffees, a 20-count box of Teavana tea or peppermint hot cocoa. They'll also get two marshmallow hot cocoa toppers, cookies, a stroop wafer cookie and a Starbucks mug.
____________________________________________________________________________
Starbucks Home & Away Via & Cocoa Gift Set ($19.99; bedbathandbeyond.com)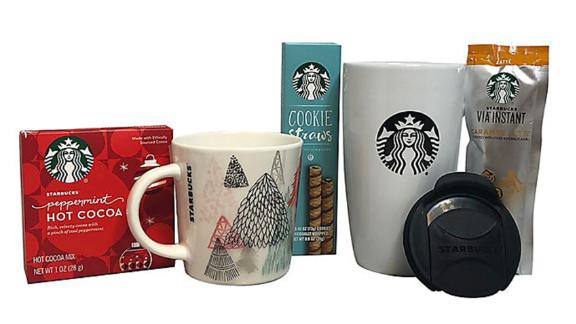 Bed, Bath and Beyond
Give an extra-sweet gift to the coffee lover with a sweet tooth on your list with this festive set from Starbucks. Featuring a ceramic mug and double-wall travel mug, a serving of Via caramel latte and peppermint hot cocoa mix, plus cookie straw wafers, it's a great option for corporate gifts, teens, white elephant swaps and more.
Hickory Farms gift baskets
Hickory Farms Signature Gift Basket ($42.99; hickoryfarms.com)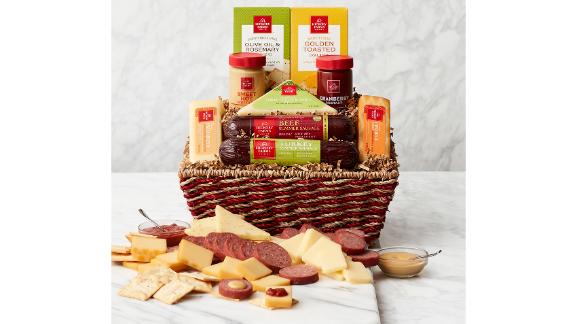 Hickory Farms
Next to frosted sugar cookies and eggnog, cheese, crackers and summer sausage top our holiday snack list. Delight friends and family with this gift basket filled with beef summer sausage, sweet and smoky turkey summer sausage, smoked cheddar, a three-cheese and onion blend, a creamy Swiss blend, sweet hot mustard and cranberry mustard, plus toasted crackers and olive oil and rosemary crackers. Fire up Zoom and dig in, and even virtual celebrations will still feel traditional.
____________________________________________________________________________
Hearty Party Gift Box ($69.99; hickoryfarms.com)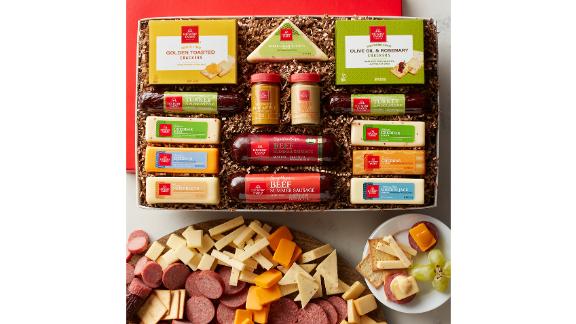 Hickory Farms
Even if you can't spend the holidays with your loved ones this year, they'll know you're thinking of them when you send this lovely basket that's a perfect substitute for dinner in our book. It comes with three summer sausages (beef, spicy beef and sweet and smoky turkey), creamy cheddar, smoked cheddar, three-cheese and onion blends and honey pineapple and sweet hot mustards.
____________________________________________________________________________
Solid Gold Gift Tower ($74.99; hickoryfarms.com)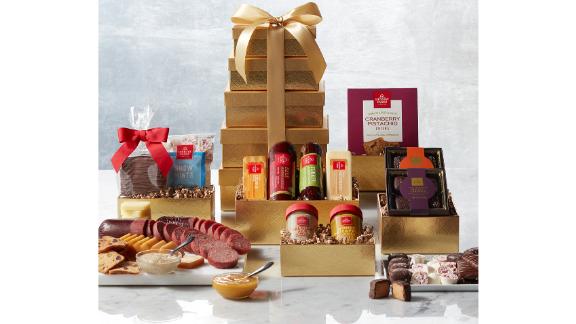 Hickory Farms
The gift of food is always appropriate — and appreciated! — and this tower of both sweet and savory snacks is sure to be a hit. Packed in five gorgeous gold boxes tied together with a satin ribbon, it features summer sausages, cheeses, mustards and cranberry pistachio crisps, along with dark chocolate sea salt caramels, snow mints, chocolate-covered grahams and more. Yes, you're definitely allowed to send one to yourself too.
Spa gift baskets
Small Packages Self-Care Package (starting at $35; smallpackages.co)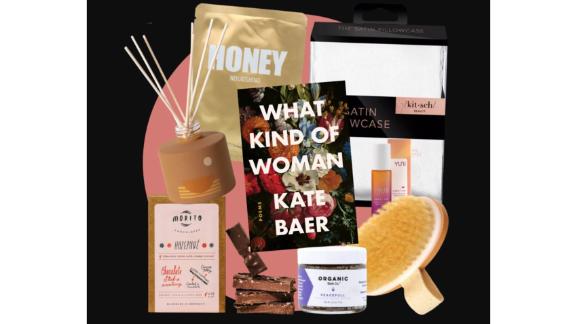 Small Packages
Whether you're shopping for your BFF, your favorite work wife, your daughters, sister or mom, most women will consider their holiday wishes answered when they receive a basket filled with fun self-care items. Available in three sizes, choose from a $35 option (honey face mask, hazelnut chocolate sticks, dry brush and aromatherapy essential oil); $50 option (add on an organic sugar scrub and Kate Baer's "What Kind of Woman" poetry book); or $100 option (add on a scented diffuser and satin pillowcase).
____________________________________________________________________________
Lizush Relaxation Gift Basket (starting at $66; etsy.com)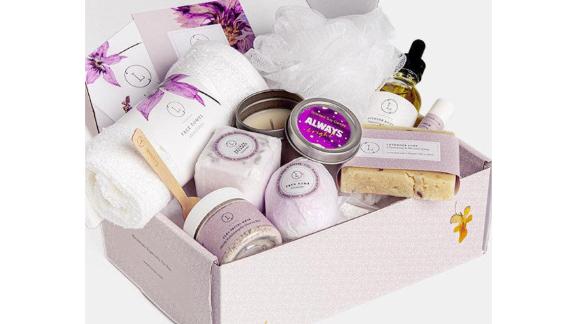 Etsy
With a 5-star rating and 50,000-plus sales, this Etsy bestseller is the perfect gift basket to send any stressed-out friend, co-worker or family member. Packaged in a lovely lavender box (add the recipient's name in gold for an extra $6), it's packed with all-natural, non-GMO items, including a soap bar, clay face mask, shower steamer, body oil, bath bomb, lip balm, face towel, scented candle and sponge. Spa day, anyone?
____________________________________________________________________________
Roam Homegrown Christmas Spa Gift Basket ($28.50; etsy.com)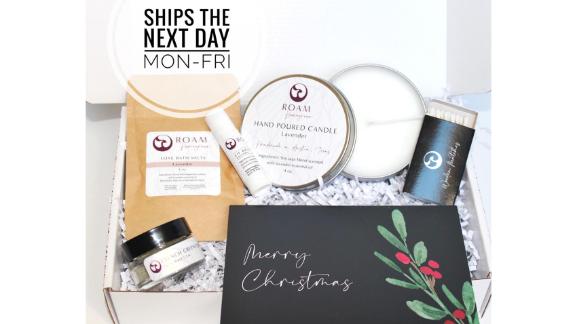 Etsy
Give a special person in your life the gift of pampering with this chic box filled with handmade items including a 4-ounce soy-blend candle, French green clay face mask (enough for two to three masks), bath salts and lip balm, plus wooden patches and a Merry Christmas card. Five-star reviews (and more than 29,000 sales) rave about the scents (lavender or vanilla orange), which you choose.
Coffee gift baskets
Peet's Coffee Espresso Lovers Set ($49.95; peets.com)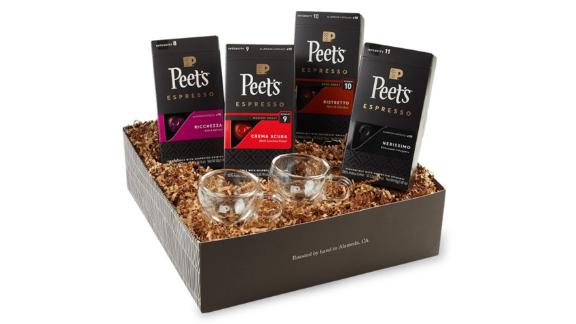 Peet's
Looking for a, well, buzzworthy gift? This sampler of 40 Peet's espresso capsules contains all four of the brand's blends made for Nespresso machines. It also comes with a set of two Peet's 3-ounce glass espresso cups all packaged in a signature gift box.
____________________________________________________________________________
Harry & David Coffee Gift Basket ($39.99; harryanddavid.com)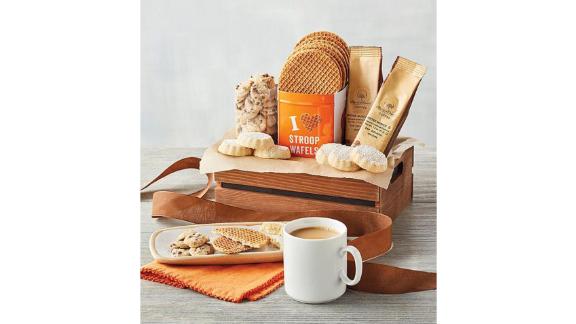 Harry & David
Someone on your holiday list who loves sweets as much as their daily caffeine jolt? This pretty wood crate is packed with the best of both worlds, including two 1.8-ounce bags of Harry & David's caramel-flavored Moose Munch coffee, a tin of stroopwafels, chocolate chip button cookies and lemon citrus cookies. Perfect for decadent mornings, afternoon pick-me-ups or after-dinner treats.
Chocolate gift baskets
Godiva Make It Merry Christmas Gift Basket ($74.95; godiva.com)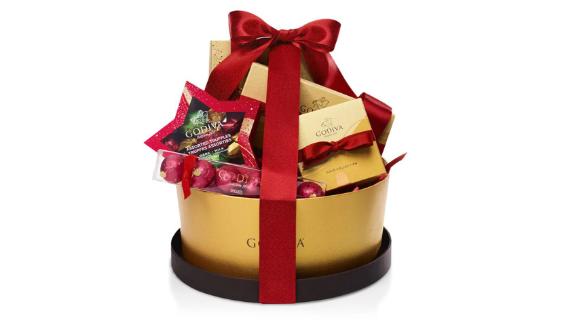 Godiva
The chocoholics in your life will swoon when they open this keepsake hat box brimming with deliciousness. Inside: a nine-piece assorted chocolate box (white raspberry, dark chocolate hot cocoa and milk chocolate almond caramel included); an eight-piece assorted box with classic chocolates; six cherry cordials (think whole cherries in liquid fondant coated in dark chocolate); a star ornament with 10 milk and dark chocolate truffles; and a four-piece assorted box with classic Godiva flavors, such as milk chocolate praline and dark chocolate caramel. Whoa.
____________________________________________________________________________
Dylan's Candy Bar Chocolate Lovers Tackle Box ($26; nordstrom.com)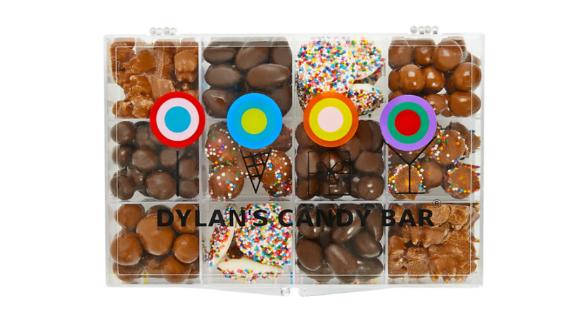 Nordstrom
Get your fill of milk chocolate pretzel balls, rainbow nonpareils, dark chocolate-covered almonds, chocolate-covered gummy bears and more in this extra-sweet tackle box gift. And if you're shopping for someone who loooves dark chocolate, there's a special box for them too.