Editor's Note: Kate Andersen Brower is the author of the New York Times bestsellers "First Women: The Grace and Power of America's Modern First Ladies" and "The Residence: Inside the Private World of the White House." This reporting comes in part from her book, "First in Line: Presidents, Vice Presidents and the Pursuit of Power." Her latest book, "Exploring the White House: Inside America's Most Famous Home," is for children and will be published December 8. Unless otherwise noted, facts in this piece reflect research from her work. The opinions expressed here are hers. Read more opinion on CNN.com.
President-elect Joe Biden knows the challenges and the opportunities of the vice presidency better than any incoming president since George H.W. Bush.
Biden has said that any power a vice president has is purely "reflective," meaning it is the president who decides how much influence his second-in-command wields. Now approaching his inauguration to the presidency, Biden seems to understand how critically important it is for him to share as much of his reflected light with Vice President-elect Kamala Harris as possible. As our country faces a crippling pandemic, ongoing racial injustice and deep mistrust of government, we need all the light we can get.
If anyone would be open to sharing power and influence, it would be Biden, who served for eight years as vice president to Barack Obama — a leader who recognized that there are real risks in ignoring or mistreating your vice president.
Watch the trailer: CNN Films' 'President In Waiting'
"Number one, that person's being underutilized," Obama says in "President In Waiting," a CNN Films documentary on the vice presidency. "Enormous talent that is not being tapped because there's a lack of trust. Another thing is, mischief arises if you've got somebody who's sitting down the hall in the West Wing who feels as if he is not being treated with respect and consulted on big decisions."
The vice president's tightrope
It's true that no office in the federal government has been pilloried more than the vice presidency. This derision did not begin with Julia Louis-Dreyfus' portrayal of the hapless Selina Meyer in HBO's "Veep." It came from the vice presidents themselves.
Thomas R. Marshall, vice president under Woodrow Wilson, joked, "Once there were two brothers: One ran away to sea, the other was elected vice president. Nothing was ever heard from either of them again." And according to John Nance Garner, who was vice president for Franklin D. Roosevelt from 1933 to 1941, "The vice presidency is not worth a bucket of warm piss" (a famous quote later cleaned up to say "warm spit").
Every former vice president has had to walk a tightrope, constantly deciding when to fall in line and when to push back on the president. As the country's first female vice president and the first person of color to serve in the role, Harris will have to navigate these treacherous waters in a country that has not been this divided since the Civil War.
A deep history of racism and sexism has been fueled by President Donald Trump's divisive rhetoric. When Harris ended her presidential campaign late last year, he unsurprisingly seized on her exit to make fun of her: "Too bad. We will miss you Kamala!" To which she replied: "Don't worry, Mr. President. I'll see you at your trial."
When the vice president is a political superstar
Where other men — and they've all been men — may have felt maligned as vice president, there's no doubt Harris will command respect in the Biden White House. She's not new to firsts, having held roles in institutions not known for their progress on gender or racial politics. In 2017, she became the second African-American woman and first South Asian-American senator in US history. She served two terms as the district attorney of San Francisco, and was elected as the first African-American and first woman to serve as California's attorney general.
She's proven that she is uniquely well-suited to the role most vice presidents have played as their president's top defender. During her debate with Vice President Mike Pence, she held her ground when he interrupted her multiple times, saying, "Mr. Vice President, I'm speaking — I'm speaking." It was a moment that launched a thousand memes, as well as fueling Maya Rudolph's already legendary impersonation of her on "Saturday Night Live."
As with Obama, Biden is once again working alongside a former US senator and groundbreaking politician whose star power surely eclipses his own. And Biden's experience with Obama will be key in helping him shape a productive relationship with Harris.
When I interviewed Biden for my book "First In Line," he told me that he initially turned down Obama's offer to serve as his vice president because he could not imagine working for anyone. It was his mother who eventually convinced him that he could not pass up the opportunity to serve the country's first Black president. Now, Biden says, "It turned out to be the best decision I ever made in my life."
We know that Obama and Biden agreed to five ground rules in a private written document. The two most important things Biden told Obama he needed were "'to be able to be completely level with you and argue with you if we disagree privately; and secondly, to be the last person in the room on every major decision.'" And he didn't mean that figuratively; he meant it literally, a tradition he's now putting in place with Harris.
"The President-elect has been, since the first day he asked me to join him on the ticket, very clear with me that he wants me to be the first and the last in the room," Harris said in an interview with Jake Tapper Thursday.
Biden said he spent four to seven hours a day with the president, and he was in every major meeting at Obama's request. At 7:40 every morning, his senior staff would meet with Obama's senior staff to set the day's agenda. Harris has portrayed her arrangement with Biden similarly: "What I will do, which is what Joe wants me to do, is share my lived experience to any issue that we confront," she said in a "60 Minutes" interview last month. That means bringing the perspective of one who has been "a Black child in America, who was also a prosecutor, who also has a mother who arrived here at the age of 19 from India."
Harris will likely take on the role of being an ambassador to the progressive wing of the Democratic Party, having shown her ability to go toe-to-toe with Republicans. During the vice presidential debate, she accused the Trump administration of hiding what they knew about the pandemic.
She will likely use her experience as a woman of color to voice deep concerns about racial injustice. Harris' parents were active in the civil rights movement and she has called the Black Lives Matter movement "an inflection point in the ongoing fight for justice" and "the most significant agent for change within the criminal justice system."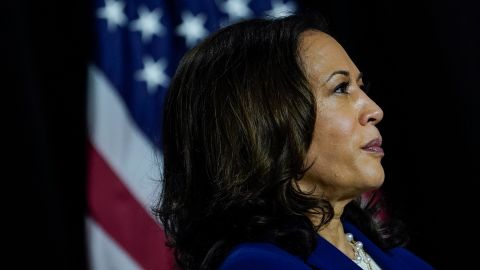 And with vice presidents often serving as debate facilitators in the White House, former prosecutor Harris will be well-suited to the task. The key to executing it, as Biden well knows, will be shrewdly managing the optics.
When Obama came into office, he began a review of the war in Afghanistan, which started in 2001. In 2009, there were 36,000 US troops in the country and 32,000 NATO forces. He came to rely on Biden to play the "bad cop" to his "good cop" during talks with generals who pushed for more troops than Biden thought was necessary.
"(Biden's) a master at asking questions in a way that you think you know which way he's leaning and then you realize you don't," said Antony Blinken, who was a foreign policy adviser to both Biden and Obama and who Biden has named secretary of state in his administration. "Biden was his guy – pushing, prodding, challenging. By the last month of the review it was very much a deliberate thing."
Biden ultimately lost the argument. Before the review was even completed in December 2010, Obama accepted the Pentagon's recommendation to send more troops to Afghanistan. Yet the strategy of Biden often playing the devil's advocate during those meetings enabled Obama to stay above the fray.
Calculating the optics
A good vice president knows the difference between strategically challenging the president and his advisers and dissenting publicly with the president; it's a delicate balance that often requires the vice president falling on his – or her – own sword. If Biden disagreed with Obama, he would save it for private conversations, something he and Harris plan to continue.
"It was not healthy for the president and the vice president to be seen even by the senior staff as having a disagreement," Biden said.
Biden, for instance, said he was unsure about the 2011 raid by Navy SEALs that killed Osama bin Laden, the al-Qaeda leader behind the 9/11 terror attacks who was hiding in a compound in Abbottabad, Pakistan. "(Obama) knew his presidency was on the line with bin Laden," Biden said. "Think about if that had failed; his presidency would have come to practically a screeching end." Softened "against" to "unsure" since his story has evolved over time/gotten a little mushy on how tough a stance he took.
On the night of April 28, Biden said Obama gathered top members of his national security team, including Biden, Defense Secretary Robert Gates, CIA director Leon Panetta, Adm. Mike Mullen, the chairman of the Joint Chiefs of Staff, and Secretary of State Hillary Clinton in the Situation Room. Obama essentially did a roll call around the table, asking each whether they thought he should give the order to send the SEALs in. Biden came down against going in — without being absolutely sure that bin Laden was in the compound, Biden argued, more time was needed to get a positive identification. Most people were hedging their bets, Biden's recalled, saying they were "49/51" whether Obama should authorize the raid or not.
"I'm the last guy in the room and it comes to me," Biden said. "I turned to everybody and said … Mr. President, I think you should choose option two (not to go)."
Later, Biden said, he had a private conversation with Obama and told him to follow his instincts. In the end, press reports made it seem like Biden was one of the lone voices against what ended up being a successful raid that won Obama widespread praise. "That's the job of the vice president," Biden said. "You're supposed to throw yourself in front of the train. That's one of the reasons I didn't want to do it (become vice president) in the beginning."
Like Biden, Harris will face weighty decisions and she will have to make the difficult calculation about how much she is willing to personally sacrifice to make Biden look good. This is especially vexing for someone who at 56 years old has a long political career ahead of her. At the same time, she knows that her legacy is tied to Biden's, so she will want him to succeed.
"There is only one person every four years who writes the job description for the vice presidency," said Pence in the CNN Films documentary. "And that's the president of the United States."
I hope that Biden writes an expansive one for Harris.