CNN —
Amazon's gearing up for Black Friday and the holiday season ahead of schedule with a pre-shopping season sale that's going on right now. There are deals on homeware, beauty, electronics and more across the site at the mega-retailer's Holiday Dash, including great deals on Le Creuset, Bose, Instant Pot and other top brands.
A thousand items are on sale, with new ones being added every day, so to help you sift through, we've rounded up some of our top picks from the sale below. Be sure to shop soon; the best stuff is likely to sell out quickly.
Harman Kardon Onyx Studio 6 ($199.95, originally $299.95; amazon.com)
Amazon
You won't have to hide this speaker in a corner (unless it's covered in gift wrap, of course). Available in a pearly gray and gold, navy and gold, or black on black, this Bluetooth speaker achieves the rare combination of style and sound at less than $200 on sale.
Kindle ($79.99, originally $109.99; amazon.com)
Amazon
If your favorite reader isn't getting to the library as much lately, bring it to them: Kindles are a great way to get through a reading list without the eye strain from reading on a normal screen. Plus, if the recipient is an Amazon Prime member, they have unlimited access to a whole library of books ready to download free.
Nicheo Garden Boxes ($18.89, originally $32.99; amazon.com)
Amazon
At almost half price, this three-pack of 10-gallon garden boxes can be used for gardeners (or those looking for a fun at-home project) to grow potatoes, taro, onions, carrots, peanuts, radishes and more. A roll-up window lets you peek in on your root vegetables to make sure everything's coming along nicely.
Bose QuietComfort 35 II Wireless Bluetooth Headphones ($199, originally $299; amazon.com)
Amazon
There's nothing like a little peace and quiet — and some seriously superior sound. Bose's noise-canceling headphones are as brilliant as they've always been, and these are decked out with features like Alexa voice control, hands-free Bluetooth pairing and a great dual-mic system that keeps voices crisp and clear.
Webcam HD 1080p Web Camera ($39.99, originally $62.99; amazon.com)
Amazon
Not all of us were in possession of the latest and greatest in webcams when this year's normal work patterns shifted to Zoom and Skype meetings. Gift this heavily discounted camera to the entrepreneur in the family — or to your long-distance partner living in another city.
Instant Pot Lux 6-in-1 Electric Pressure Cooker ($69.99, originally $79.95; amazon.com)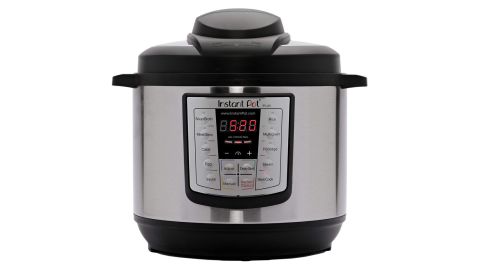 Amazon
Right up there with the air fryer in terms of making cooking quick and easy is the Instant Pot. This 6-quart version is big enough for up to six people, which makes it a great gift for amateur chefs with big families to feed or those who just like to have leftovers ready to freeze.
Ninja Nutri Auto-IQ Blender ($69.99, originally $99.99; amazon.com)
Amazon
If you're not quite sure you want to go all out on a Vitamix, Ninja blenders make some incredible juices and smoothies at a much lower price point. This one's Auto-IQ feature means its operation is hands-off, since it automatically shuts down. Plus, it comes with two cups to get blending with.
Libbey Signature Kentfield Shot Glasses ($28.99, originally $39.99; amazon.com)
Amazon
These thoroughly grown-up shot glasses are just what we need for the rest of 2020. Gift a set and keep one for yourself.
Instax Mini 9 Clear Camera ($62.56, originally $82.32; amazon.com)
Amazon
This crowd-pleasing camera takes photos analog again for memorable, credit-card-size snaps. This model even comes with an inclusive selfie lens and close-up lens attachment.
Lagunamoon Bath Bombs Gift Set, 12-Pack ($11.14, originally $22.99; amazon.com)
Amazon
There's nothing like an indulgent bubble bath to melt away some stress. Made with scents like jasmine, rose, lemon, mint and more, these bath bombs will be appreciated by anyone who could use a mini at-home spa break.
Ring Video Doorbell 3 Plus With Echo Show 5 ($169.99, originally $319.98; amazon.com)
Amazon
DIY wizards and tech-lovers will definitely be able to get behind this high-tech doorbell that streams video from your doorbell to your favorite device — it comes with an Echo Show 5 for those who don't have a smart speaker yet — and lets you know if someone triggers built-in motion sensors.
Orgen Professional Manicure Pedicure Set ($8.04, originally $11.99; amazon.com)
Amazon
Compact but comprehensive, this manicure-pedicure set comes with everything a well-groomed person needs for an at-home polish.
Breville Barista Express Espresso Machine ($599.95, originally $699.95; amazon.com)
Amazon
This espresso machine is perfect for any coffee-lover not currently able to get their fix at the local coffee shop. It has a 2-liter removable water tank, a 15-bar Italian pump and a purge function that automatically adjusts the water temperature after the steam to get the best possible temperature for that sweet, sweet first sip.
Cosori Air Fryer ($109.98, originally $129.99; amazon.com)
Amazon
Using 85% less fat than a traditional deep fryer, the 5.8-quart Cosori has nine presets with an intermittent alarm to remind the cook to shake the food for an even crisp. It comes with a dual-layer rack and skewers to get started — and this size is enough for fixing food for between three and five people.
Le Creuset Enameled Cast-Iron Signature Sauteuse Oven ($179.95, originally $299.95; amazon.com)
Amazon
The famous Le Creuset always makes a great gift. Right now, it's on sale for $120 off and comes in a range of some of the brand's most-loved colorways, from a blue-ombre Maseille to the aptly named Flame. The 3.5-quart size is great for cooking for up to four. If the price tag is a bit too much of a splurge, Amazon's own house brand makes its own take on the famous Le Creuset, which is discounted during the sale to $50.99.
Rachael Ray Pantryware Wood Salt Cellar Stacking Set ($19.16, originally $50; amazon.com)
Amazon
This salt cellar stacking set is perfect for the foodie in your life who needs a place to organize their fleur del sel, pink Himalayan sea salt and coarse kosher salt — and they're stylish enough to be left out on the counter.
KBS Bread Maker ($119.99 with coupon, originally $149.99; amazon.com)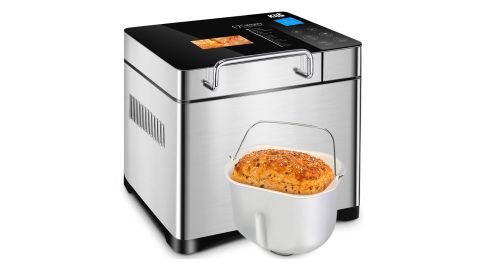 Amazon
As it turns out, baking bread by hand during the first part of the year is more time-consuming than anticipated. Gift the best of both worlds with this bread machine that lets at-home bakers make delicious loaves without all the hassle.
23andMe Health + Ancestry Service: Personal Genetic DNA Test ($99, originally $199; amazon.com)
Amazon
If members of your family have been curious to see what their ancestry is, now's the time with these kits, currently half off during Amazon's Holiday Dash. Results also inform test-takers about their genetic health and help them find out how it relates to certain parts of their lifestyle (like muscle composition and alcohol flush reaction).