CNN —
Founded in a garage in Marin County, California, in 1995, Equator Coffees has evolved into a company known for great coffees and espressos — and it was one of Fair Trade USA's early partners. A quarter of a decade later, and the brand's coffee range has expanded around the world with single-origin coffees, blends and espresso.
Best of all, now through March 28, CNN Underscored readers can try an Equator subscription with an exclusive 30% discount on their first order, plus lifetime free shipping — just type in the code EQ4CNN30 at checkout. The subscription allows you to choose you coffee, the grind you prefer, whether you want just one 12-ounce bag, two 12-ounce bags or a 2-pound bag; and how often you'd like to receive your coffee, from weekly to every four weeks. You can cancel or change your subscription at any time for no additional cost.
Plus, when you buy from Equator, you'll be supporting a Certified B Corp, female-founded, LGBTQ+-owned company, so you can feel extra good knowing your dollars are going where they can make a difference. Keep reading below for details on just a few of the tempting coffees available in a range of grinds to add to your day.
Ethiopia Sidama Ardi (starting at $13.30, originally $19; equatorcoffees.com)
Equator Coffees
Hailing from Guji, Borena Hagermariam District, Ethiopia, this light roast single-origin coffee starts your day with hints of berry, citrus and spice and is dried naturally under the sun (you'll be able to catch some vanilla and lavender in there too).
Tigerwalk Espresso (starting at $10.85, originally $15.50; equatorcoffees.com)
Equator Coffees
Coming from Colombia, Kenya, and Brazil, this medium-level roast blend (the brand's flagship one) makes for a balanced shot of caffeine in your cup — expect creamy, sweet flavors of cherry-toned chocolate, strawberry and lemon.
B'Cause Blend (starting at $12.60, originally $18; equatorcoffees.com)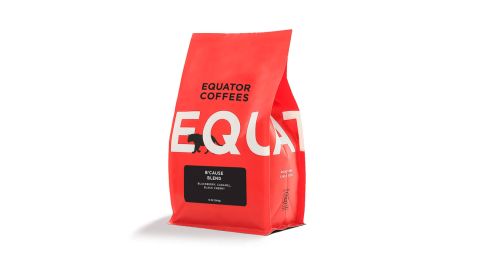 Equator Coffees
This blackberry, caramel and black cherry-flavored blend is more than just a great cup of coffee — it also supports excellent causes focusing on sustainability and equity.
For more great deals, check out CNN Coupons.