CNN —
Mashed potatoes pooled with gravy. Pecan and sage stuffing. Green bean casserole. And, of course, that succulent, oven-roasted turkey. If Thanksgiving dinner makes your mouth water just thinking about it, but Covid means you'll be missing your annual big gathering at Mom's house in 2020, you're not alone.
Whether you're planning to cook your own bird but prefer skipping long lines at the grocery store, are looking for someone else to do the cooking for you or are hoping to simply heat up something yummy while toasting your family via a Zoom call, we've rounded up nine Thanksgiving meal delivery services that will keep you well fed during this strange year.
No, it's not likely to be the traditional holiday you know and love, but with preportioned ingredients and ready-to-heat meals, there's at least one thing to be very, very thankful for: little to no dishes.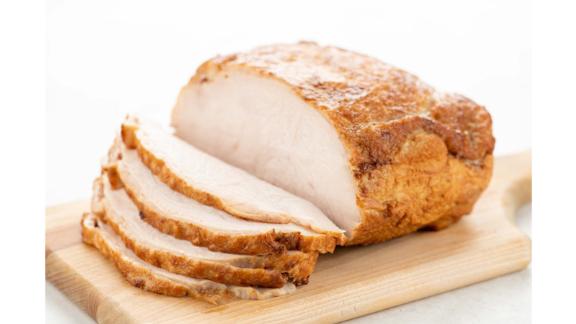 Home Chef
Who it's for: Families who wouldn't miss cooking a full Thanksgiving meal.
The basics: Say you're dreading a trip to the jam-packed grocery store but would still like to cook your meal at home. Order from the a la carte options on the Thanksgiving menu from Home Chef, a weekly meal subscription service. Available the week of November 23, you'll choose from turkey, four sides and dessert, and you'll receive fresh ingredients and detailed recipes to whip up a gourmet meal without the need to stand in long supermarket lines.
On the menu: Offerings include the premeasured ingredients needed to make one 60-ounce turkey breast roast, four a la carte sides (white cheddar and sage biscuits with honey butter; pecan, sage and cranberry stuffing; caramelized onion green bean casserole; and loaded mashed potatoes with cheddar, bacon and green onions); and apple cranberry crumble for dessert. Serves eight to 10.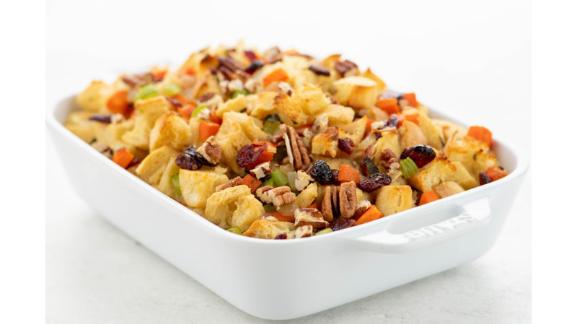 Home Chef
Price/ordering: A subscription is required, but you may cancel anytime; order at least one week in advance. Turkey roast, $44.98; sides and dessert, $15.98 each.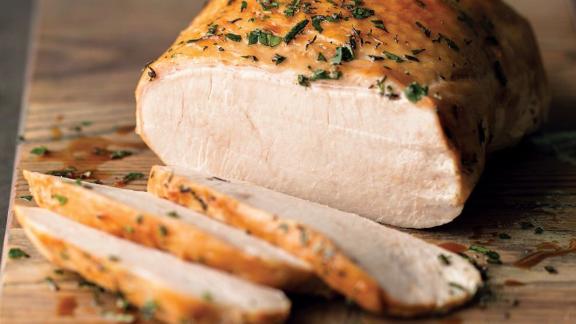 Omaha Steaks
Who it's for: The small family who wants a quality bird, and some other classics too.
The basics: One of the leading meat delivery services, Omaha Steaks specializes in steaks (duh) but also a whole lot of other specialty, quality meat from chicken and pork to even seafood. For Thanksgiving this year, it's got its own Thanksgiving feast that includes some of the day's most iconic dishes.
On the menu: Ideal for four people, Omaha Steaks' Turkey Holiday Feast includes a 1.8-pound roasted turkey breast, a family-size serving of smashed red potatoes, a green bean casserole and four individual sticky toffee pudding cakes.
Pricing/ordering: The Turkey Holiday Feast package is $103.96, and it comes with free shipping. You can order today and keep everything frozen until the big day.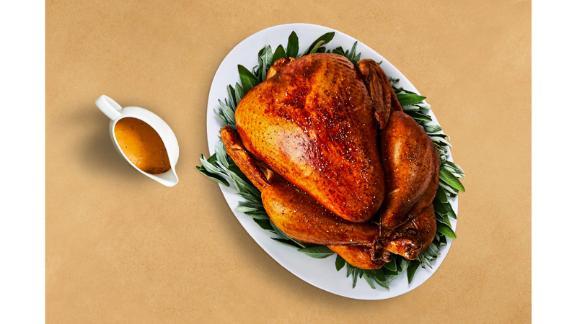 HelloFresh
Who it's for: The large family or friend group who wants to host a stress-free Friendsgiving.
The basics: The simple meal delivery service is the largest meal kit provider in the US, focusing on various meal plans for every kind of eater (including family-friendly, meat and veggies and pescatarian options). HelloFresh offers easy-to-follow recipes with nutritional information, high-quality and farm-fresh ingredients and a fun opportunity to sharpen your chef skills.
On the menu: The Turkey and Sides Box includes a roast turkey and classic gravy with a garlic herb butter rub, four sides and a dessert to finish off your holiday. If you're not a turkey lover, HelloFresh also offers a Beef Tenderloin and Sides Box, including a peppercorn-crusted beef tenderloin with sherry thyme jus. Both options come with creamy mashed potatoes with garlic and sour cream, ciabatta stuffing with chicken sausage and cranberries, smoky maple Brussels sprouts with lemon, cranberry sauce with orange and cinnamon, and an apple ginger crisp with cinnamon pecan crumble.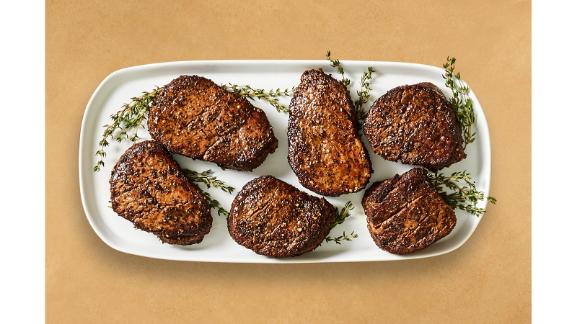 HelloFresh
Pricing/ordering: Be sure to order by November 19 to receive your pre-thawed turkey or beef tenderloin package. The Turkey and Sides Box is $13.90 per person and feeds eight to 10 guests. The Beef Tenderloin and Sides Box is $19 per person and feeds four to six people. The meal delivery service ships both packages in climate-controlled boxes.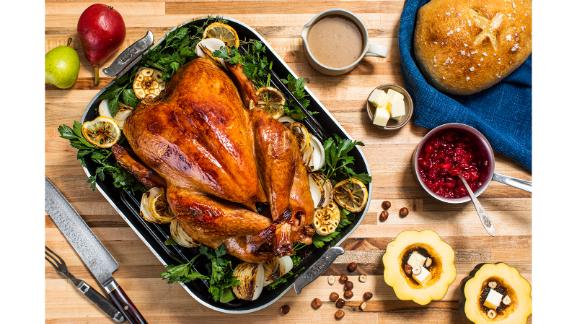 Porter Road
Who it's for: The meat lover who would never dream of buying a precooked bird.
The basics: The online meat delivery service from the folks behind the Tennessee-based Porter Road butcher shop sets you up with beef, pork, lamb, chicken and sausage — and, for the holidays, turkey. All are hormone-free with no antibiotics, and humane- and pasture-raised on local farms. Shop curated boxes a la carte or sign up for a subscription to have boxes delivered every two, four or eight weeks. We reviewed Porter Road here too.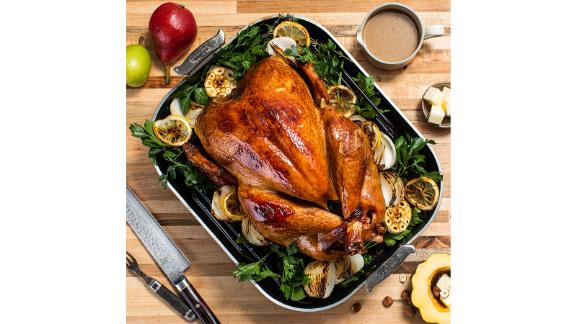 Porter Road
On the menu: The Holiday Turkey Box includes a 13- to 15.5-pound pasture-raised turkey (serves up to 15), plus 1 pound of loose sage sausage for stuffing, 1 pound of pork bacon ends to add to your veggies and 1 pound of ham bacon to use for hors d'oeuvres (or breakfast, or dessert — we don't judge).
Pricing/ordering: Preorder to have your turkey shipped the week of November 16 (which allows time for it to thaw); other items will arrive by November 25. The box is $165 with free shipping on orders $100 or more.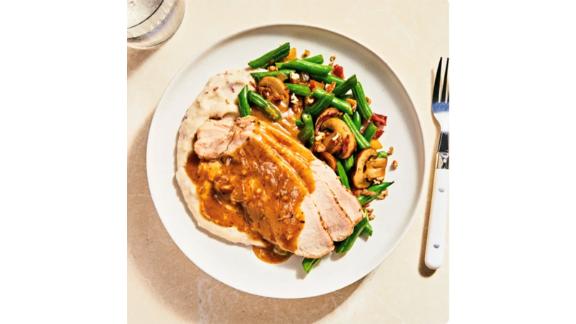 Freshly
Who it's for: The single diner who has Uber Eats on speed dial.
The basics: Just because cooking isn't your thing and you can't fly home to Mom's house or head out to your favorite restaurant this Thanksgiving doesn't mean you can't still enjoy a yummy holiday dinner solo. Freshly's meal delivery service lets you choose from 30-plus ready-to-eat meals. Just heat them up, and in three minutes, dinner is on the table. Pro tip: Organize the order with your fellow friends and family, fire up Zoom and eat the same meal together while you're apart.
On the menu: The carved Thanksgiving Turkey dinner with green bean saute and toasted pecans includes lean, tender turkey, skin-on mashed potatoes, garlicky gravy and green beans sauteed with a small dab of butter, mushrooms and turkey bacon.
Pricing/ordering: Choose from four, six, 10 or 12 meals per week; pricing starts at $8.49 per meal.
Blue Apron
Who it's for: The large family who loves to cook together.
The basics: This popular meal delivery service allows subscribers to choose meals from four plans. They then receive a box filled with preportioned ingredients and step-by-step instructions for creating chef-prepared recipes. For the first time, Blue Apron is offering a full Thanksgiving feast; if turkey's not your thing, a mix-and-match option is also available.
On the menu: The Southern-themed Thanksgiving Meal Prep Feast (serves six to eight) includes spice-roasted turkey with sage gravy and cranberry relish, cheddar mashed potatoes, cheesy cornbread pudding, ginger-honey glazed carrots, braised collard greens and a maple-peanut apple and persimmon crumble. The mix-and-match dishes include premium spice-rubbed pork roast with up to five sides and dessert from the brand's Signature menu. Need wine? Of course you do. Order up a selection of pairings from Blue Apron's Holiday Feast Favorites wine menu.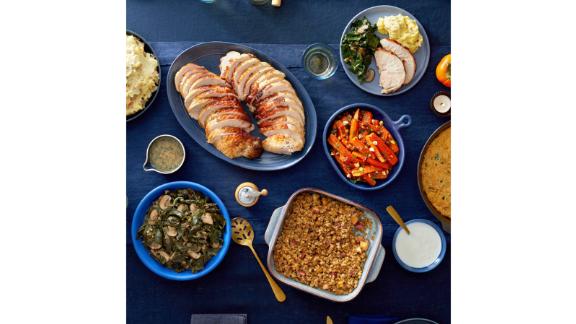 Blue Apron
Pricing/ordering: Meal plans start at $59.94/week. Thanksgiving feast, $135; mix-and-match, $70, with add-ons available. Six-pack of holiday wines, $59.95. Order by November 16 for delivery the week of November 23.