(CNN) —
We're all seeking ways to get a better night's sleep, and after you've gotten the right mattress, sheets and pillows sorted out, the next item on your list should be a comforter.
Whether you want to get super cozy under a heavy comforter, you're a hot sleeper looking to keep it easy breezy with a cooling comforter or you're looking for a cute matching set, we've got options for you, because it's important to be covered when you're trying to get a good night's sleep.
"Our body temperature drops right before and during sleep so that our body can increase production of melatonin and make us feel sleepy," explains sleep specialist at Solve Our Sleep Whitney Roban. "A comforter will provide us warmth when our body temperature drops by not letting the heat escape. We also can associate bedding with sleep, so the feel and smell of our bedding can be a cue to the mind and body that it is time for sleep."
Best down comforter
Elder & Ivory 600 Fill Power All-Season Down Comforter (starting at $97.99, originally $249.99; wayfair.com)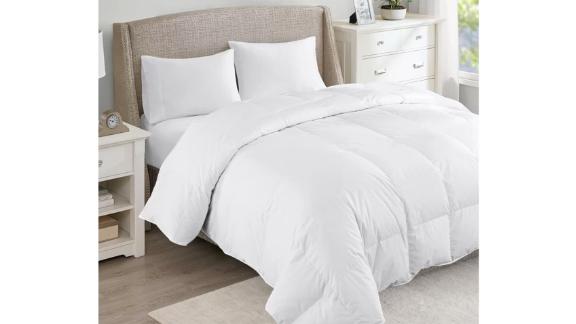 This baffle-box-stitch comforter — meaning vertical strips of fabric separate internal layers, creating internal fluff boxes — is one of the highest rated on Wayfair, and it's currently priced at more than half off.
Baffle-Box-Stitch Goose Down Comforter (starting at $289; llbean.com)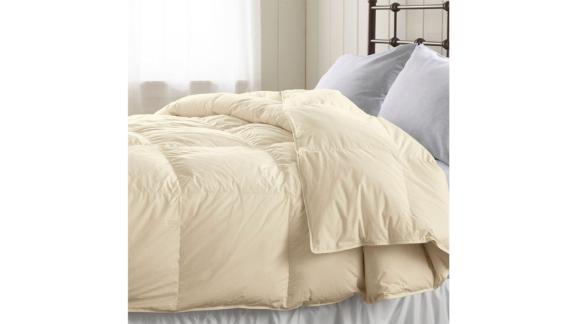 The lofty goose down in this editor-favorite comforter provides warmth while remaining breathable and airy, with one reviewer raving, "This comforter has it all! Loftiness, corner loops, gorgeous and impeccable quality."
Puredown Lightweight White Goose Down Comforter (starting at $109.99; amazon.com)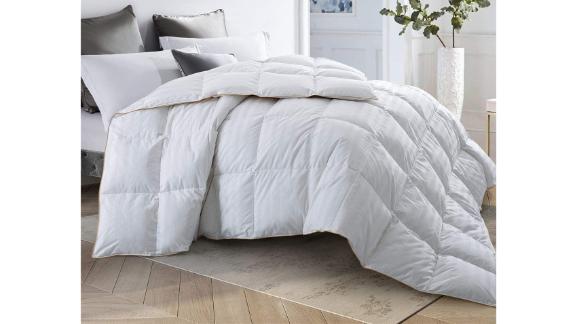 Love the feeling of pure goose down but find it gets a little hot? This is the comforter for you — with 60% goose down and 40% feathers, it's going to feel so much lighter.
Best down alternative comforter
Linenspa All-Season Down Alternative Quilted Comforter (starting at $29.97; amazon.com)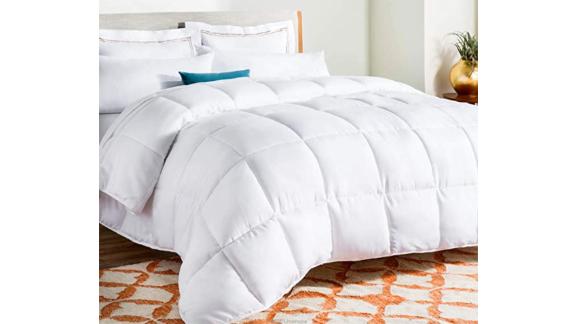 This ultra-soft, all-season microfiber comforter comes in 12 colorways and is reversible to a different complementary shade. With over 37,000 5-star reviews, you can feel confident this machine-washable comforter is the perfect choice for your bedroom.
Alwyn Home All-Season Down Alternative Comforter (starting at $34.99, originally starting at $54.05; wayfair.com)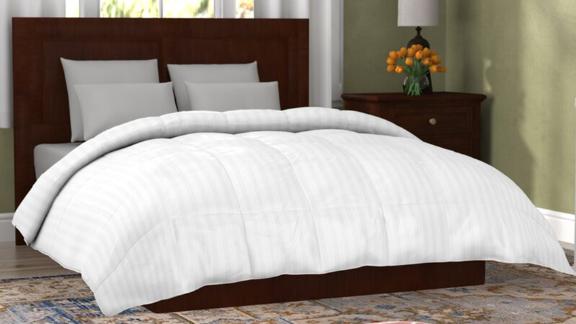 "This comforter feels so luxurious. Like hotel luxurious," raves one 5-star reviewer of this machine-washable, all-season comforter that features a 100% cotton cover.
Utopia Bedding Box-Stitched Down Alternative Comforter (starting at $24.99, originally starting at $26.99; amazon.com)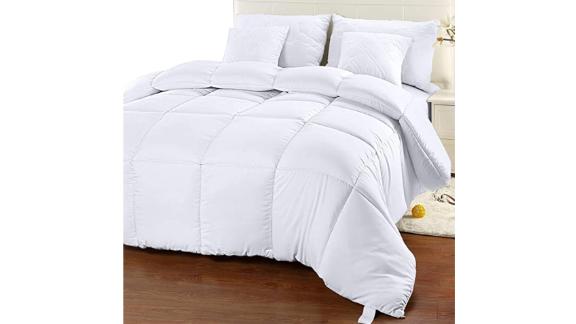 "I didn't want to break my bank when I got a new bed set, but I was worried that buying the cheaper product would result in less comfort. I was wrong!" writes one 5-star reviewer of this down alternative, box-stitched comforter that's hypoallergenic and machine-washable. "This cloudlike duvet is sooo comfortable and soft. It is light and heavy at the same time in that you feel that sense of security that a blanket gives you, but it doesn't make you wish you were dead in the summertime."
Best comforter for hot sleepers
Codi Air All-Season Hypoallergenic Comforter (starting at $119.99; amazon.com)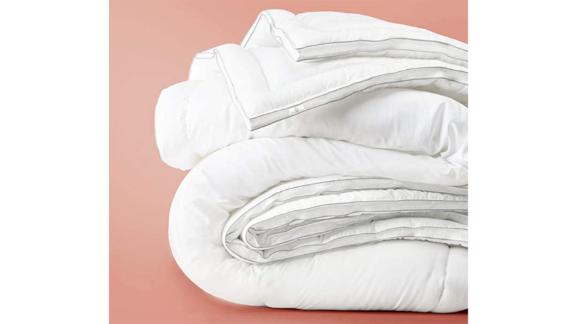 Made from breathable eucalyptus fibers and super-soft lyocell (an environmentally sustainable fiber), the Codi comforter "stays fluffy forever" and "doesn't trap body heat," according to reviewers.
Alywyn Home Lightweight Summer Down Alternative Comforter (starting at $46.99, originally starting at $69.99; wayfair.com)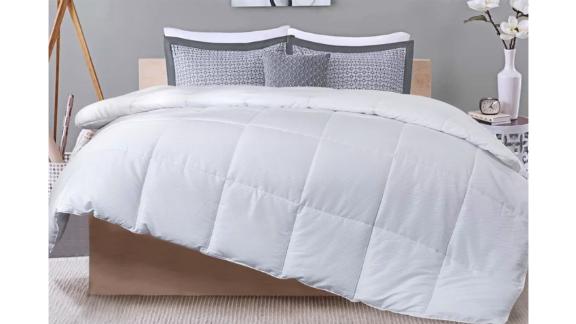 The polyester fill on this highly rated lightweight comforter is breathable and hypoallergenic, and the peach skin fabric promises to comfort and cool your skin.
Brooklinen Lightweight Down Comforter (starting at $134.10, originally starting at $149; brooklinen.com)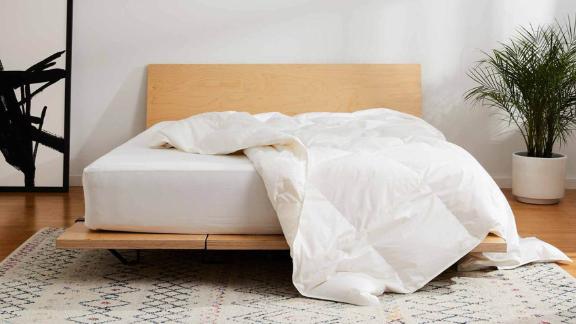 The obsession-worthy direct-to-consumer brand has somehow created a lightweight comforter that manages to still be cozy. With over 1,900 5-star reviews, it's not surprising that one raved, "Honestly, the best sleep I have ever gotten in my life. I live in Houston, so it's very warm, and I never get too hot with this comforter. SO happy I splurged on this!!!"
Best cooling comforter
Vonabem All-Season 2100 Series Comforter (starting at $39.99; amazon.com)
With a solid 4.9-star rating from Amazon shoppers, this all-season, machine-washable comforter is a true cooling crowd-pleaser, with one reviewer writing, "It cuddles me like a soft, fluffy cloud. It keeps me warm on cool nights, and cool on hot nights. The silicon fiber alternative to goose down is fantastic. It leaves me much more comfortable than my traditional cotton blankets and comforters."
Clima Balance Lightweight Down Alternative Comforter (starting at $74.95; amazon.com)
Made with a 100% hypoallergenic polyester, this cooling comforter has special mesh panels that wick moisture away from your body, making it incredibly lightweight to sleep under.
Cohome 2100 Series Fluffy Down Alternative Comforter (starting at $39.90; amazon.com)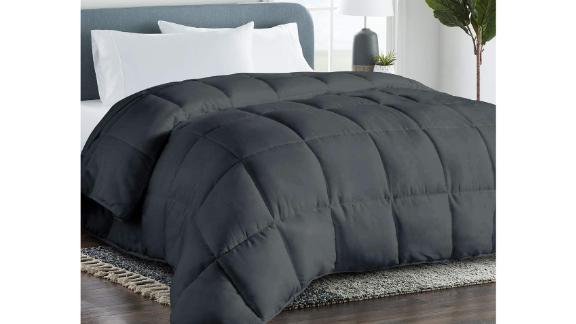 Thousands of Amazon shoppers rave about this down alternative comforter keeping them cool all night. Available in five colors and patterns, this budget-friendly comforter is also machine-washable.
Best comforter sets
Madison Park Heritage 8-Piece Comforter and Coverlet Set Collection (starting at $247.10 with code FRIEND, originally starting at $353; macys.com)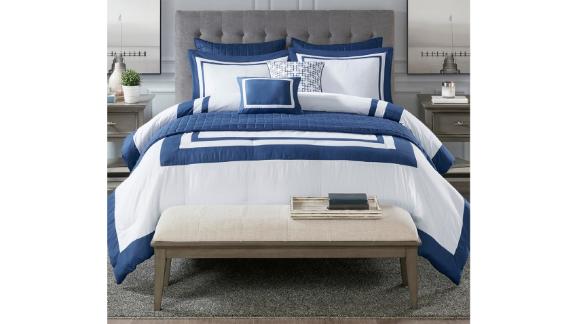 This classic eight-piece set — which includes a comforter, shams, throw pillows, a coverlet and more — brings classic Americana style to any bedroom. Available in navy and gray, one 5-star reviewer writes, "I really like the quality of the comforter and the pillows. It makes the entire room look amazing when the bed is made."
Threshold Faux Fur Comforter & Sham Set (starting at $45; target.com)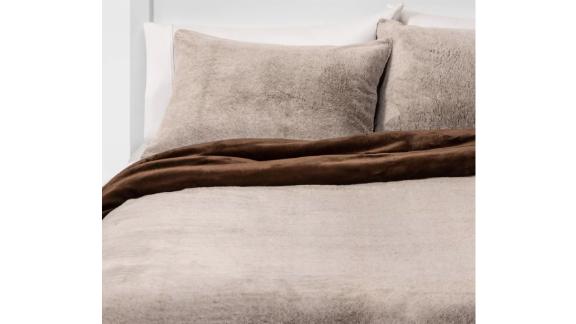 This highly rated set will keep you so cozy during the winter months, with a faux fur cover for your bed and decorative faux fur shams for lounging all day.
Comfort Spaces Zoe Comforter Set Printed Striped Floral Design (starting at $39.99; amazon.com)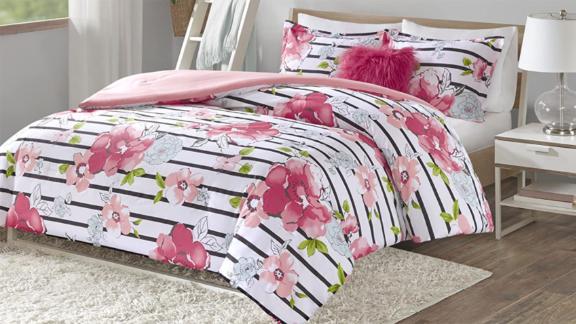 This set contrasts the softness of pink florals with modern striping, creating a striking design moment for a set containing a comforter, shams and a decorative throw.
Best weighted comforter
Brooklinen Weighted Comforter (starting at $224.10, originally starting at $249; brooklinen.com)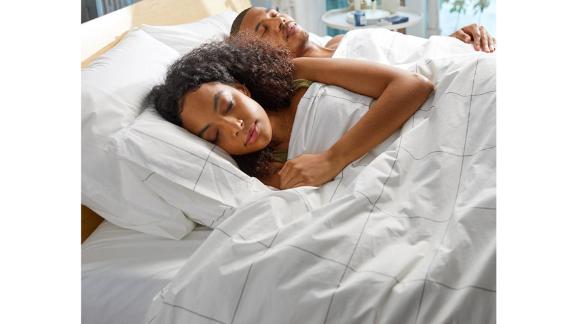 If you've tried a weighted blanket for cozying up on the couch, you may have considered bringing the stress and anxiety reduction into your bedroom. Brooklinen's weighted comforter has evenly distributed glass microbeads for weight and plush filling for the comfort you need.