CNN —
The first incarnation of an Advent "calendar," born in Germany in the mid-1800s, was candles lit one at a time to mark each day in the four weeks running up to Christmas. In the 20th century, the tradition made its way here, evolving into a paper calendar with a seasonal picture or verse hid behind wee numbered doors. Bite-sized pieces of chocolate were soon the standard goodies.
Now? We are in the golden age of Advent calendars. You can find one to make visions of sugarplums dance in the head of virtually anybody. Makeup mavens, Minecraft fanatics, beef jerky devotees … even the dog can get in on the action.
And when you find the perfect one — which you will, here — order it soon. We're talking like today soon, since these gifts sell out fast. The most coveted Advent calendars are long gone by Thanksgiving. And if you're on the hunt for other types of gifts, check out our roundups of gifts for him, gifts for her and gifts for everyone else on your list.
Home Advent calendars
Never has there been a better holiday season to cozy up at home. Here's inspiration.
Christmas Tree Advent Calendar ($18; riflepaperco.com)
Rifle Paper Co.
Ready to adorn an end table, mantle or shelf, this three-dimensional, gilded tree is sturdy enough to serve as eye-catching decor for Christmases yet to come. Sweet pictures wait to be discovered behind the 25 flaps. There's a similar version that's "The Night Before Christmas"-themed too.
Fair Isle Advent Calendar Pillow ($79; potterybarnkids.com)
Pottery Barn Kids
This rustic throw pillow adds old fashioned charm to a couch or chair. If you like, fill each of the 12 knit pockets with a tiny treat. But it feels just as special to move the attached star from day to day to count down Christmas. It can be personalized with a monogram on the back side.
12 Nights of Wishes Candle Set ($28; anthropologie.com)
Anthropologie
A nod to how 19th century Germans counted down to Christmas Day, this reimagined Advent "calendar" will spark a new family tradition. Light a numbered candle as you make a wish. The hues of the candles are rich and warm, yet not in-your-face Christmas-y. A candle holder and a giftable storage bag are included.
Wooden advent calendars
Countdown to Christmas Advent Ornament Calendar ($85; uncommongoods.com)
Uncommon Goods
Handmade by Canadian artist Ali Harrison, this Advent calendar features nature-themed baltic birch ornaments. Hang them on the tree this year, then trot them out again next year (and the year after that).
Kurt Adler Light Up Advent Calendar House ($112.69 with code FRIEND, $230; macys.com)
Macys
This stunning copper-and-wood piece, showcasing a back-lit nativity scene, is destined to be an heirloom. Fill the 24 drawers with your own little gifts.
Chocolate Advent calendar
Godiva Luxury Advent Calendar ($39.95; godiva.com)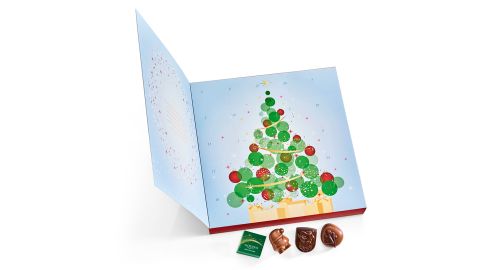 Godiva
A chocolate-stuffed Advent calendar is never a bad idea. Order a second one for a faraway loved one. You'll be able to bond every day of the season through milk ganache bliss, raspberry stars and dark mint medallions.
Food Advent calendars
These will make the season bright for foodies, whether they go for savory or sweet.
Harry & David 12 Days of Moose Munch ($39.99; harryanddavid.com)
Harry & David
Crispy premium popcorn, perfectly portioned over 12 days makes for one very happy holiday season. The succulent snacks star butter, fruits, nuts…even Cinnabon cinnamon roll and churro flavors, which sound too good to be true.
McCrea's Caramels Advent Calendar ($38; uncommongoods.com)
Uncommon Goods
Handmade in small batches, the sweet delights nestled within this cute little calendar are nowhere near ordinary. The flavors include black lava sea salt, anisette and cinnamon clove.
BYOB The 25 Sauces of Christmas ($79.99; amazon.com)
Amazon
This spicy Advent sampler houses 25 2-ounce glass bottles of Creole-style hot sauce. It's the real deal, a Christmas dream come true for hot sauce enthusiasts. You even get one for the 25th, in case you want a dash of "Frosty's Fire Starter" on your goose. Need more inspiration? Check out our guide to the best hot sauces of 2020.
Bonne Maman Advent Calendar ($39.99; worldmarket.com)
World Market
Move over, avocado toast. Dive into this holiday house-style calendar first thing on December mornings for a new flavor of the iconic brand's jam or honey. Cherry Christmas spice is ridiculously good.
O Holy Cow! A Jerky Advent Calendar ($79.99; mancrates.com beginning October 29)
Man Crates
This is a carnivore's ultimate countdown to Christmas. From honey bourbon beef to root beer habanero venison, it's a holiday feast of festive meats.
24 Days of Tea Advent Calendar ($32; uncommongoods.com)
Uncommon Goods
After the year we've all had, we deserve simple pleasures to look forward to. How about wrapping yourself in a plush throw, switching on a Hallmark Channel Christmas movie and cupping your hands around a piping-hot mug of tea? Enter these soothing sachets, everything from Chinese black to Scandanavian cranberry elderflower.
Advent calendars for kids
Having a fun surprise to open every day will make their whole season.
Playmobil Christmas Ball Advent Calendar ($24.99; amazon.com)
Amazon
We may not be going to any big parties this year, but kids can let their festive dreams run wild with this Advent calendar. It yields all the pieces to build a Christmas gala scene, complete with a violinist.
Pancake the Penguin's Christmas Adventure ($39; lovepopcards.com)
Lovepop Cards
Part game, part storybook and entirely adorable, this calendar takes the shape of a playset. Each day, your child will open a pouch bearing a piece of the unfolding tale and a buildable character or accessory. It's a 24-day winter romp through penguin land.
Holiday Felt Advent Calendar ($79; thecompanystore.com)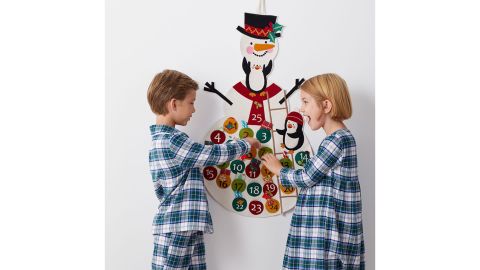 The Company Store
If you're looking for a customizable Advent calendar for kids, look to this jolly felt snowman. He has 25 petite pockets into which you tuck a candy, a coin or a small trinket into. Cue the giggles from Santa's little helpers.
The Elf on the Shelf North Pole Advent Train ($24.99; kohls.com)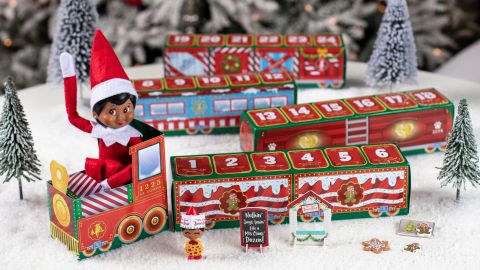 Kohls
Got kids? Then you probably have the Elf on the Shelf, making mischief around your home all through December. Your child's Elf can be the engineer on this prize-packed train. Shhh … they'll even find an Elf Pet in there somewhere.
Minecraft 2020 Mini Figures Advent Calendar ($29.99; target.com)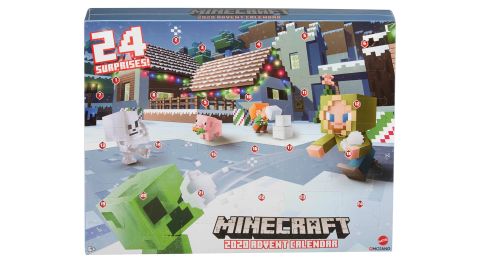 Target
This Advent calendar loaded with Minecraft-themed figurines — Snow Golem is here, of course — and holiday accessories just may lure them away from the controller.
Barbie Dreamtopia Advent Calendar ($28.99; target.com)
Target
Think they'd like a doll to dress up like a princess, a mermaid or a fairy? How about all three? This clever calendar breaks the mold. Kids snag Barbie herself the first day, followed by a flurry of fashion accessories for three different looks.
Hot Wheels Advent Calendar ($19.99; amazon.com)
Amazon
Little lovers of diecast cars can never have too many Hot Wheels. They'll add eight more to their collection, plus holiday-themed accessories, when you gift them this calendar. A first for this year: a playmat is included.
Makeup Advent calendars
Ulta 12 Days of Beauty ($20; ulta.com)
Ulta
Wow. An Advent calendar that doubles as year-round decor! After you crack open each box to discover your daily delight (could be a limited-edition eye crayon. Maybe plumping lip oil. Or makeup setting spray?), they close back up to be strung as garland. Quite the bang for your buck.
e.l.f. Cosmetics 12 Day Advent Calendar ($45; elfcosmetics.com)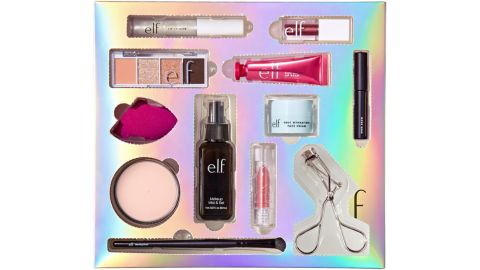 e.l.f. Cosmetics
Upgrade their makeup stash (or yours) by picking up this compact beauty calendar. It includes 12 holiday makeup surprises, among them an eyelash curler, Wow Brow Gel and Liquid Glitter Eyeshadow in cranberry punch.
NYX Diamonds & Ice, Please! 24 Day Holiday Countdown ($55; nyxcosmetics.com)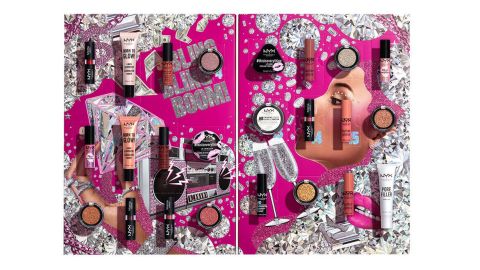 NYX Cosmetics
This Advent calendar, loaded with two dozen mini and full-sized beauty nuggets, oozes glam. Amid the shimmer, sparkle and shine, you'll find everyday helpmates as well, such as a lip scrub and winter-ready balm.
Other beauty Advent calendars
Whether hitting a socially-distanced fete, or snuggling up with that special person at home, counting down to Christmas never looked so good.
Kiehl's Limited Edition Advent Calendar ($98; kiehls.com)
Kiehl's
The Advent calendars from this brand, chock full of skin-coddling moisturizers, cleansers, serums and more, are fan favorites year after year. The 2020 version is also a visual standout, thanks to the cheery, quirky design of artist Maite Franchi.
L'Occitane Premium Advent Calendar ($104; loccitane.com)
L'Occitane
You know that friend of yours who never checks out of a luxe hotel without the gratis toiletries…Oh, that's you? Even better. Maybe you're not hotel hopping anytime soon, but you can bring home the finest in skin soothers. The brand's Shea Butter Hand Cream has a cult following.
OPI Shine Bright Advent Calendar ($49.95; amazon.com)
Amazon
With so many of us now doing our nails at home, this collection of 25 mini OPI enamels will keep our manis on point into the new year. Flashy holiday metallics and glitter shades are in the mix.
Dog Advent calendars
Fur babies deserve to take part in the excitement too. They're part of the family, after all.
Holiday Tails 12 Days of Christmas Advent Calendar ($14.99; petco.com)
Petco
'Tis the season … to spoil your dog. The toys in this calendar will have your best bud fetching and tugging, indoors and outside.
Good'n'Fun The 12 Days of Dogmas Calendar ($8.99; amazon.com, chewy.com)
Amazon
Hoozagoodboy?! Whether a lab, a chihuahua or some breed in between, your loyal pooch wants season's treatings too. This dog Advent calendar is filled with chewy snacks, including mini kabobs.
Frisco Holiday 12 Days of Christmas Advent Calendar ($34.98; chewy.com)
Chewy
Reviewers not only love the fact that this Advent calendar is full of toys for their dog, but also the fact that the box can be reused year after year.
Cat Advent calendar
Merry & Bright Feline So Festive with Toys ($16.99; petsmart.com)
Petsmart
Even the grumpiest cats will be pawing, gnawing and jumping December days away with this 25-toy calendar. Among the playthings, your feline will find a plush gingerbread man plump with catnip and a jinglebell ball.