Only a few weeks ago, the cafés, bars and restaurants of Paris were bustling late into the night, neon signs gleaming and masked patrons spilling onto flower-filled terraces, still reveling in their freedom after a strict spring lockdown.
The street life the city is famous for was back, and it was almost as if the French capital was back to its old self
Now, those same streets are being deserted again, as a strict new nightly curfew is imposed to combat a worrying surge in coronavirus cases in France that are part of a wider trend of numbers rising across Europe.
Hospitality venues must close and citizens stay home between between 9 p.m. to 6 a.m. across Paris. Other French cities, including Aix-en-Provence, Grenoble, Marseille, Montpellier, Toulouse, Saint Etienne, Lille, Rouen and Lyon are also affected.
Violating the rules carries a fine of €135 (roughly $160) for a first offense, and goes up to €1,500 ($1,760) if the offense is repeated.
Photographer Kiran Ridley took to the boulevards and alleyways of Paris on October 17 – the night the curfew was introduced – to capture what it's like when the city goes dark, and contrast these eerie images with snapshots of livelier scenes of the same spots back in September and early October.
The images show that familiar Paris bustle and the warm glow from cafes replaced by cold street corners and shutters covered in graffiti. The Eiffel Tower still stands illuminated on the skyline, but in the later images, no one is there to enjoy its beauty.
CNN also hit the streets of Paris to speak to locals, and find out their thoughts on the new restrictions.
"Nine p.m. has now become the new midnight," said French student who gave her name as Alexiane. The 22-year-old questioned whether crowds of restaurant-goers rushing to the Metro when curfew hits is any better than if they traveled home at midnight.
She also feels the decreased time for evening socializing is "ripping out the small bits of fun that we still had as young people."
That said, the student hopes the new measures will help decrease Covid cases.
"We are starting to sense a general fatigue of having to make sacrifices," she said.
At a Parisian bistro called Bar du Central, 23-year-old Mathilde, whose family owns the restaurant, spoke to CNN from behind the bar as she washed glasses and prepared for the workday ahead.
There are economic impacts to the curfew for businesses, Mathilde explained.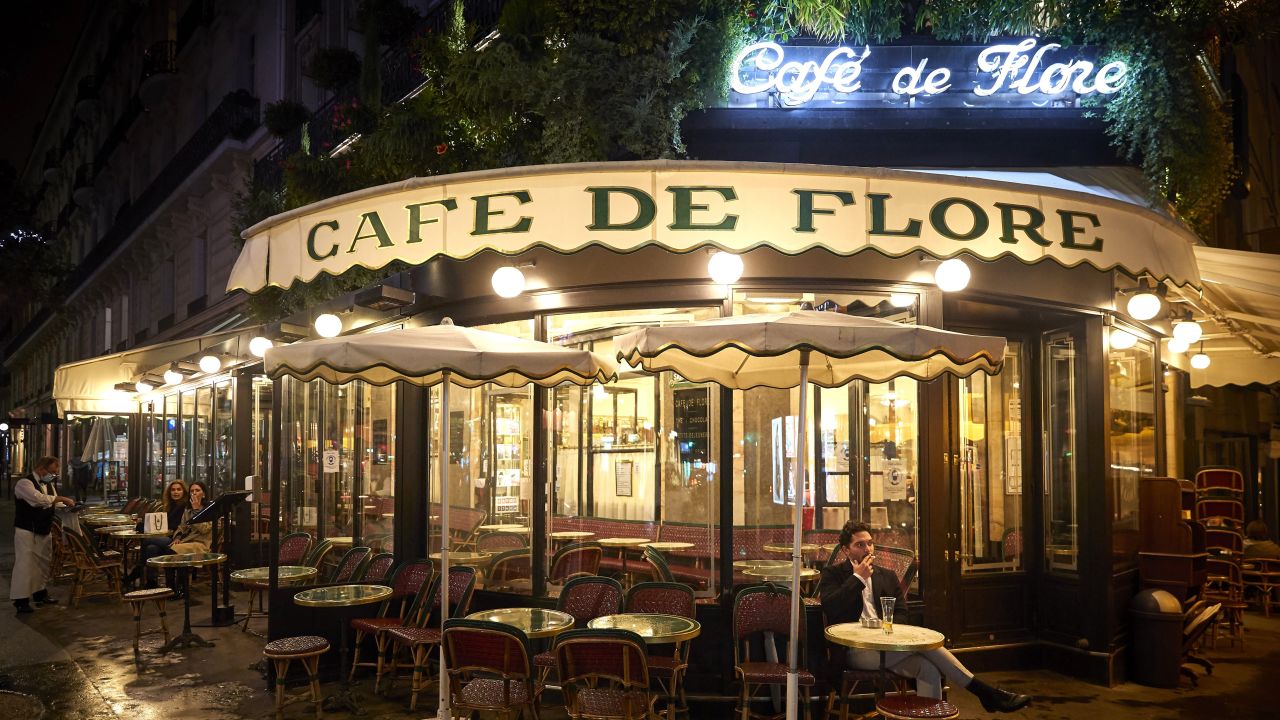 "We are losing turnover during the evening," she said.
Mathilde added that it's hard to rely on lunchtime sittings when many Parisians are working from home, or have left the city.
And ensuring evening diners have wrapped up eating and left before 9 p.m. is difficult:
"It spoils all the restaurant experience, but we have to adapt."
Tourism in France is already diminished due to widespread travel restrictions and quarantine requirements. Mathilde thinks the curfew will further impact the city's tourist trade.
"Tourists do not want to come visit Paris because of the curfew," she said.
Other Parisians who spoke to CNN said they supported the new restrictions as a way of decreasing cases – and that they were enjoying the added benefit of a decrease in noise pollution.
"The curfew is not a problem for me," said Mylene, chatting to CNN while standing in front of a bakery in the rain. "It is important to be careful, and to make health our priority instead of the economy. My street has become way quieter since the curfew, it's pleasant."
As for clothing store manager Lisa, she closes shop each day at 7 p.m. Under the new restrictions, she has only a couple of hours between finishing work and the curfew commencing.
She misses being unable to unwind in the evening after work, but in general Lisa supports the restrictions.
"It allows me to get some rest and to drink less alcohol. If the curfew leads to a reduction of cases, then I'm in favor of such a measure," she said.
"It's alright, we can wait two months and party later."
This story has been updated to clarify the timing of one of the photos.
Francesca Street reported for this story from London