(CNN) —
CNN Underscored reviews financial products such as credit cards and bank accounts based on their overall value. We may receive a commission through The Points Guy affiliate network if you apply and are approved for a card, but our reporting is always independent and objective.
Banks continue to enhance their travel credit cards in an effort to keep customers engaged during the pandemic, and on Tuesday, Chase announced a new limited-time bonus category on its trademark Sapphire credit cards.
Starting November 1, Chase Sapphire Reserve card holders will earn 3 points for every dollar spent on grocery store purchases, while Chase Sapphire Preferred card holders will earn 2 points for every dollar spent. The bonus points in this limited-time category will be capped at $1,000 in total purchases per month, and the promotion lasts through April 30, 2021.
The additional bonus category comes on the heels of last month's expansion of the Chase "Pay Yourself Back" tool, which can be used to redeem Ultimate Rewards points earned with either of the Sapphire cards for grocery, dining, home improvement purchases and contributions to select charities. Sapphire Preferred card holders get 25% more in value for their points with the tool from now through April 20, 2021, while those with Sapphire Reserve cards get 50% more.
Related: Chase Sapphire Preferred vs. Chase Sapphire Reserve: Which is best for you?
Also, earlier this year, Chase made gas and grocery store purchases eligible for the Chase Sapphire Reserve's $300 travel credit, along with the usual eligible travel charges. That expansion was originally slated to last through December 31, but the issuer announced on Tuesday that these additional purchases will now continue to automatically qualify for the credit through June 30, 2021.
If you don't already have one of the two popular Chase Sapphire cards, now might be a great time to take a look. The Chase Sapphire Preferred is currently offering new card holders 60,000 bonus points after spending $4,000 in purchases in the first three months after opening the account, while the Chase Sapphire Reserve comes with 50,000 bonus points after you spend $4,000 on purchases in the first three months.
Related: Read CNN Underscored's review of the Chase Sapphire Preferred.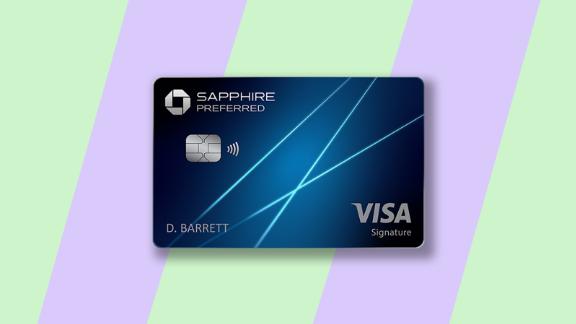 While you may be wisely prioritizing cash back credit cards in your wallet right now, it's not advisable to completely discount the value of travel rewards. Travel may currently be at an ebb, but restrictions are likely to be eased at some point in 2021, and having a stash of points or miles will be extremely useful as airlines try to fill seats and hotels look to increase occupancy rates next year.
So, if you don't already have a Chase Sapphire credit card and you're starting to think about trips for 2021, you may want to consider picking up a new Chase Sapphire Preferred and taking advantage of its higher sign-up bonus, or using either Sapphire card to earn more bonus points whenever you're heading to the grocery store for the next several months.
Learn more about the Chase Sapphire Preferred.
Learn more about the Chase Sapphire Reserve.
Check out CNN Underscored's list of the best Chase credit cards to get for cash back and travel rewards.