CNN —
CNN Underscored reviews financial products such as credit cards and bank accounts based on their overall value, but does not review all financial companies or all available financial offers. We may receive compensation for sending traffic to partner sites, such as CreditCards.com, and this compensation may impact how and where links appear on this site. Terms apply to American Express benefits and offers. Enrollment may be required for select American Express benefits and offers. Visit americanexpress.com to learn more.
If you're in the market for a credit card that earns a ton of rewards at both restaurants and supermarkets, this new card offer is sure to whet your appetite.
The American Express® Gold Card is currently offering 60,000 bonus points after you spend $4,000 on the card within the first six months of card membership. This is the highest welcome bonus offer we've ever seen publicly available on this card, and it's nearly double the usual 35,000-point bonus.
Based on the valuations of frequent flyer website The Points Guy, American Express Membership Rewards points are worth about 2 cents apiece, which makes these 60,000 points equal to about $1,200 of travel value. Compared to many other popular travel rewards credit cards on the market today, that's one of the top bonus offers available right now.
Now, you may be thinking that the $250 annual fee (see rates and fees) on the Amex Gold is too high to stomach, but the statement credits you earn annually with this card practically cover the cost every year. First, you'll earn up to $100 in airline credits in 2021, which can be used to cover incidental airline fees such as checked baggage or in-cabin pet fees.
Then you'll also earn up to $120 in dining credits, provided in $10 monthly increments over the course of the year. The credits can be used for a number of popular dining options, such as Grubhub, Seamless, The Cheesecake Factory, Ruth's Chris Steak House, Boxed and participating Shake Shack locations.
And to top it off, Amex Gold card members will also earn up to $120 in Uber Cash each year — again, broken into $10 monthly portions — that can be used for either Uber rides or on Uber Eats food delivery orders.
If you can take full advantage of all of these credits throughout the year, that's up to $340 in credits, which means you'll actually make money with the Amex Gold in 2021, even after paying the $250 annual fee.
And after the airline fee credit goes away in 2022, if you use the remaining Uber Cash and dining credits in full each year, your out-of-pocket cost for the Amex Gold will effectively be a mere $10 annually, which makes it a steal given the number of bonus points you can earn with it.
Click here for the bonus offer on the American Express Gold card.
Earning American Express Membership Rewards points
With the Amex Gold card, you'll earn an impressive 4 points for every dollar you spend at restaurants worldwide, and at U.S. supermarkets on up to $25,000 in purchases annually (then 1x thereafter). Plus, you'll earn 3 points per dollar spent on flights booked directly with airlines and at amextravel.com, which will be useful when travel restrictions ease. You'll also earn 1 point per dollar on all your other purchases.
Those earning rates make the Amex Gold one of the best credit cards for your restaurant and U.S. supermarket purchases. Since The Points Guy values these points at 2 cents each, at 4 points per dollar spent, you're earning an 8% return in these two categories. And for your eligible airline purchases, you're getting a promising 6% return.
Better yet, most food delivery services will code as restaurants on the Amex Gold, so if you order from Grubhub, Seamless, Uber Eats or DoorDash, you'll still earn the same 4 points per dollar as if you had gone to the restaurant itself.
Related: Are you using the best credit card when ordering food for delivery?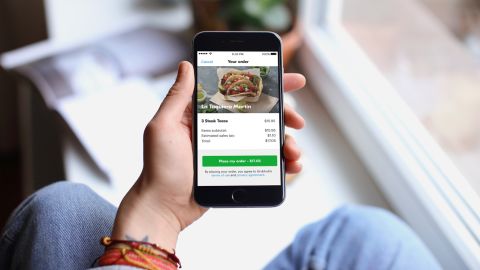 Grubhub
Outside of the bonus categories, you're earning only 1 point per dollar spent on everything else, which is a 2% return based on The Points Guy's valuations. While this is similar to what you'd earn with CNN Underscored's benchmark credit card, the Citi® Double Cash Card, you'll be earning points for a future trip with the Amex Gold card versus cash in your pocket now. So you'll want to decide what your priority is when it comes to credit card rewards — travel points or cash back.
Start earning bonus rewards at restaurants and US supermarkets with the American Express Gold card.
Redeeming American Express Membership Rewards points
Since the Amex Gold card earns highly useful Membership Rewards points, there are many options when it comes to redeeming your points. You can use your points for a statement credit or to purchase gift cards, but these options won't get you maximum value for your points (though on occasion, Amazon runs promotions that offer discounts for using Amex points to pay at checkout).
Related: Earn up to $50 off at Amazon with targeted American Express cards.
But the best way to maximize the points you'll earn with the Amex Gold is to use them for booking travel through American Express' own Amex Travel booking site, or by transferring them to one of Amex's 21 airline and hotel partner programs.
Redeeming points through Amex Travel
One of the easiest aand most flexible ways to redeem your Amex Gold points is to book travel directly through American Express by using Amex Travel, which allows you to book flights at 1 cent per point, and other travel options at a lower value.
Even if you don't have enough points to cover the entire cost of a trip, you can cover just a portion of the flight and pay for the rest with your Amex card. The only caveat is you must redeem at least 5,000 points for a reservation.
You'll also sometimes see Membership Rewards Insider Fares listed at the Amex Travel website. These opportunities offer around a 10% discount on the price of a flight, which lowers the number of points required for it. That makes your points worth more, although with this option, you must pay for your entire flight with points — a partial option is not available.
Redeeming points by transferring to partners
But if you're looking for the most bang for your buck by getting 2 cents per point in value — or possibly even more — when redeeming your Amex Gold points, you'll want to consider transferring your points to the issuer's airline and hotel partner programs.
American Express has partnerships with 21 different airlines and hotels, including Delta, JetBlue, Singapore Airlines, Cathay Pacific, British Airways, Marriott, Hilton and many others. While you'll need to do some research and homework to learn how to take advantage of these individual programs, you'll find that it's possible to get outstanding value for your points this way, especially if you're looking to fly in a premium first or business class cabin.
iStock
Of course, you're probably not doing a lot of traveling at the moment. But it's likely that travel restrictions will begin to lift at some point in 2021, which makes now an ideal time to be accumulating travel points so that you have them ready to use when planes return to the skies and hotels reopen their doors.
Related: Read CNN Underscored's complete American Express Gold credit card review.
Is the American Express Gold card right for you?
With a strong welcome offer, bonus points on popular food categories and annual statement credits, the Amex Gold is a card that should be in every foodie's wallet. While travel points may not be useful right at the moment, they're likely to become much more valuable as travel resumes in the months ahead, so socking away some points today can serve you extremely well tomorrow.
So if you're spending a good portion on your monthly household budget on picking up groceries, dining out at restaurants or ordering food for delivery, you may want to take this opportunity to pick up a haul of 60,000 bonus points while you can by grabbing an American Express Gold card, and start scoring bonus points on your food purchases today.
Learn more about the American Express Gold Card.
Check out CNN Underscored's list of the best credit cards of 2021.