CNN —
Think about a traditional photo frame. Within its borders is the power to evoke memories and remind us of the past. And thanks to handy digital photo frames, this time-tested mode of sharing memories has moved into the digital age. But it has not discarded the physicality of a photo frame.
Available in many sizes, digital photo frames replace the glass with a screen. Some ports on the back and a Wi-Fi chip inside allow you to display media from near and far. For instance, if you give one to a grandparent, you can email photos to display on their frame. Pretty neat, right? You can have them stay frozen on one image or cycle through a gallery of memories. Many of these integrate with leading services like Google Photos or Amazon Photos. Plus, if you already have a smart screen, you can utilize those as a digital frame.
Whether you're missing your family and friends a little extra (or getting a head start on holiday shopping), we think a digital frame makes a great gift that lets you share your memories no matter your physical location.
Pix-Star 10-Inch Wi-Fi Digital Picture Frame ($154.99; amazon.com)
Amazon
This 10-inch Pix-Star features 8GB of internal storage and allows you to import photos a few ways. There's both an SD card slot and a USB-A port on the back, or you can send them over the internet. Pix-Star connects with services like Google Photos, Facebook, Instagram, Dropbox, Flickr, OneDrive and Photobucket. The display will show photos in great detail with 1084 x 768 resolution set in a 4:3 ratio.
Aluratek 10-Inch Wi-Fi Digital Photo Frame ($126.28; amazon.com)
Amazon
This 10-inch frame from Aluratek adds a touch screen into the mix and doubles the internal storage to 16GB. Like the Pix-Star, you can import photos over the internet or with a physical source (aka a thumb drive or SD card). Better yet, you can control the import right on the screen and even show some extra visuals. You can add a clock, get calendar alerts, set alarms and see the weather. The frame is flush to the screen for a sleek look.
Nixplay Smart 10.1-Inch Digital Picture Frame ($189.99; amazon.com)
Amazon
Nixplay gives you the ability to show videos as well as photos — and it all happens on a 10-inch HD screen. It also has a sleek wood finish all around that makes it feel right at home. You can even pair it with Amazon Alexa to use your voice to control what's on the display. There's a motion sensor inside that will turn off the screen after you leave a room to conserve power.
Nixplay Smart 15.6-Inch Digital Picture Frame ($319.99; amazon.com)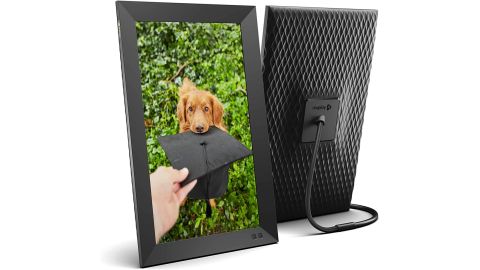 Amazon
This frame choice is much larger at 15.6 inches and keeps a sharp 1080p HD screen resolution. It provides the same features as the 10-inch, namely video and photo support. We like this size if you have space to fill on a counter or for mounting on a living room wall.
Nixplay 9.7-Inch 2K Smart Digital Picture Frame ($279.99, originally $329.99; amazon.com)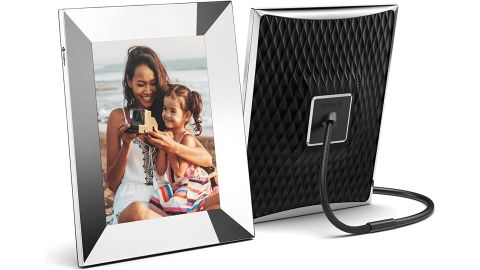 Amazon
Want sharper images and videos? Nixplay takes this to another notch with its 9.7-inch model that features a 2K display. Yes, that's a full 2048 x 1536 display, and there's a noticeable improvement in quality over the HD ones. Of course, it does depend on the original source. It has a modern metal frame all around and it's smart enough to know its orientation — landscape or portrait.
Echo Show 10 ($229.99; amazon.com)
Amazon
The Echo Show 10 can do much more than act as a digital photo frame, making it a great option if you're looking for a frame and then some. Accessing your photos on Echo Show 10 is simple. If you're an Amazon Prime member, you can access Amazon Photos for free. A quick "Alexa, show my photos" will get your slideshow started. You can also access photos via your Facebook account, if you have one. The Echo Show 10 features a 10.1-inch HD smart display.
Echo Show 5 ($74.99, originally $89.99; amazon.com)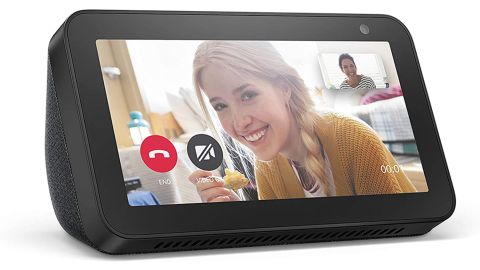 Amazon
The Echo Show 5 is a 5.5-inch HD smart display to keep your photo display subtle. If you're working with limited space but still wanting to show off your images, this is a great option. It's small enough to fit on a minimal countertop, a desktop, and nightstand surfaces while still showing off your images in a high-quality display.