World
Assistive technology is changing lives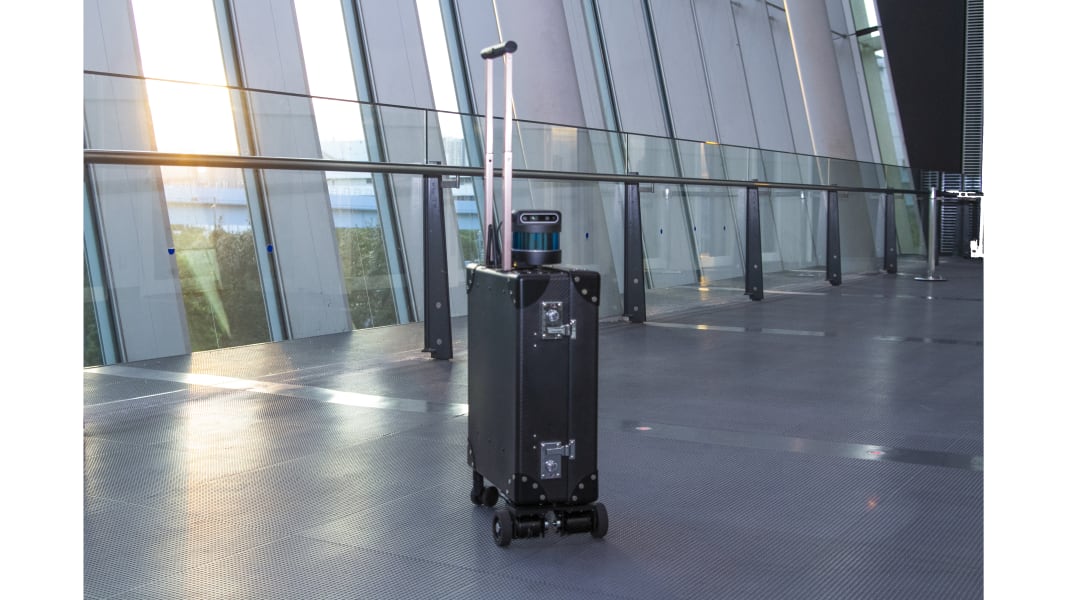 AI suitcase -- Designed in a collaboration between Carnegie Mellon University, IBM and a number of other Japanese companies, this smart suitcase is designed to help visually impaired people navigate public spaces. Using cameras, sensors and artificial intelligence, it maps its surrounding area. Scroll through the gallery to see other assistive technologies that are changing people's lives.
Masashi Kurahashi/IBM
Scewo chair -- Scewo is a start-up building wheelchairs that can climb and descend stairs. The chair can be controlled through a smartphone and uses special rubber tracks to ascend stairs up to a gradient of 36 degrees, making it suitable for use in places without ramps.
Scewo
WeWalk -- WeWalk is a walking stick for visually impaired people, which uses an ultrasonic sensor to detect obstacles above chest height and warns the user through vibrations. Designed by engineers from Young Guru Academy in Turkey, the stick can be paired with a smartphone to help navigation, and is integrated with a voice assistance and Google Maps.
CNN
Myosuit -- The Myosuit is an "exomuscle": a robotic garment that supports movement and provides stability to people with mobility impairments. Zurich-based start-up MyoSwiss developed the suit, which uses sensors at the knee and hip to detect movements the user wants to make. In 2019, two people with mobility impairments wore Myosuits to complete a relay version of the Zurich marathon.
CNN
Wayband -- Wayband is a super-precise GPS device worn on the wrist. Developed by blind runner Simon Wheatcroft in collaboration with US start-up WearWorks, it creates a "virtual corridor" from a pre-programmed route and uses small vibrations to let the user know if they stray outside it.
Nick Bennett/CNN
Wayfindr -- Wayfindr, a subsidiary of the UK's Royal Society for Blind Children, has developed a technology for visually impaired people to navigate indoor spaces. The not-for-profit worked with transport providers, shopping malls and visitor attractions to develop navigation instructions relayed by a mobile phone.

courtesy Wayfindr
Haptic baton -- Designed by music technology company Human Instruments in collaboration with blind percussionist Kyungho Jeon, the haptic baton transmits instructions from an orchestra conductor to Jeon through vibrations in receivers worn on his wrist or ankle. It has allowed Jeon, a virtuoso performer, to finally play in an ensemble.
CNN
Eye Gaze -- Eye Gaze technology, as demonstrated by artist Sarah Ezekiel, allows people with motor function difficulties to communicate through a digital interface. Ezekiel lives with amyotrophic lateral sclerosis (also known as motor neurone disease) and EyeGaze tracks her eye movements, allowing her to navigate a keyboard to form sentences, as well as control a cursor to create digital paintings.
Stefanie Blendis/CNN
OrCam MyEye 2.0 -- The OrCam MyEye 2.0 attaches to glasses and uses a camera to capture text, faces, barcodes, money, bus numbers, and colors and converts the information into words spoken into the user's ear. The OrCam Read is designed for people with visual impairment as well as dyslexia to read large amounts of text.

OrCam
Music: Not Impossible -- A product of Not Impossible Labs, the "Music: Not Impossible" suit turns music into vibrations, allowing deaf people to "feel" music. The suit consists of a body harness, ankle and wrist straps, transmitting pulses through 24 contact points.

CNN
eSight -- The eSight headset uses a digital camera to capture images at eye level and project them on to screens in front of each eye. Canadian company eSight says it can enhance vision for people with eye conditions including blind spots and central vision loss.

courtesy esight