(CNN) —
You've likely spent the majority of 2020 indoors. While many of us have been taking the leap and (safely) venturing out to get some fresh air recently, the seasons are changing, and we may be seeing cloudy skies, wind and rain ahead.
But fear not! Because as the seasons change, so can our wardrobe — for the better. And if you're still trying to soak up the joys of social distancing outside, you don't have to let the rain stop you. All you need is the proper gear to protect you from getting wet, and yes, you can still do it in style.
Whether you're hiking or running errands, we've got you covered with these must-have rainy day outfits and accessories that keep you prepared, rain or shine.
Umbrellas
Totes Manual Transparent Bubble Umbrella ($26; macys.com)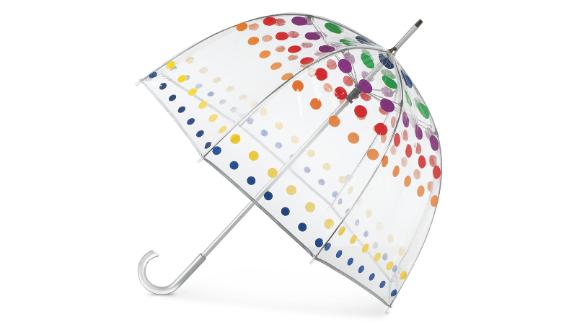 How cute is this see-through, polka-dot umbrella? Its dome shape keeps you dry even in high winds, and if you're caught in a downpour, you can actually see where you're going.
Zomake Golf Umbrella (starting at $19.99; amazon.com)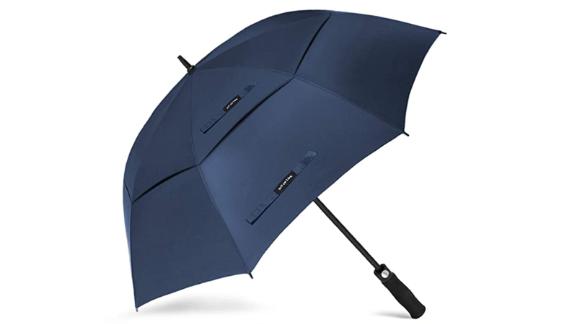 Not just made for golfers and their caddies, this large umbrella is designed to protect you from all the elements have to offer (think rain, hail and UV rays).
ShedRain WindPro Auto Open and Close Umbrella ($28; nordstrom.com)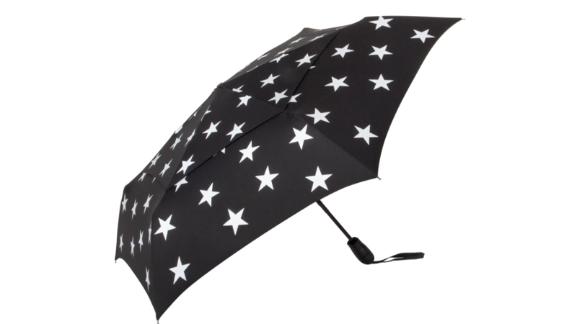 There's nothing worse than your umbrella turning inside out. The ShedRain WindPro's mission is to save you from those kinds of mishaps with an extra-strong construction, all while making the experience of opening and closing your umbrella literally as easy as pressing a button.
Raincoats and ponchos
Calvin Klein Belted Water-Resistant Trench Coat ($77.40, originally $129; macys.com)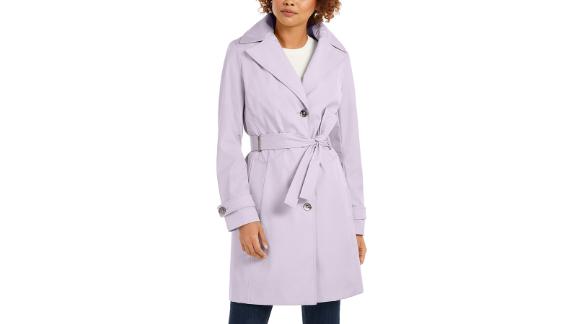 This coat is perfect for the trendsetters who know pastels aren't just for the spring. The belted trench comes in a beautiful lavender or sunny marigold with a detachable hood.
Columbia Women's Switchback Iii Adjustable Waterproof Rain Jacket (starting at $22.90; amazon.com)
This bestseller from Amazon is available in so made different colors, you can wear a different one every day of the week (or month). Whether you're keeping things simple or opting for a bold and bright hue, this waterproof rain jacket is machine-washable.
Rains Lightweight Hooded Rain Jacket ($110; nordstrom.com)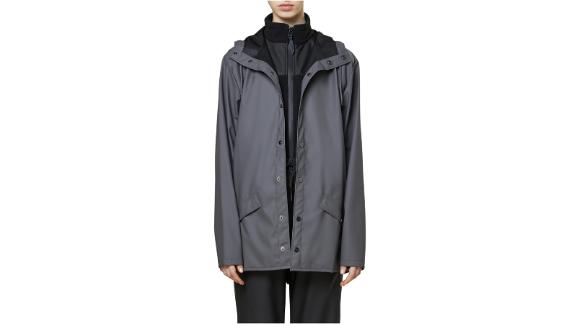 If you're someone who prefers a neutral color palette in your closet, we recommend this raincoat. The minimal piece is lightweight, comes with a front-snap closure to keep you dry and can look just as good when the sun pokes out from the clouds.
Men Blocktech Parka ($79.90; uniqlo.com)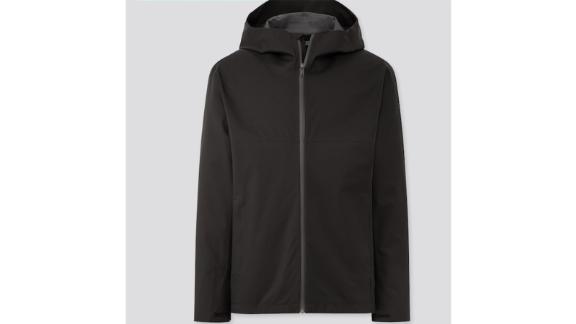 Available in six different colors and up to a size 3XL, this parka features a water-repellent coating and has "moisture-wicking properties" to combat sweat. (Don't think that because it's almost fall you wont get sticky every now and then.)
The North Face Peril Hooded Windbreaker Jacket ($59.97, originally $99; nordstromrack.com)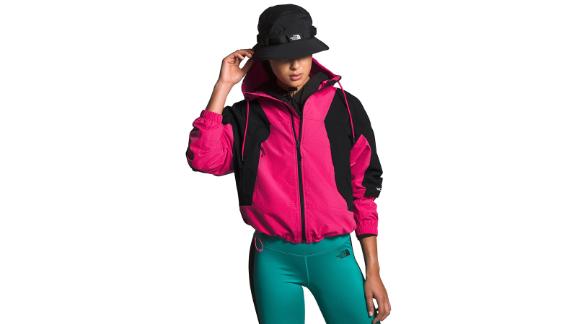 When it comes to outerwear, you know you really can't go wrong with The North Face. Made to keep you warm even against high winds, we love this jacket's hot pink color that's sure to brighten up your days, plus the fact that it features a nylon hood and deep pockets.
Terra Hiker Waterproof Rain Poncho ($16.99; amazon.com)
Picture this: You're having a picnic with friends at the park, and the rain clouds are beginning to form. The forecast said it was partly cloudy, but it looks like nature had other plans. Thankfully, you can be prepared for moments like this when you have a poncho on hand. This one is easy to store in your bag, comes with Velcro cuffs for a perfect fit and is, of course, totally water-resistant.
Asos Design Fleece Poncho With Nylon Designs ($30, originally $60; asos.com)
Part loungewear, part rainwear, we adore the multifunctionality of this poncho's front pouch. Throw your keys and headphones in there and you'll have extra hands for your umbrella.
Women's Trench Coat ($50; target.com)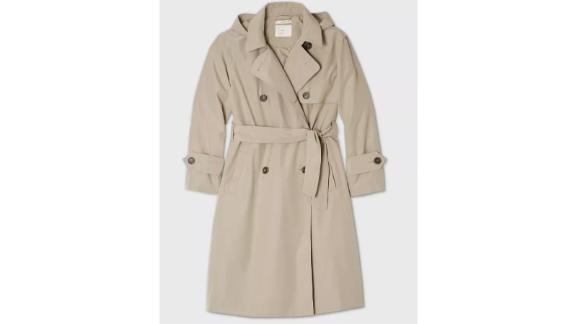 Channel your inner Audrey Hepburn in "Breakfast at Tiffany's" in this classic yet affordable trench, available in sizes up to 2XL. To complete the look, pair it with these cute tall rain boots from Target too.
Rain boots
Ugg Women's Sienna Boot in Black ($69.95; amazon.com)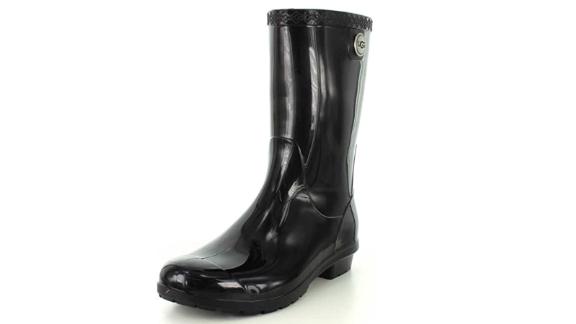 With sheepskin inner lining, these rain boots with a high-gloss finish will have you feel like you're walking on clouds. As one reviewer writes, "I have worn these with thin socks, thick socks and no socks, and they've been very comfortable. I have wide calves and I like these because I don't have to worry about the circumference since they are not too high."
You can make sure there's always a rainbow after a storm with these cute flatform boots. The flatform gives you a little bit of height without the discomfort of a true heel, and they're simply a great way to perk yourself up on a rainy day.
Sam Edelman Tinsley Ankle Rain Boot ($39.97, originally $55; nordstromrack.com)
If you'd rather your rain boots hit you near the ankle rather than midcalf, then these boots are calling your name. Their narrow construction makes them not look like rain boots at all, and we can personally vouch for their comfort and versatility. We've taken them from work to a socially distant happy hour and got plenty of compliments along the way.
Sperry Women's Saltwater Boots (starting at $49.99; amazon.com)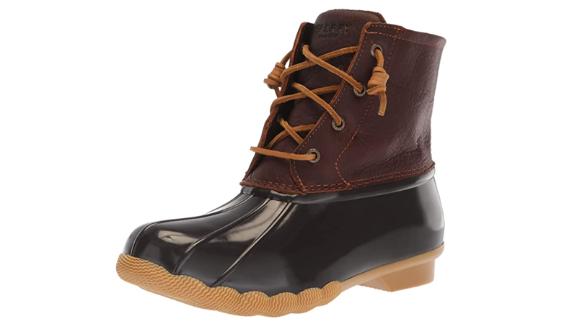 An Amazon bestseller, these Sperry boots are beloved by reviewers for their durability (they're great in both cold and wet weather) and comfort, with a microfleece lining and arch support.
Rain accessories
Hairbrella Women's Rain Hat ($34.99, originally $39.95; amazon.com)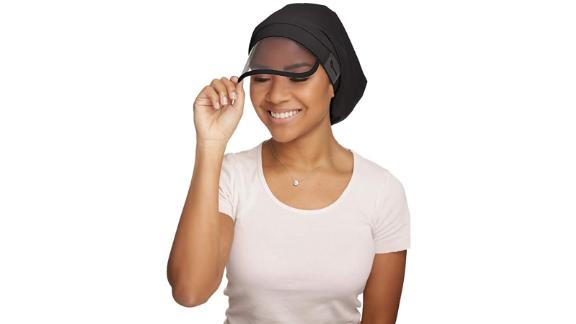 Whether you have 4c coils or fine, straight hair, this hat is designed to not only shelter your tresses but protect them from any wear and tear with its inner satin lining. We also love the visor on this hat, since in a light drizzle, you could definitely get away with not needing an umbrella.
ARunners Rain Shoe Covers ($10.99; amazon.com)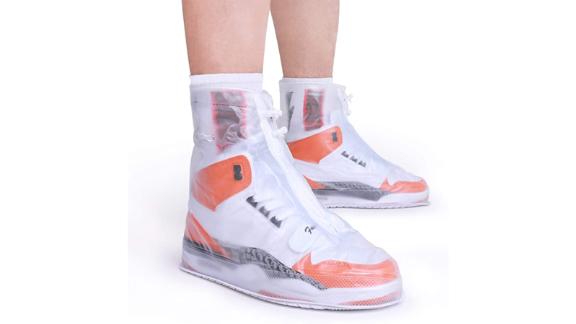 When the weather is unpredictable, wearing rain boots all day can be a chore. That's why we're so into these shoe covers, which you can just throw in your bag and have handy with you at all times. Slip them over your shoes, tighten the drawstring at the top and you're good to go.
Oslo Convertible Backpack ($64.99, originally $118; athleta.gap.com)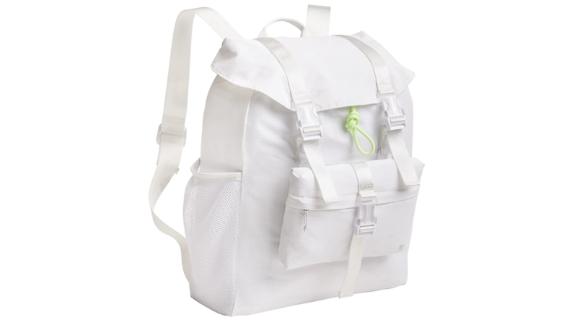 Not only a great commuter bag for work, the gym or even a weekend away, but this backpack also has a water-repellent coating, making it able to withstand those light midday showers.