Editor's Note: Is your power out or device's battery charge low? Bookmark CNN's lite site for text-only top stories.
Many on the Gulf Coast were still navigating flooded roads and chunks of debris on Thursday as the remnants of Hurricane Sally threatened more flooding across the South.
A day after the deadly hurricane walloped coastal Alabama and the Florida Panhandle with winds and feet of rain, they were facing a daunting recovery.
The storm surge submerged the first level of Maria Linomontes' home in Milton, Florida, and damaged her vehicles, just as Hurricane Ivan did 16 years ago.
"We tried to save many things, but the water just carried them away," said Linomontes, who decided to ride the storm at home with her family.
"We didn't evacuate because we thought the hurricane was going to hit elsewhere," she added, saying Sally's intensity caught them off-guard.
The storm has already left plenty of misery along the Gulf Coast. Schools and universities were closed, curfews were extended for days and many bridges were blocked by floodwaters.
At least one person is dead and one is missing in Alabama's Orange Beach, Mayor Tony Kennon told CNN affiliate WSFA, after Sally blew ashore as a Category 2 hurricane early Wednesday.
Crews rushed to restore power to more than 400,000 customers in Alabama, Florida and Georgia, utility tracker PowerOutage.us showed.
At least 85 residents of an assisted living facility in Florida's Santa Rosa County were being evacuated Thursday due to the power outages, Gov. Ron DeSantis said at a news briefing.
The governor did not name the facility but said officials are taking precautions to mitigate the spread of Covid-19.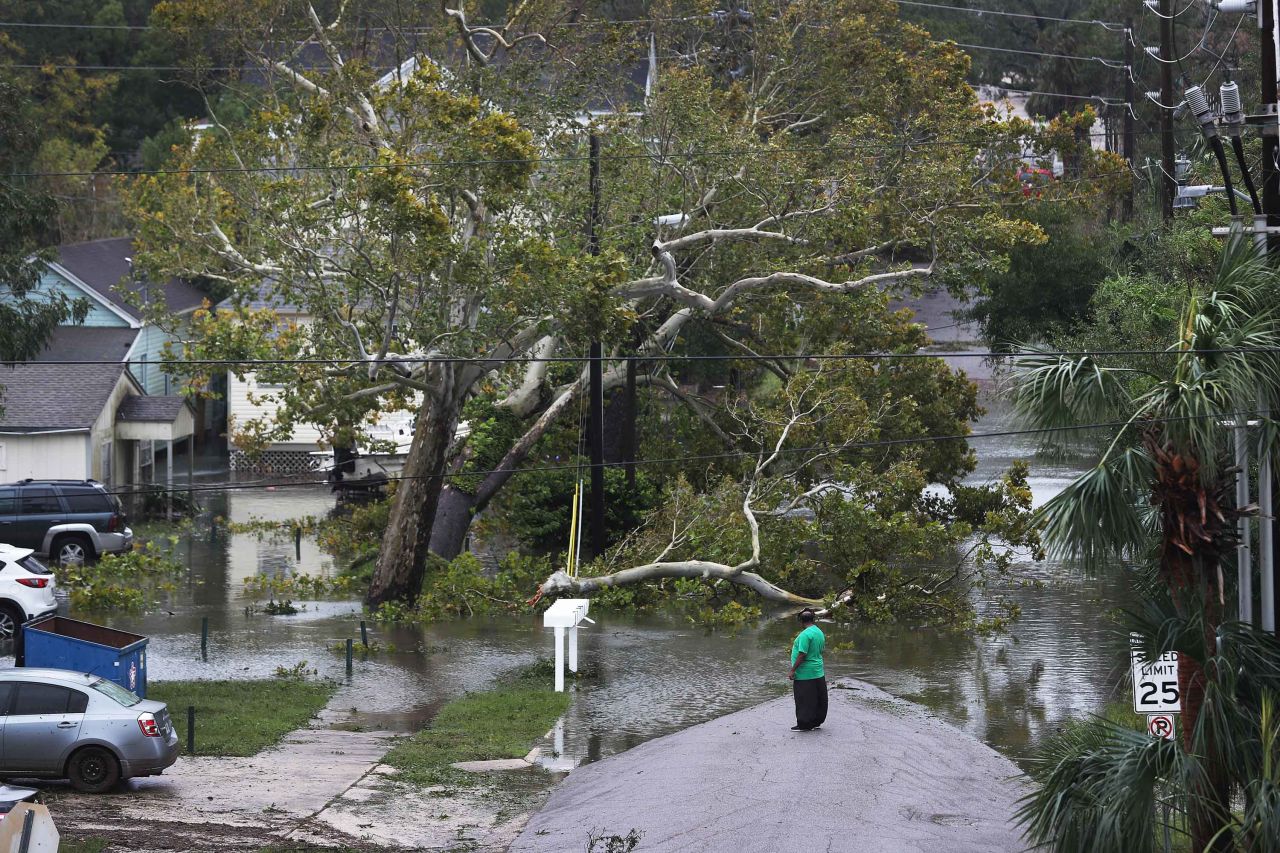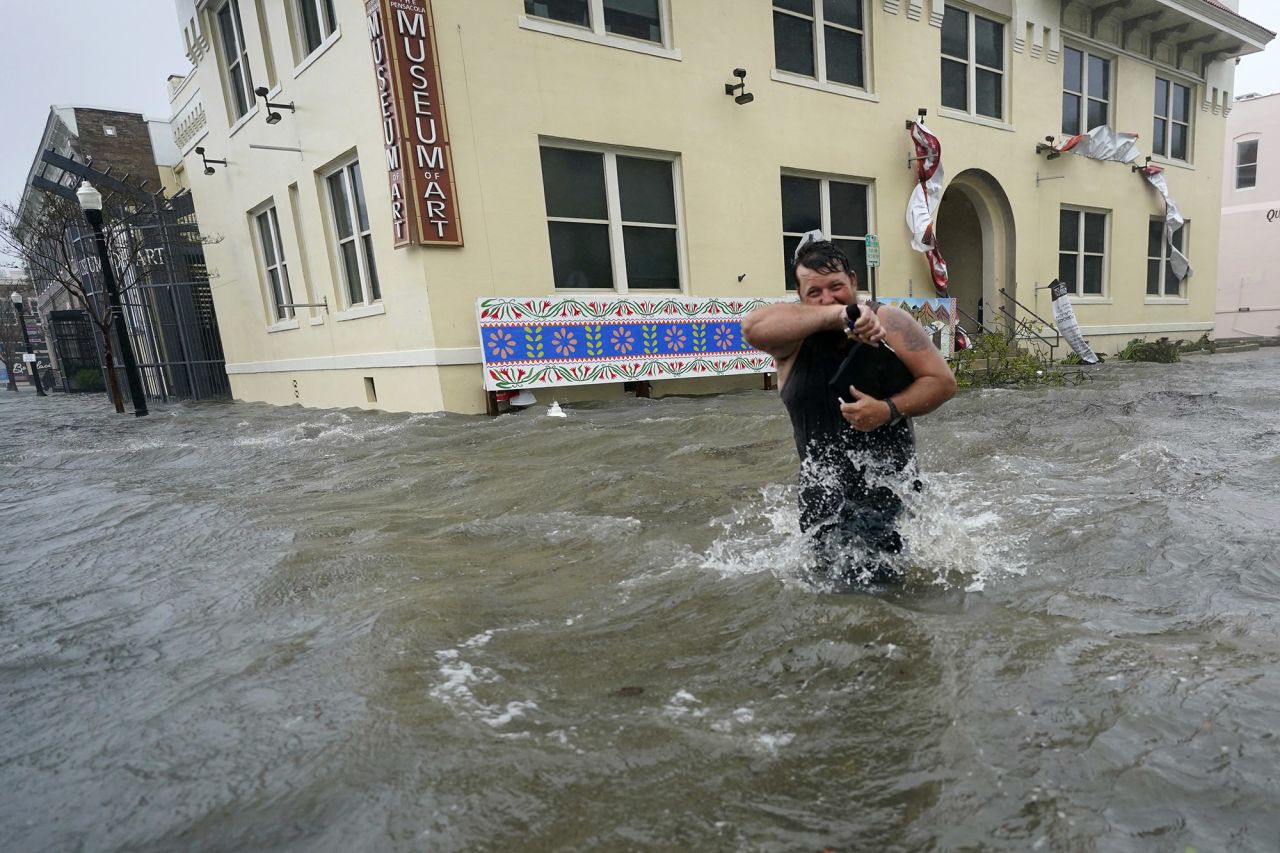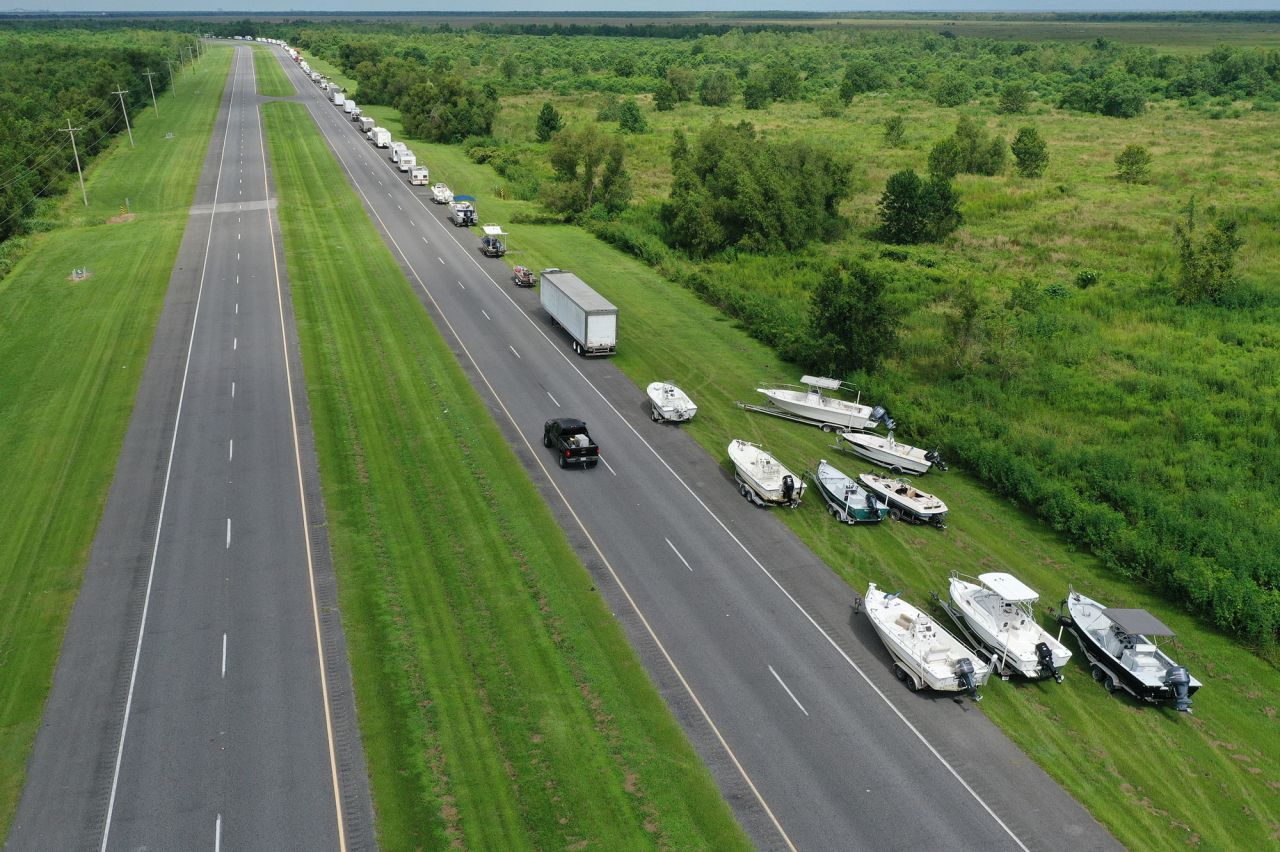 In pictures: Hurricane Sally causes widespread flooding
Officials in Pensacola, Florida, are estimating nearly $8 million in damages inflicted by the storm, according to data compiled by the city.
Parts of Interstate 10 were closed Thursday in the Florida Panhandle because of rising waters, including the I-10 bridge over the Shoal River in Okaloosa County, according to the state transportation department and the Walton County Sheriff's Office.
While some rivers have spilled over their banks in both states, officials in Escambia County, Florida, warned that multiple others were expected to crest Friday and in the coming days.
"Even as it (Sally) moves through states north of us, just remember that widespread river flooding is ongoing and it could continue over the next week in different parts of Florida," DeSantis said Thursday.
Flooding and tornado threat in the Carolinas
The remnants of Sally continued its push into Georgia, the Carolinas, and southern Virginia on Thursday.
Forecasters are warning about widespread flooding to the region and even a few tornadoes across the Eastern Carolinas through Thursday evening, the National Weather Service said.
The weather service office in Charleston said "unusually high tides" could result in 1 to 2 feet of inundation along the South Carolina and Georgia coasts through at least Monday.
'Everything on the ground floor is gone,' Alabama man says
In Orange Beach, coastal neighborhoods remained covered by water hours after the storm. The Alabama National Guard still had five high-water evacuation teams working Thursday in hard-hit Baldwin County, where Orange Beach and Gulf Shores are, it said.
"Everything on the ground floor is gone," Matt Wilson told CNN affiliate WPMI Wednesday about his Orange Beach home, where he and his family rode out part of the deluge.
"Our house had windows blow out at 3 a.m. or 4 a.m. (Wednesday) and the whole house was shaking like a boat on the water," he said. " … We ended up leaving the house during the eye of the storm, and waded through about 5 feet of water to get to the neighbor's house, arm in arm."
Sally moved extremely slowly over these areas, dumping sheets of rain – in some places 2 feet or more – that caused extensive flooding for miles.
"We had 30 inches of rain in Pensacola – 30-plus inches of rain – which is four months of rain in four hours," Pensacola Fire Chief Ginny Cranor said.
"My house is full of water. I've got 2 to 6 inches full of water in my house, everywhere," Freeport, Florida, resident Terry Morgan told CNN affiliate WJHG.
In the Alabama resort town of Gulf Shores, Mike Vansickler told WPMI he rode out the storm in his condominium, only to kayak himself further inland later. The National Guard and rescue teams used high-water vehicles to traverse streets there, while others traveled by canoe or waded.
Florida resident Tammy Gibbs and her family are staying with a friend who has a generator, a day after police and National Guard troops used a kayak and a jet ski to help them from their home near Perdido Bay east of Pensacola, she told CNN affiliate WBMA.
"She looked out the window at the house, and she was like, 'Gammy, the ocean's in our yard,'" Gibbs told WBMA, recounting her 3-year-old daughter's conversation with her grandmother.
Sally was the fourth hurricane to make landfall in the United States this year – the most to hit by the same date in 16 years. It came ashore 16 years to the day after Category 3 Hurricane Ivan struck roughly the same areas.
Sally threatens Georgia and the Carolinas
Sally had weakened into a tropical depression by Wednesday night. Its remnants were dumping large amounts of rain in parts of Georgia and the Carolinas on Thursday.
Trees and power lines toppled over as persistent rain saturated the soil in several places in the Atlanta area Wednesday and Thursday, CNN affiliates WGCL and WSB reported. In the Atlanta suburb of Dunwoody, a large tree fell on two vehicles Thursday, blocking an intersection but injuring no one, police there said.
As of Thursday evening, more than six inches of rain had fallen in Macon and Sandersville, Georgia, the National Weather Service in Atlanta tweeted.
"We have already seen significant flooding in portions of Alabama from this rain band. Please remember: Turn around, don't drown," the weather office had said.
Alabama warned to remain vigilant
The National Guard so far as rescued at least 35 people in Alabama as of Thursday morning, officials said at a news conference that included Gov. Kay Ivey.
In Gulf Shores, near where the hurricane made landfall, Doris Stiers assessed the damage outside her beach home. She was stunned.
"Looks like a war zone," she told CNN Wednesday. "Lots of destruction, homes destroyed, roofs gone. I have not had any service, power or internet. Bad night."
Wilson, the Orange Beach resident who rode out the storm at home, said it was terrifying.
"Our house had windows blow out … and the whole house was shaking like a boat on the water. It was scary man, it really was," Wilson told WPMI. "Our dock is obviously gone. Everything on the ground floor is gone."
Alabama officials warned that even if the storm has weakened, residents should not let their guard down.
"The storm may have exited our local area, but it's important to remain vigilant since many areas are still affected by lingering flood waters," the National Weather Service in Mobile tweeted.
CNN's Faith Karimi, Tina Burnside, Michelle Krupa, Rosa Flores and Ed Lavandera contributed to this report.