Taiwan's President Tsai Ing-wen wants to create an alliance to defend "freedom, safety, human rights and democracy" in Asia, as the self-ruled island faces renewed pressure from neighboring China.
Though she did not mention China explicitly in her speech, given at a security forum in Taipei, Tsai left little doubt over who she was referring to, saying Taiwan was at the forefront of "defending democracy from authoritarian aggression."
Tsai's speech came as a Chinese state-backed tabloid reported that foreign officials who visit Taiwan, as well as international companies that do business on the self-ruled island, could face sanctions from Beijing – the latest potential move by China to rein in Taiwan's growing stature worldwide.
Pressure campaign
Beijing claims full sovereignty over Taiwan, a democratic island of almost 24 million people located off the east coast of mainland China.
Taiwan has never been controlled by China's ruling Communist Party. Despite this, authorities in Beijing insist the island is an integral part of their territory, and have for years imposed diplomatic, trade and military pressure on Taipei, marginalizing it in the international community and allegedly interfering in the island's politics.
Pressure has ramped up since Tsai was first elected in 2016, with Beijing siphoning off several of Taipei's few remaining diplomatic allies and stepping up military maneuvers and saber rattling. Tsai's party traditionally supports full independence for Taiwan – officially the Republic of China – which exists in a Schrodinger-like state of both being entirely self-governing while not being recognized on the international stage.
Most countries adhere to China's demand that Taiwan not be recognized as an independent nation, observing Beijing's view there is "one China" that is ruled from the mainland – though few governments recognize Chinese claims to the island of Taiwan itself.
Within Taiwan, however, that pressure has largely backfired. Tsai was reelected in a landslide earlier this year, buoyed by concerns that any move towards China could see the island go the same way as Hong Kong, where Beijing has increasingly stripped what democratic freedoms the semi-autonomous city once had.
Then came the coronavirus crisis, which saw Taiwan's international stature increase immensely for its deft handling of local cases and use of medical diplomacy, donating masks and other supplies to worst-hit countries. Ahead of a meeting of World Health Organization (WHO) members, dozens of governments spoke out in favor of Taiwan being admitted as an observer to the WHO – something Beijing has blocked since Tsai was elected.
No country has done more to prop up Taiwan than the United States, which under President Donald Trump has dramatically increased engagement with Taipei.
Last month, Secretary of Health and Human Services Alex Azar visited the island, ostensibly to discuss coronavirus response, becoming the highest-ranked US official to set foot on Taiwan in decades. The US has also sailed missile destroyers through the Taiwan Strait and declassified commitments it made to Taiwan during the Reagan administration. Known as the Six Assurances, they spell out how US arms sales and diplomatic support to Taipei will continue regardless of pressure from Beijing.
These moves have not been ignored by China, which reacted furiously to Azar's visit. Beijing has since stepped up military moves around Taiwan, last month firing missiles into the South China Sea in what was widely seen as a message to the US. Chinese jets also regularly buzz Taiwan – including during Azar's visit, when several planes crossed the de facto maritime border that separates the island from mainland China.
Speaking earlier this month, Chinese foreign ministry spokeswoman Hua Chunying urged Washington "to stop lifting its substantial relationship with Taiwan and to cease any forms of official contact with Taiwan, so as not stray further down an erroneous path."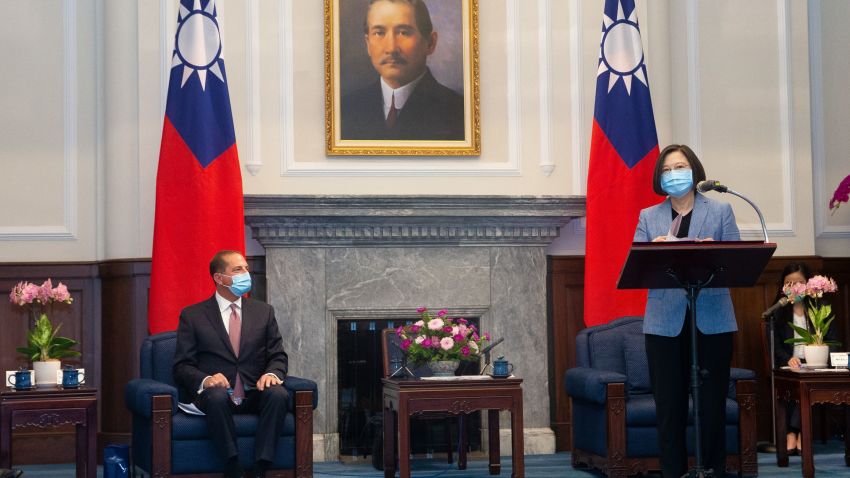 Watch CNN interview with Azar during controversial visit to Taiwan
Sanctions threat
Continued engagement with Taiwan could soon carry major consequences, according to the Global Times, a Chinese state-backed tabloid with strong ties to the Communist Party and military establishment.
A piece written by the paper's editor, Hu Xijin, warned Washington against sending more US officials to the island, or pursuing greater economic ties with Taipei.
"American officials planning to visit Taiwan should think twice," Hu wrote. "You should understand the weight of the Taiwan question in the hearts of Chinese people. For Americans who dare to provoke China on the Taiwan question, the Chinese people will remember you for a lifetime. Do not come to China anymore, you are not welcome here. You and your affiliated companies will have to stop doing business with China and face sanctions. You will face consequences."
On Twitter, Hu said it was not just his own opinion, but based on knowledge of Beijing's intention to "sanction senior US officials who visit Taiwan, and American companies which they have ties with."
China also slammed a visit by the head of the Czech Senate, Milos Vystrcil, to Taiwan last week, during which the parliamentarian said, "I am Taiwanese" – a reference to US President John F. Kennedy's famous "I am a Berliner" speech at the height of the Cold War.
Following Vystrcil's visit, Chinese Foreign Minister Wang Yi warned the Czech Republic could face "a heavy price." The threat was met with outrage in much of Europe, where Wang was visiting in an attempt to improve ties frayed by the coronavirus.
Tipping point
Last week, the People's Daily – the official mouthpiece of the Communist Party – published a piece stating "Taiwan is a litmus test of partnership with China."
China has long demanded that countries not recognize Taiwan diplomatically, while largely ignoring, or at least tolerating, lower-level engagement with the island. For example, even after the US recognized Beijing and broke official ties with Taipei, Washington continued to operate a de facto embassy in the Taiwanese capital, known as the American Institute in Taiwan, while also selling the island millions of dollars in arms.
By raising the potential cost for engaging with Taiwan, Beijing could isolate the island even more – exactly the kind of aggression Tsai warned against in her speech Tuesday, when she highlighted "coercive diplomacy used against countries and corporations."
"It is time for like-minded countries, and democratic friends… to maintain a strategic order that deters unilateral aggressive actions," she said, adding that no one country could maintain regional peace and security by itself.
"We need a strategic order that encourages cooperation, transparency and problem-solving through dialogue, not threats of war," Tsai continued. "We need a strategy that avoids war, yet clearly conveys our resolve to protect our democracies."
She made clear that Taipei sees the coronavirus as a potential watershed moment for the island: "One day, the current pandemic will recede. But I sincerely believe that the solidarity we develop through our efforts to create a free, open and prosperous region will continue to be a force in the future."
Beijing appears to agree, and is determined to stop that from happening.