It started with sourdough. Or maybe it started with beans. But over the past few weeks (or months), cooking projects have begun to creep into our Facebook and Instagram feeds. As it turns out, for a lot of us, staying home during the Covid-19 pandemic has sparked some serious culinary inspiration. It's also pushing us to be more creative because ingredients can be hard to find, dishes we may have exclusively ordered out now have to be made at home and trips to the store are pushed as far apart as possible. It could even mean that we feel inspired to tackle things we'd never have made ourselves, like doughnuts or stock.
If you need some inspiration for your next culinary project (or six), we asked six chefs and bloggers what their deceptively easy standbys are. From homemade pickles to pesto, you might not go back to store-bought ever again.
Pesto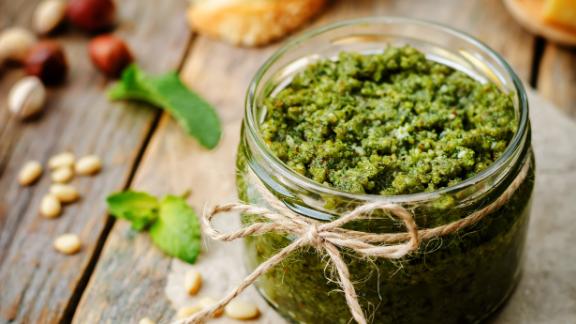 Most store-bought pesto is made with basil, but if you make it at home, you can play around with different greens and herbs. Suzanne Cupps, executive chef at 232 Bleecker in New York, likes making a spring pesto with ramps, scallion greens or arugula. (Cupps' favorite mix is half ramp greens and half arugula.)
Cupps quickly cooks the greens before making the pesto and uses a blender rather than a food processor, since it's better at breaking down greens. Besides tossing it in pasta, Cupps will use it to spread on sandwiches or serve with grilled fish. Pesto is also one of our favorite ways to use up a CSA farm share box.
Pesto recipe
1/2 cup sliced almonds (or your other favorite nut — traditionally, pine nuts are used)
1 tablespoon + 3/4 cup olive oil
Salt
2 quarts spring greens, cut into 1-inch pieces (ramp greens, spring onion greens, scallion greens or arugula — traditionally, basil leaves are used)
1 cup grated Parmesan cheese
1 small garlic clove, sliced
Preheat the oven to 350 degrees Fahrenheit.
Toss nuts in 1 tablespoon olive oil and salt. Lay out evenly on a baking sheet and toast in the oven for 5 to 8 minutes, rotating once, until almonds are golden brown and fragrant. Remove from the oven and let cool.
Put a medium-size pot of water on the stove to boil. Season liberally with salt, as you would pasta water. Separately fill up a large mixing bowl with cold water and ice. Put spring greens into boiling water and submerge using a long-handled spoon or skimmer. Allow them to cook on high for 30 seconds, then immediately remove with a skimmer or strainer and submerge into the ice-cold water. Leave the greens for 2 minutes so they are fully cooled down, then strain out the water and gently squeeze out any excess.
In a blender or food processor, combine toasted nuts, greens, grated Parmesan and garlic. Start blending on low and slowly add in the 3/4 cup olive oil. Gradually turn up the speed until the mixture is pureed.
Scrape out the pesto into a mixing bowl with a rubber spatula. Season to taste with salt. If pesto is thick, stir in a few tablespoons of olive oil to loosen.
Refrigerate for up to 3 days or freeze for up to a month.
The equipment
Vitamix A2300 Ascent Series 64-Ounce Smart Blender in Black ($449.95, originally $549.95; amazon.com)