Half the fun of a trip to the beach or a theme park is, of course, the snacks. We're talking about the treats you can smell from 100 feet away, amid the gleeful yelps of kids darting underfoot. This summer may look different from years past, but that doesn't mean you can't satisfy your family's cravings for the best flavors the boardwalk has to offer.
We turned to Rachel Farnsworth of The Stay at Home Chef blog for simple recipes for whipping up your favorite boardwalk bites without leaving your house. "Making your own summer boardwalk snacks at home doesn't have to be complicated," Farnsworth says. "These four recipes are easy to make and only require a handful of ingredients." We've rounded up all those ingredients plus tools of the trade you'll need, below. (The full directions and how-to videos for each recipe are available over at The Stay at Home Chef.)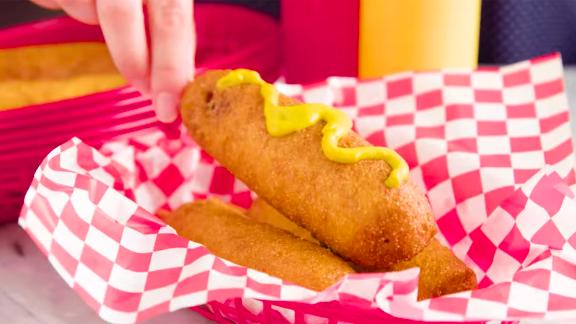 Some fans head to Disney for the rides, others are secretly in it for the corn dogs. We can't say we blame them. "There's nothing quite like a freshly fried hand-dipped corn dog," Farnsworth says. "Use a high-quality hot dog for the ultimate corn dog experience at home." Here's what you'll need.
Homemade Disneyland-style corn dog ingredients
1 quart vegetable oil for frying
1 cup cornmeal
1 cup all-purpose flour
2 tablespoons sugar
2 teaspoons baking powder
1/2 teaspoon salt
1 large egg
1 1/4 cups buttermilk
2 tablespoons butter melted
8 hot dogs
Popsicle-style craft sticks
See the full recipe at The Stay at Home Chef.
Essentials for making homemade Disneyland-style corn dogs
Lodge Enameled Cast Iron Dutch Oven, 6-Quart ($69.90; amazon.com)
A deep, sturdy pot is essential for frying treats like corn dogs. A cast-iron Dutch oven is a versatile staple that gets the job done.
____________________________________________________
Lodge 12-Inch Aluminum Foil Dutch Oven Liners, 12-Pack ($20; amazon.com)