April 15th — tax day — is typically a day no one forgets, but that date has been pushed back quite a bit this year due to the coronavirus pandemic. July 15th is the revised deadline for 2020, so although summer has arrived with backyard barbecues, poolside lounging and jumping in the waves — all socially distanced, of course — you'll still need to set aside some time inside the house to get your taxes done and submitted to the IRS and state agencies.
With many online tax programs available, there are plenty of options to do your taxes at home in a relatively easy manner. But which one should you use? There are pros and cons to all of them, so to determine which tax software is truly the best, we picked the top four programs and went through the entire process of entering our tax information. We then compared the results to that of a tax professional to see if these programs can get you the same (or better) results.
The best tax software of 2020
The short of it
Each program offers four different filing options based on the complexity of your taxes. And although they cover many of the same forms and deductions, there are some differences, and quite a spread when it comes to price.
This chart lists out those options along with their respective prices at the "do-it-yourself" level. Some of the programs are also available to purchase via Amazon or your local office supply store at a slightly cheaper price, though you'll only be able to "try before you buy" at each tax program's website.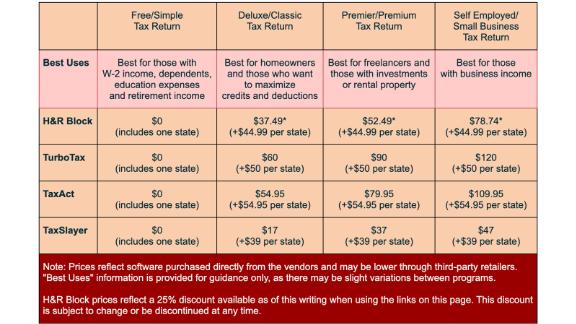 If you have a very straightforward tax situation — a W-2 from a job and perhaps some interest or dividend income — all of these programs offer a free option that will likely work for you. Not many forms are included, though H&R Block provides the most forms under this no-cost filing option. On the flip side, H&R Block will also work hardest at trying to sell extra options to you throughout the process, so "free" might not end up being truly free if you decide to take them up on one or more of their pitches.
If you have relatively simple taxes but still more than what's allowed in the free versions, all of the basic-level paid options will work just fine, so cost might be your biggest factor when selecting one of the four. Since professional accountant support typically isn't needed when it comes to a simple tax situation, TaxSlayer should be your go-to for your low-cost option.
However, if you have more complex taxes — which could include running a small business, having numerous deductions or owning lots of real estate — you'll want to put cost aside and use TurboTax. TurboTax is hands down the most customer-friendly option with an easy-to-use platform.
But you may find you'll need to pay some of TurboTax's add-on fees to ensure the most accurate results, meaning you might be better off just handing over your tax documents to an accountant to save the headache. Taxes are complicated and making sure you get everything accurate while maximizing your deductions, is just that… complicated.
The long of it
Best overall: TurboTax ($49.80 for Deluxe + State version; amazon.com)