(CNN) —
Progressive Democrats are poised to claim a series of historic successes in congressional races decided during a nationwide uprising over racial injustice and inequality.
The unexpected revival was keyed by Black candidates in New York, Virginia and Kentucky, who are either leading their contests or running remarkably close in challenges they were almost uniformly expected to lose from the beginning.
Those performances have not only reanimated a leftist insurgency that seemed to be waning as former Vice President Joe Biden became the presumptive Democratic presidential nominee, but underscored what many activists had been discussing for months: That the future of the movement would be charted by candidates of color, and others from marginalized communities, who could speak fluently about the intersection of race and class, and whose life experiences more closely reflected those of the voters they were running to represent.
In New York, a Democratic stronghold with an aging congressional delegation, the signature showings were authored by Jamaal Bowman, a 44-year-old Black former educator, and Mondaire Jones, 33, a Black man who is gay. If their leads hold, Bowman and Jones would replace Rep. Eliot Engel, a self-described member of Speaker Nancy Pelosi's "kitchen cabinet," and retiring Rep. Nita Lowey – the state delegation's two longest serving current members. City Councilman Ritchie Torres, who is gay and the son of Black and Puerto Rican parents, is also ahead in his race to takeover Rep. Jose Serrano's seat in a nearby district. If Jones and Torres win in November, they will be the first out gay Black congressmen in US history.
"The future of the Democratic Party looks a lot more like (Alexandria Ocasio-Cortez) and Jamaal than Joe Biden. The constituencies now leading grassroots movements will only become more essential to the Democratic Party's future," Justice Democrats communications director Waleed Shahid said in a statement. "The Squad is here to stay, and it's growing."
Massachusetts Rep. Ayanna Pressley, one of "The Squad's" founding members, views the inroads being made by Black progressives as a sign that the Black Lives Matter movement, which has surged in popularity over the last month, is beginning to expand its power.
"What (their success) means is that we're moving in the right direction. What it means is that when people offer the rallying cry and use the hashtag and like and retweet 'Black Lives Matter,' that they understand that Black leadership matters, that Black representation matters," she said, noting that, for all of her home state's liberal inclinations, she is the first – and only – Black woman to represent it in Congress.
But Pressley also warned against simplistic readings of the recent elections, citing "broad, deep, diverse, multigenerational, multi-racial movements" lined up behind the insurgent leaders. The developments of the last month, she told CNN, were "encouraging," but should be viewed in a sobering historical context.
"The Birmingham movement was 37 days. The Freedom Rides were seven months. The Greensboro sit-ins were six months and the Montgomery bus boycott was 382 days," Pressley said. "So we're just getting started."
Fighting for a new normal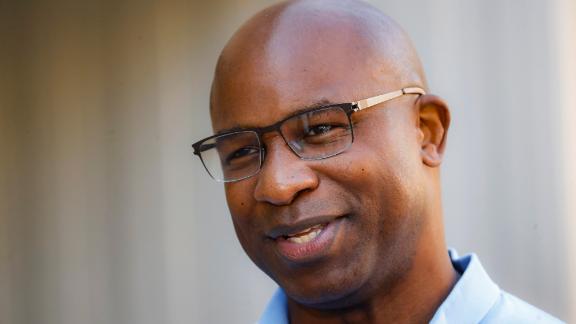 John Minchillo/AP
Bowman, Jones and Kentucky state Rep. Charles Booker all support "Medicare for All" and a Green New Deal, and received endorsements from Sens. Bernie Sanders and Elizabeth Warren. The New Yorkers campaigned aggressively in their deep blue districts on promises to engage more deeply and, especially among Black voters, comfortably with the daily lives and struggles of their would-be constituents.
In a moment that mixes intensely felt pain with shoots of optimism about race relations in America, those messages – and their ability to deliver them – took on added weight.
"You do not need to translate to Jamaal Bowman what people are talking about when they're talking about unaccountable policing, when they're talking about police brutality. You don't need to translate for Mondaire Jones when you're talking about housing segregation, educational segregation, and underfunded public housing," said Sochie Nnaemeka, the New York Working Families Party state director. "You don't need to translate to Charles Booker when you're talking about the real needs of black working people in rural communities."
Like Booker, who is knotted up in a close Kentucky Senate primary with the establishment favorite and fundraising giant, Amy McGrath, a White former Marine Corps fighter pilot, and Cameron Webb, a 37-year-old Black doctor vying for the House seat in Virginia's 5th congressional district, Jones and Bowman began to receive more national attention as antiracism protests swept across the country in the aftermath of the police killings of George Floyd and Breonna Taylor.
Kendra Brooks, a Black single mother and Working Families Party member elected to the Philadelphia City Council last year, told CNN that the increased attention to racism and police brutality, coupled with the coronavirus pandemic's disproportionate impact on communities of color, has increased voters' appetites for more representative government at every level.
"People are realizing that the authenticity that we bring into these fights is very different because we're coming from lived experience," Brooks said. "It's not a thought, it's not a theory – it's our real life experience. And at the end of the day, we're still going to be in the middle of that fight. We can't put it back. I can't take off his brown skin or and be something else. That's who I am."