These days, a lot of people are bored in the house, in the house bored. And many of them have found the best way to entertain themselves, procrastinate, and perhaps go viral: TikTok. As the pandemic forced many people to shelter in place, the social video app gained 12 million new unique visitors in March, reaching 52.2 million in total. From January to the start of April, that's a 48% increase.
If you've been sent a link to a funny clip up to 60 seconds, and you chuckled to yourself, it may be time to try your own performance skills, or at least dip your toe in the app's culture. TikTok influencers call themselves "creators," and they do just that: strategize, prepare, execute and share. Whether the subject matter is important cultural trends and topics, pranks on family members, monologues from a pet's perspective, step-by-step beauty tutorials, impressive dance routines, or something else entirely, anything goes on this platform. After all, this is where both e-girls and VSCO girls were born.
Before you try your hand at TikTok, it's essential to set up your space for success. From the best lighting to the right gear and products, heed this advice from TikTokers who have managed to make it to the coveted "For you" feed.
Seek the light
Anyone who has taken a selfie knows the considerable difference killer light can make. If you're lucky, your home has built-in streams of sunlight that add a flattering, ambient glow to your face. For a flawless look, though, TikToker Jake Goodman (@jakegoodman.med) suggests investing in a ring light that highlights your natural looks, without bringing attention to shadows or other environmental factors that could create a bad or blurry video. Considering he's gained an impressive 140,000 (and counting) following since February, it's clear he's found his best angles.
Try this: Neewer Ring Light ($108.99, originally $118.99; amazon.com)
This is Goodman's at-home kit and comes complete with everything you need to become a TikTok star: LED bulbs with various options, a smartphone holder, a carrying bag, a universal power adapter and more.
Play with fun backgrounds
TikTok gives followers a glimpse into the lives of the creators they follow, which provides both a challenge and an opportunity. You want to create your own brand, but you need to be consistent with your surroundings, so those who like your videos instantly recognize you on their feeds.
That's why TikToker Madysyn (@madysynr) suggests playing around with various fun backgrounds and backdrops. She's been active on the platform since May 2019 and has collected 398,500 followers to date. "Make sure your space is more aesthetically pleasing to the eye," she says. "It can be by using different colors, presenting a clean home, or even LED-colored lights that are very popular on TikTok, it should stand out."
Try this: ELlight LED Strip Lights ($42.99, originally $45.99; amazon.com)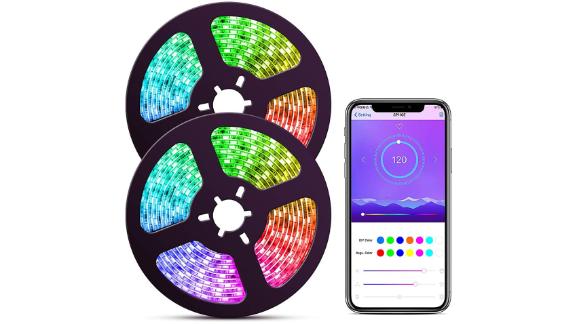 You use an app on your phone to control the colors of these strip lights, which would look gorgeous along your ceiling or even around your headboard. You can customize everything to your liking, from the hues to the brightness and the speed that the lights flash.
Have your devices charged and ready, always
It's no easy task creating TikTok magic. It's a time-consuming process that includes cleaning, designing the "stage," shooting video, editing and so on. That's why it's essential to keep all your devices charged, so they're ready for action when creativity strikes. This is how your videos can pop, according to TikToker Leonardo Martinez (@_justcallmeleo), who has 34,000 followers.
"Make your content stand out somehow," he says. "Whether it be the editing, the song, the comedy, a PSA, storytelling, make your content something that pops and separates you from the natural material you see."
Try this: Vogek Charging Station (starting at $33.99; amazon.com)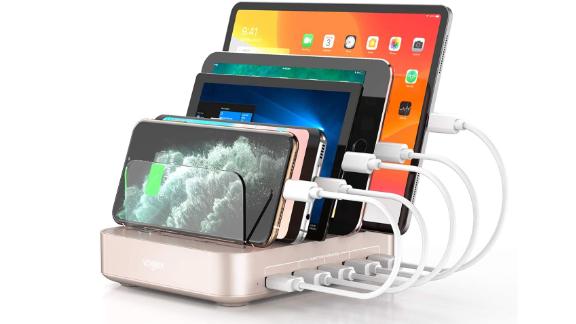 Instead of dealing with one cord after another, why not charge all of your techs at once? With this nifty product, you can charge everything from your AirPods and iPhone to your Apple Watch simultaneously.
Be consistent
In April, celebrity tarot card reader HeyJune (@pheydrus_tarot) joined TikTok, and when one post received 1.5 million views, she went viral. Now her follower count is past 61,000, with no end in sight. What she's found to be relevant to building a following is staying true to her brand and image.
"It doesn't matter how big/small your home is, you need to space to create your theme. The goal is to consistently and creatively convey your world to the audience," she explains. "Is your world cozy? Zen? Or just chill/every day? Once you have a theme, then work from there."
Try these: Sweese Porcelain Bowls, Set of 6 ($22.99; amazon.com)