Apple may have ushered in the wire-free craze with their now ubiquitous AirPods, but in 2020, there seems to be an endless influx of wireless earbuds entering the market. Amazon has Echo Buds; Samsung has Galaxy Buds; Google has Pixel Buds; Beats has Powerbeats Pro. The list goes on — and on.
With endless options out there, we figured we'd simplify the choice for you by finding the best. So as CNN Underscored has done with on-ear, over-ear and ANC headphones, we decided to tackle the final frontier (for now) of portable listening: true wireless earbuds. Following the beat of our own testing, we discovered the best true wireless earbuds out there:
Best overall true wireless earbuds: AirPods Pro
Best true wireless earbuds for working out: Powerbeats Pro
Best budget pick: Samsung Galaxy Buds+
A quick look at the winners
During our months-long testing period, we paid close attention to sound, battery life, comfort during a variety of activities, and overall connectivity. We focused our testing on the most consumer-facing options, searching for the earbuds that deliver the most value. We didn't opt for thousand-dollar true wireless earbuds or those designed for audiophiles. Instead, we looked at dependable options that work well with almost any device and any kind of music, while also delivering on core features.
Apple's AirPods Pro ($249.95, amazon.com) hit all the marks. They deliver a wide soundstage thanks to on-the-fly equalizing tech that produces playback that seemingly brings you inside the studio with the artist. They have the best noise-cancelling ability out of all the earbuds we tested, which, aside from stiff-arming distractions, creates a truly immersive experience. To sum it up, you're getting a comfortable design, a wide soundstage, easy connectivity and long battery life.
For those looking for earbuds to power their workouts, there's no better option than the Powerbeats Pro ($249.95; amazon.com). The ear hooks are malleable and will conform to your ear after just a few wears, so there's no worry about these falling off even during the toughest of workouts. Additionally, these have an IPX4 resistance, which means neither rain nor sweat storm will kill these buds' vibe, and a bass-heavy (but not overly heavy) sound performance to boost your workouts.
If you want a pair of true wireless earbuds that won't break the bank, Samsung has you covered with the $149.99 Galaxy Buds+. These lasted 11 hours on one charge — that's six more hours than AirPods Pro and two more hours over Powerbeats Pro. That long runtime is paired with an equalizer in the companion app for iOS or Android, so you can up the bass or increase high tones as you see fit, which means you'll get good sound quality that holds its own against more expensive options.
A deep dive into the winners
Best overall true wireless earbuds: AirPods Pro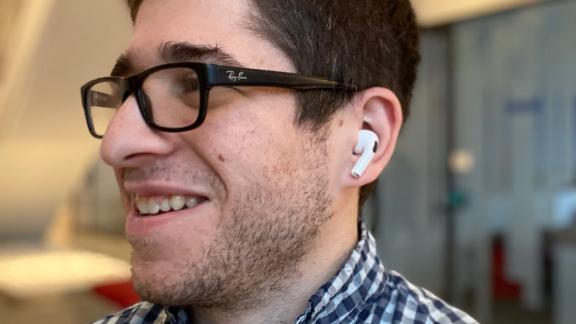 As it should be with any pair of quality earbuds, the first thing you notice about the AirPods Pro is their sound quality, which is second to none.
The latest AirPods seamlessly reproduce every note, strum, hit or key press on a track. The sound output is custom-tuned in real time using Adaptive EQ. While other earbuds may come with a manually controlled equalizer, the AirPods Pro work in real-time to analyze