A boy has a close encounter with nature, a world leader keeps her cool during an earthquake, and astronomers make a dazzling discovery. These are the must-watch videos of the week.
A hike to remember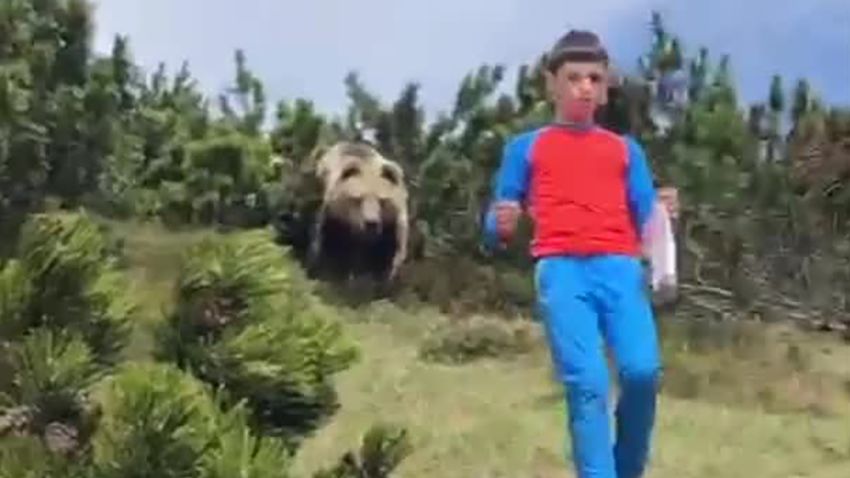 Video shows bear following boy during a family hike
A young boy got the surprise of a lifetime while hiking with his family in Italy. Alessandro was collecting pine cones in the brush when he was suddenly followed by a brown bear. The boy, who's interested in bears, remained calm and safely reunited with his family after the bear ran away.
Rock your world
Jacinda Ardern reacts to earthquake during live interview
It would be easy to panic during an earthquake, but New Zealand Prime Minister Jacinda Ardern wasn't rattled when a magnitude 5.8 tremor struck Wellington, the country's capital. Fortunately, there were no reports of damage or injuries.
When galaxies collide
Watch this rare 'cosmic ring of fire' galaxy collide
Astronomers have discovered a rare galaxy lighting up the universe known as a "cosmic ring of fire." Galaxy R5519, which is a whopping 11 billion light years away from our solar system, was thought to be created through violent encounters with other galaxies. Collision galaxies are 1,000 times more uncommon than regular galaxies, which are created internally.
Red hair, don't care
Sports star surprises fans with bright new hair
Former NBA superstar Dwayne Wade lit up the internet by coloring his hair a vibrant shade of red. The former Heat guard, who dyed his hair along with his daughter, drew comparisons to former NBA forward Dennis Rodman.
Whiz kid
13-year-old boy earns four associate's degrees
A 13-year-old in California is putting all of us to shame after earning four associate's degrees in just two years. The boy, named Jack Rico, plans to attend the University of Nevada on a full scholarship to study history.