Boris Johnson's embattled chief aide Dominic Cummings may indeed have broken the UK's coronavirus rules by driving to a castle town during lockdown, British police have concluded, heaping further pressure on the Prime Minister to change his position and sack his adviser.
Durham Police have found following an investigation that Cummings' 26-mile drive to Barnard Castle "might have been a minor breach of the regulations that would have warranted police intervention."
No further police action will be taken against Cummings, and police said they did not deem him to have committed an offense by driving some 260 miles from London to Durham to relocate his family while they were self-isolating.
But the announcement from police Thursday has delivered another twist in a scandal which has threatened to derail Johnson's response to the pandemic.
Both Cummings and the Prime Minister had repeatedly insisted he did nothing wrong by driving from London to Durham in late March, nor by visiting Barnard Castle in mid-April on their way back to London.
Cummings claimed on Monday that he drove for half an hour to the town only to test his eyesight and check whether he could indeed drive safely – a claim that was met with skepticism by critics and some lawmakers.
At the time, Johnson was urging Britons to "stay at home," and government guidance allowed people to leave the house once a day for exercise but not to drive to other locations to do so.
Johnson's reaction to the police announcement suggests he will not back down in his support of Cummings. "The police have made clear they are taking no action against Mr. Cummings over his self-isolation and that going to Durham did not breach the regulations," a Downing Street spokesman said Thursday.
"The Prime Minister has said he believes Mr. Cummings behaved reasonably and legally, given all the circumstances, and he regards this issue as closed."
But a growing group of lawmakers have called on Cummings – seen by many as the architect of many of the government's policies – to resign, and accused Johnson of undermining his own public health messaging in the middle of a pandemic.
"Boris Johnson's unwillingness or inability to do the right thing has left the government looking untrustworthy and unprincipled," Labour leader Keir Starmer said on Thursday. "Worst of all, he's undermined the public health advice that keeps us all safe, just to keep one aide in his job. Our nation's health must come first."
On Wednesday, Johnson said he understood the "indignation" the public may feel over Cummings' actions, adding: "But I think what they want now is for us to focus on them and their needs rather than on a political ding dong about one adviser may or may not have done."
UK suffers 'worst death rate' of any country
The controversy has piled further scrutiny on Johnson's management of the worst coronavirus outbreak in Europe.
Earlier on Thursday, an analysis of excess mortality figures by the Financial Times concluded that the UK likely has the highest actual coronavirus death rate compared to countries such as Italy, Spain and the United States.
The figures, which use historical data to compare total deaths beginning from mid-March, provide an estimate of actual deaths related to the coronavirus, beyond the official numbers of confirmed virus-related deaths.
The estimates are considered helpful because many people who died were not tested, and not officially recorded as victims of Covid-19. The Financial Times did not disclose the specific range of dates the analysis covers.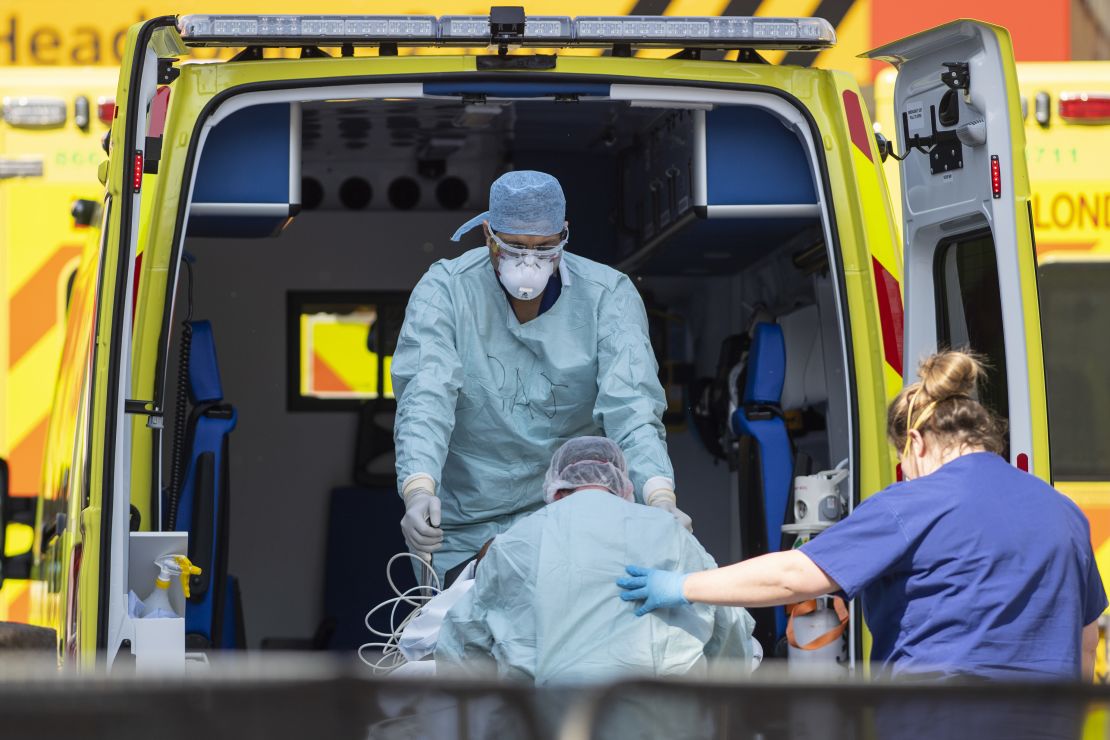 The newspaper examined mortality data available from 19 countries' national statistical agencies and found the UK emerged worst when comparing excess death data per million people.
A CNN analysis of death statistics from Scotland, Wales, England and Northern Ireland shows there has been just over 59,000 deaths in excess of the long-term average from mid-March until mid-May, which are the most recent statistics available.
In response to the Financial Times analysis, a spokesperson for the UK's Department of Health and Social Care told CNN: "Our absolute priority as we tackle this outbreak is to save lives. Although it is important to look to evidence from other countries, comparing figures directly can be misleading as different countries compile their figures in different ways with different categories of patient included."
The numbers deliver a cold judgment on the way Johnson's government has responded to the pandemic, and come as some raise concerns about a second wave of cases as society reopens in June.
Experts say it's not safe to reopen schools
Meanwhile, on Thursday morning a leading group of experts said it would be unsafe for the government to reopen schools in England next week as planned.
Johnson later confirmed at a news conference that he is pushing ahead with his plan to welcome selected year groups back to the classroom starting June 1, as part of a wider relaxation of the country's lockdown.
Teachers' unions, local authorities and headteachers have raised concerns about the plan to reopen schools on Monday. The experts said schools could only safely reopen when local infection rates were low and when a "well-functioning, coordinated, local test, track and isolate strategy" was in place.
"We have seen no compelling evidence that these conditions have so far been met across the country. Until they are, it is not safe to open schools everywhere on June 1," said the report from the Independent SAGE group of scientists. The group was established by former UK chief scientific adviser David King and includes several leading scientists concerned about the advice being given to ministers.
The report suggested that the plan to reopen schools on June 1 had not been properly vetted by the experts in the Scientific Advisory Group for Emergencies (SAGE), the official body of scientists who advise the government. SAGE is not connected to the Independent SAGE group.
"The school reopening scenario chosen by the government is not one of those modelled by SAGE, making the potential impact of reopening even more uncertain," King's group said.
It also warned that the step should not be taken until more complete testing and tracing programs are up and running. "Robust testing systems are not in place everywhere," the report said.
"Public adherence to social distancing is influenced by trust in the government and its messaging. This trust is increasingly strained," the report added.
Downing Street did not respond to CNN's request for comment.
Unlike England, the UK's devolved nations of Wales, Scotland and Northern Ireland will not be sending children back to school next week.
CNN's Simon Cullen, Sarah Dean, Samantha Tapfumaneyi and Luke McGee contributed reporting.