Two weeks before the official start to Atlantic hurricane season, Tropical Storm Arthur has become the first named storm of the year – but it's expected to brush the US coast before heading back out to sea.
At 8 p.m. Sunday, Arthur's outer bands were skirting the North Carolina coast, the National Hurricane Center said. A tropical storm warning was in effect for Surf City north to Duck, an area that includes the Outer Banks barrier islands, meaning tropical storm conditions are expected sometime in the next 24 hours.
Heavy rain, dangerous coastal surf conditions and rip currents are expected in the warning area, the hurricane center said.
Arthur was about 260 miles south-southwest of Cape Hatteras, North Carolina, moving toward the state at around 9 mph, the National Hurricane Center said in its 8 p.m. advisory.
"A turn toward the northeast with an increase in forward speed is forecast to occur later tonight or on Monday," the NHC said. "A turn toward the east is expected on Tuesday."
The storm's center is forecast to stay "well offshore of the coasts of Georgia and South Carolina" Sunday night and move near or just east of the North Carolina coast on Monday, the hurricane center said.
Arthur is forecast to turn away from the United States on Monday night and into Tuesday.
Track the storm with CNN's storm tracker >>>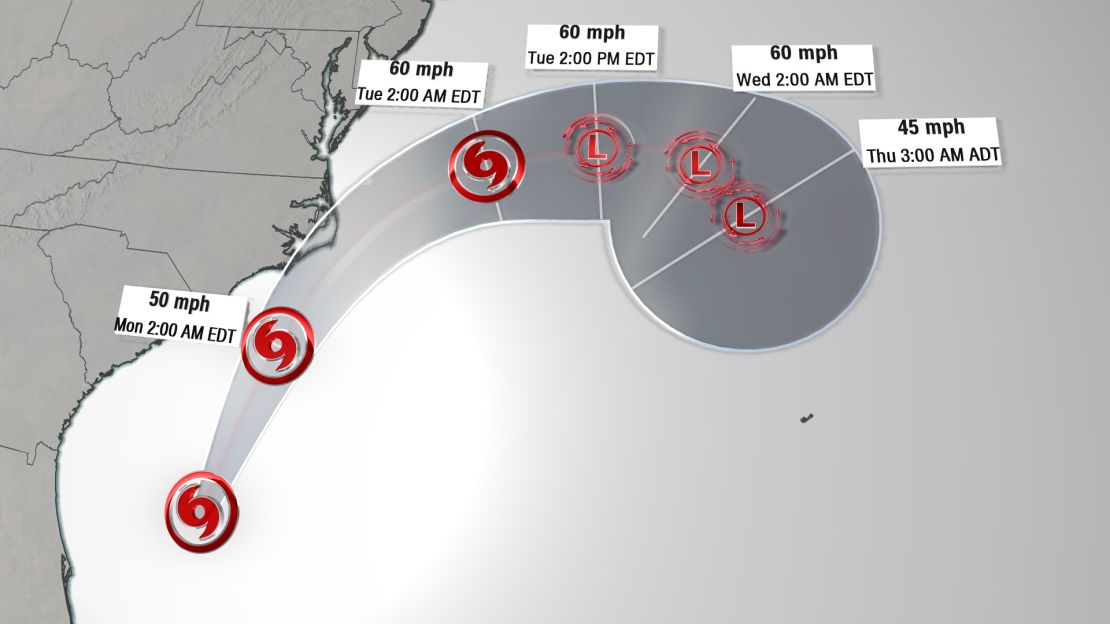 Get the latest forecast and weather news from CNN's team of meteorologists >>>
The tropics are heating up around the world
Areas of the Pacific Ocean have also had an interesting start to their tropical season.
On April 25, Tropical Depression One-E formed south of Mexico's Baja California region, marking the first tropical depression on record in the month of April for the Eastern Pacific Ocean.
This is in contrast to the Western Pacific, which just had its eighth latest start to a tropical season since 1950.
The official Atlantic seasonal forecast doesn't come from the National Oceanic and Atmospheric Administration until May 21. But there are more than a dozen early forecasts already published and the general consensus is that the Atlantic is in for an active season.