CNN Underscored has interviewed experts and found the best options to help you cope during this uncertain time. Find all of our coronavirus-related coverage here, and let us know your thoughts here.
It's no wonder you're stressed out right now: Covid-19 has upended life as we know it, and you're doing your best not to worry about what it all might mean for the future. If all that stress and anxiety is making it increasingly difficult to get a good night's sleep, welcome to the insomnia club.
Adults not only need seven to nine hours of sleep per night, but also need to get good-quality sleep by staying asleep long enough to transition through full sleep cycles, including deep sleep, says clinical psychologist and author Whitney Roban, who sits on the advisory board of the American Sleep Association.
"It is during this stage of deep sleep that our brain consolidates and processes information from the day, which is very important during stressful times such as the coronavirus crisis," she says. "The biggest cause of impairment to our quantity and quality of sleep is stress and anxiety. Our brain and our bodies need to be relaxed in order to fall asleep and stay asleep. Our bodies release cortisol in times of stress, which leads to lower melatonin levels and trouble falling asleep, as well as interrupted sleep."
And, Roban adds, as so many of us are living in close quarters, trying to figure out teleworking and home-based learning for our kids amid feelings of worry, it's more important than ever to remain sound in mind and body. "Healthy sleep is a critical factor in doing so," she says.
We asked experts for advice on getting a good night's sleep, which not only repairs and recharges, but helps benefit our physical and mental wellness, according to Judy Ho, a clinical and forensic neuropsychologist and host of the "SuperCharged Life" podcast.
"Sleep is crucial for us to be able to make good decisions, regulate emotions well, be in a better mood, boost immunity, improve attention and memory, lower blood pressure, maintain healthy weight, reduce diabetes and keep our heart healthy," she says. "We need all of the above to be able to withstand the uncertainty that comes with this pandemic."
Here are tips from sleep experts that may help you rest easier tonight.
Put the phone away
"With all the stress and unknowns regarding the covid-19 pandemic, a lot of people are understandably glued to their phones right now, constantly checking news outlets and talking to family members," says certified sleep science coach Matthew Ross, co-founder and COO of The Slumber Yard. "However, constant contact with your phone can hinder both productivity during the day and your sleep quality at night."
Beyond the negative aspects related to blue light, having your phone next to you can make you feel anxious, he adds. "When your phone is within arm's reach, you'll be tempted to check news outlets and think about the current crisis, which will obviously cause stress." He suggests charging your phone in a different room at night. Another way to ensure you won't be reaching for your phone when you should be sleeping: a phone safe.
Lockabox One ($39.99; amazon.com)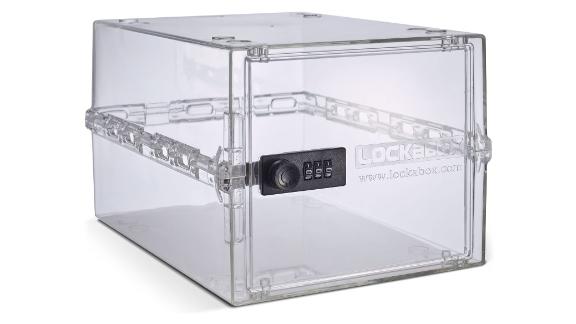 The Amazon bestseller Lockabox allows you to store the family's devices away, making them only accessible by using a three-digit combination lock. Having to undo the lock will make you think twice before accessing your device.
Stretch before bed
Ross recommends doing some light stretching exercises about 15 to 30 minutes before lying down. "It's often difficult to fall asleep when your muscles are tense and tight, which can happen during times of extreme stress like covid-19 pandemic," he says. "If you go to bed tight, you'll likely end up tossing and turning frequently in order to find a comfortable position. Stretching will help loosen up your muscles and get your body in a relaxed state for sleep."
Premium 6mm Print Reversible Extra Thick Yoga Mat ($30.39, originally $34.98; amazon.com)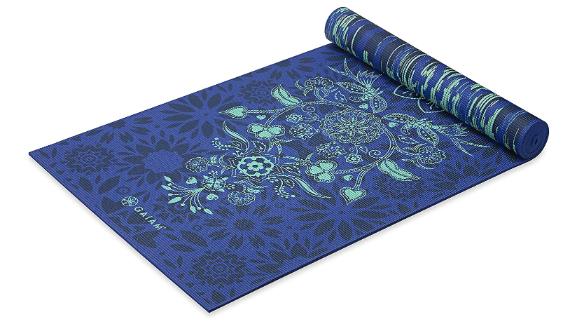 Roll out a new yoga mat, like this highly rated one from Gaiam, in your bedroom to get in a few stretches before bed.
AmazonBasics High-Density Round Foam Roller ($12.99; amazon.com)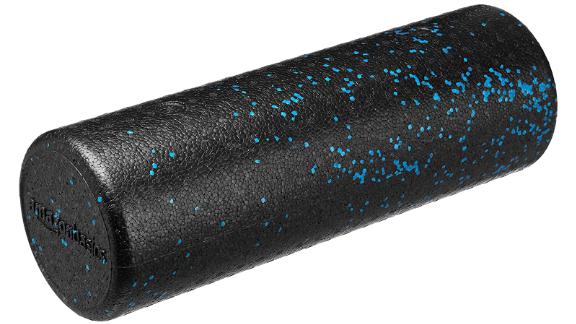 Or use a foam roller — like this one, which is easy to stash in a corner with not in use — to get some of the kinks out by lying on it or rolling it over sore spots.
Cork Yoga Wheel ($54; uncommongoods.com)