CNN Underscored has interviewed experts to find the best options to help you cope during this uncertain time. Find all our coronavirus-related coverage here, and let us know your thoughts here.
Keeping up with your manicure may not be a top priority at the moment, but as we're going through these strange times, you can find comfort in simple self-care rituals. And while heading to the salon may not be happening in the near future, one easy way to get a cute new look is with press-on nails.
Whether you've played around with press-ons before, or are thinking about getting pressed for the first time, we got the scoop on putting them on and getting them off from Effie Skourides, manicurist at Green Tangerine Salon and Spa in Boston, and New York-based celebrity nail artist Gina Edwards.
Before applying, it's important to prep and clean your existing nails. "The best tip is to work on a clean surface, making sure there are no oils or debris on the nail," says Edwards.
Skourides adds, "Make sure to lightly buff the natural nail with a buffer to prep the nail. Try to avoid a coarse file as this could damage or weaken the natural nail bed."
And when you're ready to apply? "The best way for applying press-on nails is to measure the nails prior to application, ensuring that the nails do not overlap the side grooves," explains Edwards.
Both Edwards and Skourides recommended Impress and Kiss press-on nails, and we rounded up some of our tried-and-loved picks as well, all of which can give you spring-ready nails in a flash.
Rebecca Minkoff Impress Nails Desert Glow ($8.99; ulta.com)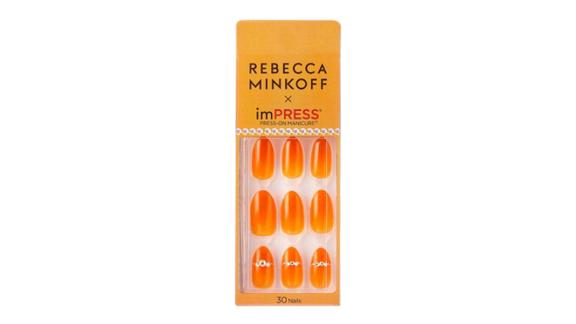 Fashion designer Rebecca Minkoff was inspired by the idea of wanderlust for her press-on nail collection with Impress, and in times like these, a vacation-inspired manicure really isn't a bad idea.
Kiss Everlasting French Nail Kit Medium Infinite Nails ($4.99, originally $6.49; amazon.com, target.com)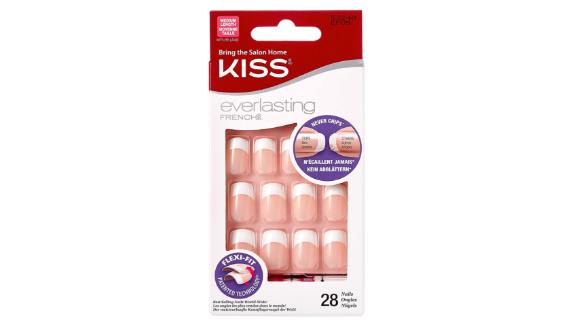 After a few years out of fashion, French manicures are back, with celebs like Kate Hudson and Bella Hadid regularly rocking the look. Cop the style with these medium-length press-ons.
Static Nails UO Exclusive Reusable Pop-On Manicure Kit - Tortoise Shell ($16; urbanoutfitters.com)