CNN Underscored has interviewed experts to find the best options to help you cope during this uncertain time. Find all our coronavirus-related coverage here, and let us know your thoughts here.
Lately, many of us have had to find creative solutions to new problems. Even a simple task like going to the grocery store can pose a threat, and we've had no choice but to adapt.
If you want to avoid crowds at the supermarket, for example, opting into some grocery delivery services is a great alternative so you can keep up your social-distancing. Meat delivery services in particular provide an easy way for you to get your proteins dropped off right at your door.
We decided to test one of the most popular meat services, Rastelli's, to see for ourselves what it's all about. What we found was an easy, convenient and, most importantly, delicious solution that leaves little to complain about.
How it works
Rastelli's meat delivery offers a wide variety of proteins for home delivery (including plant-based faux meat). You can select from all sorts of boxes, with options from ground beef and pork chops to plant-based chicken and wild-caught tuna. Rastelli's even offers whole chickens and turkey roasts for those special occasions. You can order any of these once, or set up a recurring delivery in periods of every two, three, four or six weeks.
We opted for the chicken thighs, New York strip steaks, salmon and precooked pork ribs. All this meat made quite a big haul, and in a household of two we're expecting it to last a little over a month.
Our Rastelli's package came sealed in a styrofoam box, and inside was a glorious assortment of frozen meat and seafood. Rastelli's is experiencing some slower shipping times at the moment due to the pandemic, and on its website the company notes expected delivery times as approximately seven to 12 business days. Despite the extended time in transit, the meats arrived completely frozen, thanks to small bags of dry ice packed into the box.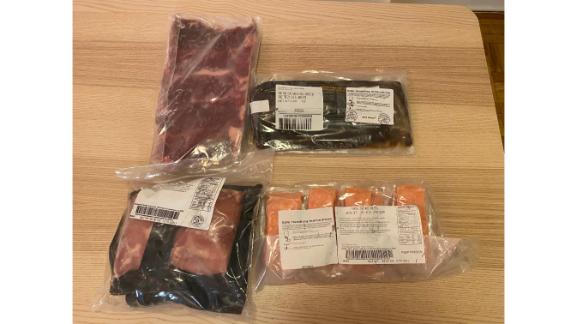 Each of the meats came in its own plastic packaging. The salmon was incredibly convenient, with individually packaged filets; we could just rip off two pieces to thaw while we kept the rest in the freezer. The other items we received weren't wrapped individually, so when we wanted to cook two steaks, for instance, we had to thaw the entire pack of five. This was a little bit of an inconvenience, as you either have to refreeze the meat and risk losing some of its fantastic flavor, or you have to eat three more steaks before they go bad (not the end of the world, by any means). So when you're putting in your order, just make sure to note how everything is packaged and adjust to your family size.
Clean, superior taste
For the most part, the meats we received from Rastelli's tasted great. All the products are flash-frozen, so you can be sure that their original flavor