A large crowd gathered Friday in Huntington Beach, California, to protest the governor's order to close all beaches in Orange County to prevent the spread of the coronavirus.
Between 2,500 and 3,000 people took part in the beach closure protest, according to Huntington Beach Police Chief Robert Handy.
Enforcement of the closure was light because officers did not have enough signage to affect a full closure when the order went into effect Friday morning, Handy said.
The large crowd was packed near the popular Huntington Beach Pier. Most of them didn't have masks, despite recommendations from public health officials that people must wear masks and socially distance in public.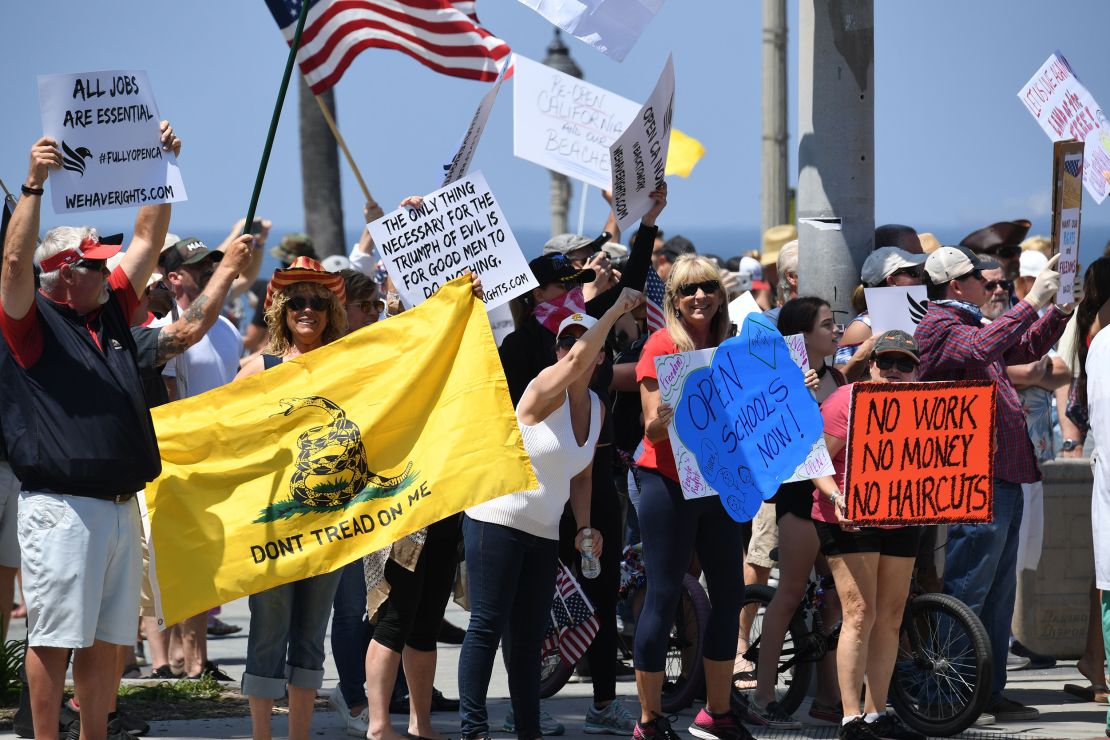 The target of their ire, California Gov. Gavin Newsom, urged the protesters to take care of themselves by wearing face coverings and employing physical distancing.
"This disease doesn't know if you're a protester, a Democrat, a Republican," the governor said at a press conference Friday. "Protect yourself, protect your family, your kids, your parents, your grandparents, your neighbors."
An Orange County judge rejected a request from local officials to block Newsom's order closing the beaches in the county to slow the spread of the coronavirus.
Lawyers representing three cities argued the governor had singled out the county and overstepped his authority while allowing other beaches in California to remain open.
The judge agreed to hear more on the challenges to the beach order next week.
Protesters label Newsom a 'traitor'
Some demonstrators were seen waving American flags and carrying Trump 2020 signs and posters disparaging Newsom following his order Thursday.
Some of the signs labeled Newsom a "terrorist" and "traitor," while protesters with bullhorns were heard shouting messages supporting President Trump's reelection.
While the crowd remained peaceful, dozens of law enforcement officers patrolled the event, including SWAT teams in tactical gear and police helicopters overhead.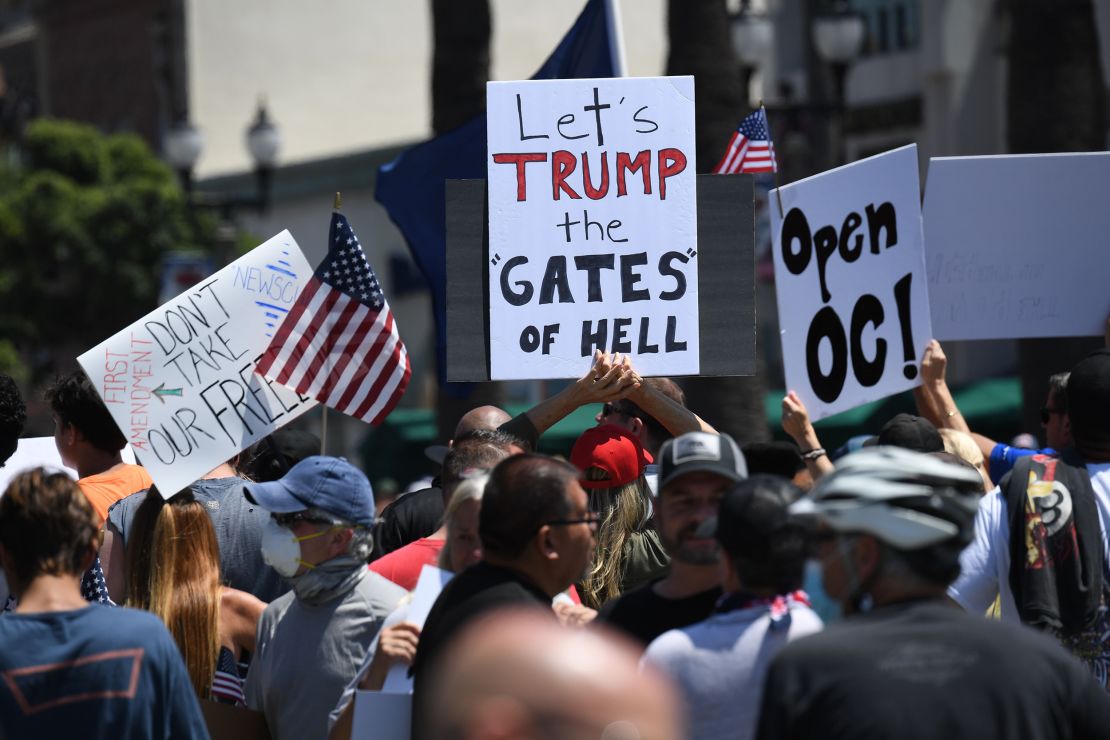 Out of sight from protesters, riot patrol officers on horseback were ready, with one officer telling CNN they were there "just in case."
While the beach is technically closed, officers did not appear to be enforcing the governor's closure order.
One protester walked past a line of officers blocking access to the beach and asked police officers if he was breaking the law.
The officer responded, "Yes, you are technically entering an unauthorized area," but did not stop the protester as he proceeded past the line of officers and to the ocean.
Newsom told protesters he appreciated their point of view. "But we're interested in evidence, and the evidence shows some good things, but some yellow flags of caution," he said.
"We can screw all of that up, we can set all that back by making bad decisions," Newsom said.
Two California cities plan legal action against governor over beach closure
Two beach cities in Southern California have voted to file an injunction against the governor's order to temporarily close all beaches in Orange County.
Huntington Beach and Dana Point both held emergency City Council meetings Thursday after Newsom ordered county beaches closed starting Friday.
Newsom called the order a "temporary pause" saying Thursday the beaches could reopen quickly "if we can get some framework and guidelines to get this right." Orange County officials blamed the governor's decision on "misleading photographs" depicting packed crowds along the shores.
The Huntington Beach City Council voted 5-2 in favor of directing the city attorney to pursue any and all legal actions to challenge the beach closure, a news release from the city says.
Huntington Beach Mayor Lyn Semeta called the governor's mandate "jarring."
"Given that Orange County has among the lowest per-capita COVID-19 death rates in California, the action by the State prioritizes politics over data, in direct contradiction of the Governor's stated goal to allow science and facts to guide our response to this horrible global pandemic," the mayor said in a statement.
Huntington Beach will be closing all beaches starting Friday, including the city's bike paths, boat ramps, restrooms, parking lots, and associated recreational amenities, the release says. Activities such as sunbathing, walking, running and watersports will be prohibited, following guidelines sent to Orange County from the governor's Office of Emergency Services.
The city "invested considerable effort and expense" to work toward facilitating social distancing guidelines in beaches and people had been complying with the requirements, the release says.
"In this way, the City was attempting to provide the community with the ability to safely experience the physical and mental health benefits associated with accessing the Pacific Ocean," it says.
Dana Point's city council released a statement Friday saying they were disappointed that city officials were not able to talk with state officials about their concerns with the governor's order.
"The City's goal is to be in the same position as other beach communities in the State, and have the ability to make local decisions regarding management of beach use and access during these difficult times" the statement read.
City council members in Dana Point voted 4-1 to participate in litigation seeking a temporary restraining order against the governor's order to shut down beaches in Orange County, Dana Point City Attorney Patrick Munoz announced in the meeting.
Florida issues dozens of warnings
Florida is facing its own issues with people at beaches and parks.
The City of Miami Beach park rangers issued 899 verbal warnings to people in city parks not wearing face coverings on Thursday, according to the Miami Beach Police Department.
Officers issued verbal warnings to 10 people for failing to social distance as well as 76 people being asked to leave the parks after closing time.
Miami Beach reopened parks on Wednesday with some restrictions, including face coverings and social distancing.
On Wednesday park rangers issued 652 warnings to people not wearing masks and 23 warnings to people not social distancing. And 145 people were removed from all parks after closing.
CNN's Paul Vercammen, Josh Campbell, Rosa Flores, Cheri Mossburg and Sara Weisfeldt contributed to this report