CNN Underscored reviews financial products such as credit cards and bank accounts based on their overall value. We may receive a commission through The Points Guy affiliate network if you apply and are approved for a card, but our reporting is always independent and objective.
If you have a travel credit card, you're probably not getting a ton of value out of it while airlines and hotels remain mostly shut down due to the coronavirus crisis. But in an effort to add value to its lineup of travel cards, on Friday, American Express announced the temporary addition of several non-travel benefits to its travel cards portfolio.
The additions include new credits on the issuer's personal and business Platinum cards, the personal Green card, and improved perks and rewards on many of its Delta, Marriott and Hilton credit cards. While none of the new benefits are permanent, some of them will last until the end of 2020.
New credits on Amex Platinum and Green cards
The biggest additions are to the issuer's top-tier luxury Platinum Card® from American Express. From May through December 2020, Amex Platinum card members will get up to $320 in statement credits on select streaming and wireless telephone services purchased directly from U.S. service providers. The credits will be doled out in portions of up to $20 per month in each of the two categories over the 8-month period.
The select streaming services category includes many of the most popular services, such as Netflix, Hulu, Disney+, HBO Now and more — a complete list is on Amex's website. The wireless telephone services credits will work for AT&T, Sprint, T-Mobile, Verizon and other services, but doesn't include bundled services or the purchase of hardware.
These new credits come on top of several already-existing Amex Platinum credits that can be used from home, including up to $100 in annual Saks Fifth Avenue credits (which can be used for online orders at saksfifthavenue.com) and up to $200 in annual Uber credits, which are also applicable to Uber Eats orders.
Related: How to take advantage of your expensive travel credit card when you can't travel.
Customers with the less-expensive American Express® Green Card, which was revamped near the end of last year, will see a similar but smaller added perk of up to $80 in statement credits on wireless telephone services purchased directly from U.S. service providers, again broken into portions of up to $10 per month from May through December.
Extra points at U.S. supermarkets on Delta and Marriott cards
Increased rewards are being added to the four personal Delta Amex credit cards, which include the Delta SkyMiles® Blue American Express Card, the Delta SkyMiles® Gold American Express Card, the Delta SkyMiles® Platinum American Express Card and the Delta SkyMiles® Reserve American Express Card.
From May through July 2020, customers will earn 4 miles for every dollar spent at U.S. supermarkets on these Delta credit cards, with no cap on how many miles you can earn. That's more generous than the permanent grocery bonus categories on some other Amex cards, such as the $6,000 annual cap on bonus points at U.S. supermarkets on the Amex EveryDay® Credit Card from American Express.
Related: Read CNN Underscored's guide to the best credit cards for Delta flyers in 2020.
Marriott card members are also getting limited-time bonus points on groceries. Both the Marriott Bonvoy Brilliant™ American Express® Card and the old Marriott Bonvoy American Express Card (which is no longer issued to new customers) will earn 6 points for every dollar spent at U.S. supermarkets from May through July 2020, up to $7,500 in eligible purchases. These cards normally earn 2 points per dollar on everyday purchases, including at U.S. supermarkets, so this is an extra 4 points per dollar.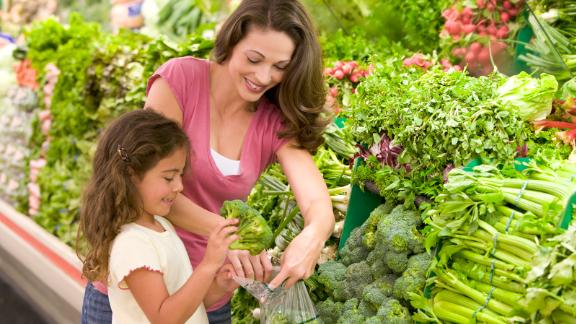 Those with the Marriott Bonvoy Brilliant card will also see a temporary expansion of that card's annual credits for up to $300 in purchases at Marriott properties. From June through August 2020, you'll also be able to use those credits on eligible purchases at U.S. restaurants, including takeout and delivery. This is an expensive credit card at $450 per year, so being able to use these credits while you're not on the road is a major help.
Additional points and elite status credit on Hilton cards
People who have either the Hilton Honors Aspire Card from American Express or the Hilton Honors American Express Surpass® Card will also get a boost when they buy groceries. From May through July 2020, these two Hilton cards will earn 12 points for every dollar spent at U.S. supermarkets, again with no cap.
The Hilton Surpass card normally earns 6 points per dollar at U.S. supermarkets, while the Hilton Aspire earns 3 points per dollar on those purchases. That makes this an increase of 6 and 9 points per dollar, respectively.
While 12 points per dollar sounds like a huge haul, remember that not all points and miles are the same. According to CNN Underscored's partner The Points Guy, Hilton Honors points are worth 0.6 cents apiece, while Marriott Bonvoy points are a higher 0.8 cents each and Delta SkyMiles an even higher 1.2 cents each.
So even though the number of bonus points or miles vary widely on these cards, the actual total return is mostly the same. For instance, the Hilton Surpass is now earning an extra 6 points per dollar at U.S. supermarkets, and those 6 points are worth 3.6 cents in travel for each dollar you spend. Contrast that with the Marriott and Delta cards, where 3 extra Delta miles per dollar on the Delta Blue and Delta Reserve cards are also worth 3.6 cents, while 4 extra points on the Marriott cards are worth a slightly-lower 3.2 cents.
Like the Marriott Brilliant card, the top-tier Hilton Aspire card will also see a similar expansion of its annual up to $250 Hilto