(CNN) —
With so many bed-in-a-box options to choose from, finding your perfect mattress can often be nothing short of overwhelming, especially when you're ordering online, sight unseen. (And even if you have tested a mattress in-store, sometimes you simply can't be sure if it's the right one for you unless you've spent a night — or several nights — on it.)
Luckily, bed frames are a bit less of a gamble, though support and sturdiness can still vary across the board. If you're looking for a wallet-friendly option that delivers on performance, we've already done the work for you, and we can't say enough good things about the Zinus Geraldine Metal Platform Bed Frame (starting at $73.06 for a twin through $129.22 for a king; amazon.com). Also? It nails the whole minimalism vibe, if that's your thing. The frame is available in both black and white for select sizes.
The Zinus Geraldine is a simple, metal bed frame (side note: if you've ever been traumatized by a bedbug infestation, you probably know how essential a metal frame can be for your peace of mind) that, in our experience, takes roughly 30 to 45 minutes to assemble, depending on how swiftly you move and whether it's a two-person or solo effort. Bonus: No tools required, besides the Allen key included.
While some reviewers have noted that their mattresses can tend to slide a bit, we've had no such issue with that, even with two adult humans and a 50-pound dog (no judgment, please!) sleeping on it every night for the past two years — and said dog excitedly jumping on and off of it regularly. That said, many reviewers have cleverly remedied the problem by placing a yoga mat under their mattresses. But if you've got nightstands or a wall on either side for extra security, as we do, you should be solid.
And if you're on an even tighter budget — and a frame sans headboard isn't a deal breaker — the same brand offers a no-frills platform bed frame called the Zinus Shawn SmartBase Mattress Foundation ($75.99 for a full size and just $119.99 for a California king; amazon.com) that also holds up well in the long term, according to people who use it. It makes for a great guest bedroom frame, too, if you'd prefer to add a smidgen of comfort to your air mattress setup.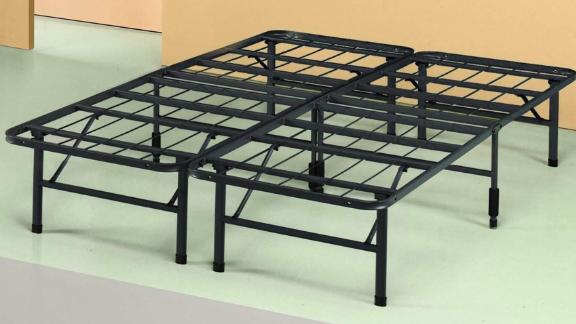 But back to the Geraldine. It's a Prime-eligible option that, at 11 inches off the ground, offers plenty of room below for storage, comes with a five-year limited warranty, and is just as easy to disassemble as it is to put together; moving with it was a breeze. Note that it weighs nearly 50 pounds altogether, though, so keep that in mind if you'll need to transport the box up any stairs upon arrival.
Basically, we think you can't go wrong with this purchase if you're looking for a bed frame that does the job, looks cute, and won't put you out more than a Benjamin or so. Sweet dreams!
Zinus Geraldine Metal Platform Bed Frame (starting at $73.06 for a twin through $129.22 for a king; amazon.com)
Note: The prices above reflect the retailer's listed prices at the time of publication.