CNN —
DJI's latest drone is almost ready to take flight. The Mavic Air 2 is available for preorder right now, with orders currently planned to begin shipping in the middle of May.
The Mavic Air 2 has a 1/2-inch camera sensor that can take 12-megapixel photos, or 48-megapixel images using the Quad Bayer sensor. It can record video at up to 4K and 60 frames per second. There's also an 8K HyperLapse mode that will record a high-quality timelapse video during flight.
Mavic Air 2 uses seven different photos at different exposures and combines them into a single image for HDR photos. Hyperlight promises to take better low-light photos, while scene recognition can distinguish between five different scenes — sunsets, blue skies, grass, snow and trees — and automatically adjust the photo settings to ensure you capture the best photo possible.
DJI estimates a 34 minute flight time for the Mavic Air 2, with a maximum range of 10 kilometers (6.2 miles) thanks to the OcuSync 2.0 tech built into the drone and the included controller. It uses 2.4GHz and 5.8GHz bands, with auto-switching and the ability to block unwanted signals to prevent interference.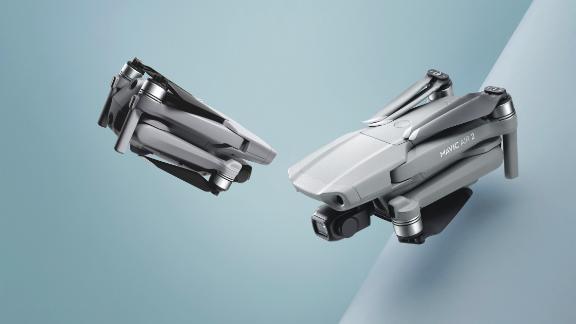 DJI
It's equipped with obstacle avoidance sensors on the front and rear that will prompt a warning when the drone gets too close to an object, and if needed, it will stop it from hitting the object.
This is the first drone in DJI's consumer lineup that includes AirSense technology. Essentially, the drone is able to receive ADS-B signals from nearby aircraft. With that information, DJI puts their current location on the map in the DJI Fly app, giving the pilot glanceable, but important, information.
Additionally, the Mavic Air 2 can use different modes to capture cinematic footage. ActiveTrack 3.0 will prompt the Mavic Air 2 to follow a subject, using mapping technology and obstacle avoidance to keep the subject in frame. There's also a spotlight mode that locks onto a subject but lets the pilot still control the drone's location.
Included in the standard $799 bundle is the Mavic Air 2, one battery, the remote controller, and all necessary wires and cables you'll need to fly.
The $988 Fly More Combo includes all other same kit as the standard bundle, along with two extra batteries, a case, charging hub, and ND filters for the camera.
You can preorder either Mavic Air 2 bundle right now from DJI.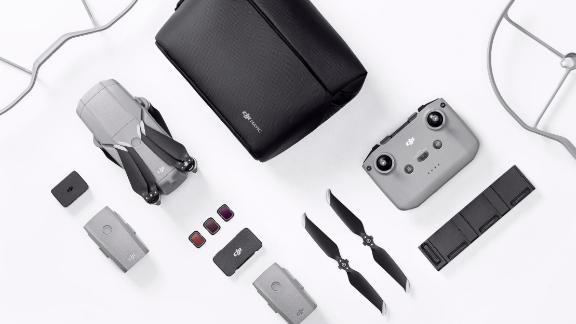 DJI
Note: The prices above reflect the retailer's listed prices at the time of publication.