CNN —
So, you've ordered your new iPhone SE, and couldn't be more excited. We're pumped about this new addition to the iPhone lineup, and we're even more excited about the accessories to go with it. We've listed out our top picks for charging options, cases, screen protectors, and PopSockets, and even AirPods and Apple Watches.
Cables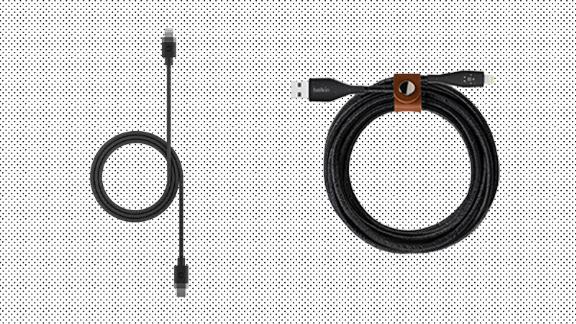 USB Type-C Cable with Lightning Connector ($19.95; mophie.com)
This charging cable from mophie will have your phone charged in no time. This cable features a braided nylon cable and durable connectors. These features will stand up to wear and tear, whether your cable is going from the wall to your couch or in your bag and traveling with you.
Powerline+ II USB Type-C to Lightning Cable ($21.99; anker.com)
This cable from Anker is durable and efficient, while utilizing the USB Type-C standard. Tested in their labs, this cable is 30x more durable than others in its category. The PowerLine+ II will charge your new phone quickly. Available in a bright red this cable will match the PRODUCT(RED) iPhone SE.
DuraTek Plus Lightning Cable ($29.99, originally $34.99; belkin.com)
This cable is double braided with a nylon material built to last. This cable has passed durability tests and features insulation to keep wires inside from fraying. The USB Type-A end won't fit into newer MacBook models, but will fit into most wall chargers. Plus, the DuraTek Plus has a leather strap to help keep your cables organized.
PowerLine III Lightning Cable (2 pack) ($25.99; anker.com)
This 2 pack of cables from Anker are 3 feet long, durable, and dirt resistant. This white cable can be wiped down with a wet cloth so you won't have to worry about yellowing or dullness to the color of your cable. This lightning connector will give you a speedy charge and fit most wall chargers with a USB Type-A port.
Battery Packs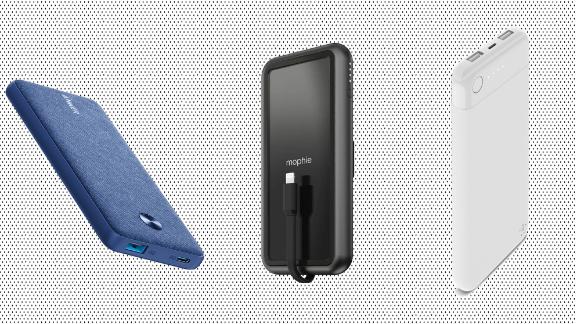 PowerCore III ($49.99; anker.com)
This portable charger from Anker is slim and lightweight. It will provide up to two charges for your new device if you're running out of battery on the go. The PowerCore will be fully recharged after about 4 hours with a USB-C plug in. This charging brick is available in four colors, so you'll be able to add a personal touch.
Power Station Plus ($79.95; mophie.com)
The power station plus from mophie stands out with its built in cable. The cable is built into the design and fits in a magnetic cover when you're not using it. This device provides up to 32 hours of power and can charge multiple devices at once (if you have extra cables). The built in cable and lightning charging are key features for this charging brick.
BOOSTCHARGE Power Bank ($59.99; belkin.com)
This charging brick is sleek. The design is thin so it'll fit in any bag you're traveling with. You'll have up to 70 extra hours of battery life when charging with this device. The Power Bank charges via lightning charging as well, so you won't be waiting around for a recharge. You'll only need one cable to charge your phone and your Power Bank.
Wireless Chargers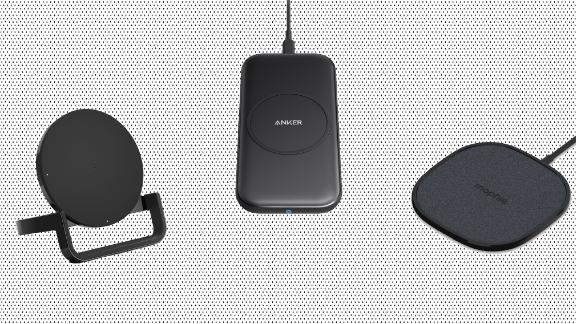 PowerWave Base Pad ($13.99; anker.com)
This wireless charger is built to match the size of your phone. Your new iPhone SE will fit directly on top of this device and with the charger's non slip pad your phone won't move even when it vibrates. This device is case friendly but if for some reason your phone isn't charging, the LED light underneath will let you know what the issue is through different colors.
BOOSTUP Wireless Charging Stand ($69.99; belkin.com)
This wireless charging stand will keep your new phone upright while charging. Perfect for the top of a desk while working, as you can charge with your phone in portrait or landscape mode to allow use while charging. Available in white and black this wireless charging stand will fit seamlessly into your office aesthetic.
Wireless Charging Pad ($49.95; from mophie.com)
This wireless charger features an Ultrasuede finish on top so it's protected against scratches while blending in with surfaces it's placed on. The rubberized outer ring of the charger will keep your phone from slipping while charging. This charger from mophie will deliver a quick charge through most lightweight cases.
Cases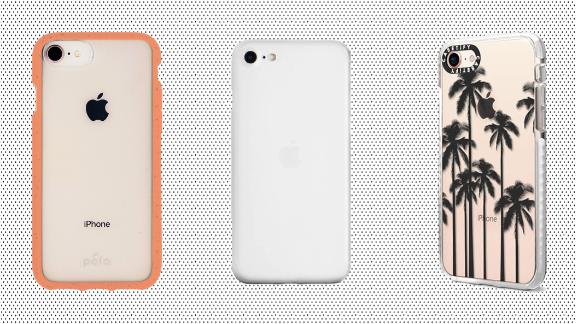 Thin iPhone SE Case ($35; totalleecase.com)
If you're looking for a case that won't draw attention away from the iPhone SE's design, look no further. Totallee's Thin iPhone SE case is simple but sleek and available in matte white or black, and also has a translucent option. This case is extremely thin and lightweight, but will still keep your phone protected.
Clear Eco Friendly iPhone SE with Lavender Ridge ($44.95; pelacase.com)
This clear case from Pela won't take any attention away from your new phone, and it won't add any waste to landfills. This case is 100% biodegradable and comes in a multitude of different bumper color options. While offering full protection for your phone, you're also reducing plastic waste.
Black Summer Palm Trees Classic Grip Case ($35; casetify.com)
We liked this design because it'll show off the bright red color of the iPhone SE. The simple black palm trees look great against the bright phone. If you didn't opt for the red you can change the color of the sides of this case for a nice pop. And, as always, you're getting the same great protection from Casetify.
Screen Protectors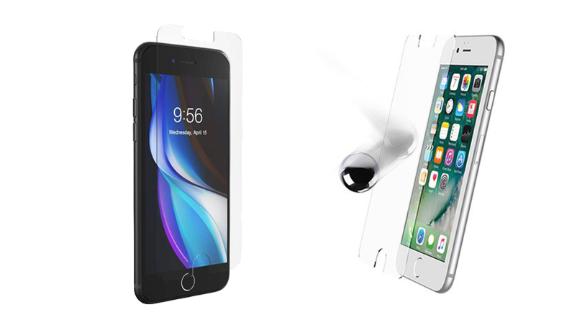 Pure 2 Premium Glass Screen Protector ($31.96, originally 39.95; bodyguardz.com)
This screen protector is super thin and super durable. The precision cut edges of this tempered glass option will cover the entirety of your phone's surface. This screen protector features impact absorbing technology as well so it won't pop off your screen if you happen to drop your device.
Glass Elite VisionGuard+ ($49.99; zagg.com)
The Glass Elite VisionGuard+ has a built-in bluelight filter to protect your eyes from straining. This tempered glass protector features Invisible Shield's antibacterial technology to eliminate germs on your phone's surface.
Alpha Glass Screen Protector ($39.95; otterbox.com)
This option from Otter Box is made of tempered glass and polyester. This screen protector will protect from splintering and shattering if your phone is dropped. The display quality of your new iPhone won't be compromised either.
PopSockets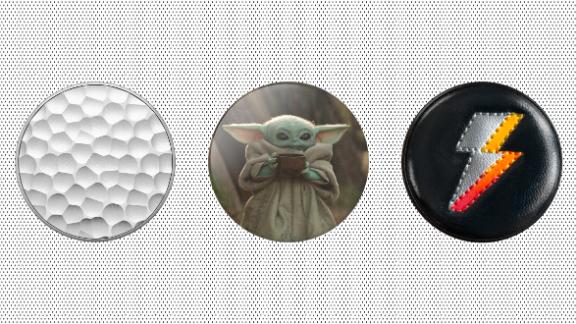 Hammered Metal Silver PopGrip ($20; popsockets.com)
This is a great PopGrip if you're looking for a more minimalist design. The sleek silver will blend in with your phone while giving you a PopGrip you know and love.
The Child Cup ($15; popsockets.com)
Show off your fan pride with this PopGrip featuring everyone's favorite: Baby Yoda. This cute and trendy PopGrip is sure to be a conversation starter.
Stitched Bowery Bolt ($15; popsockets.com)
This PopGrip is made from premium stitched vegan leather and is part of a new collection. The bright lightning bold against the black background pops and adds a bit of rock and roll to your new phone.
AirPods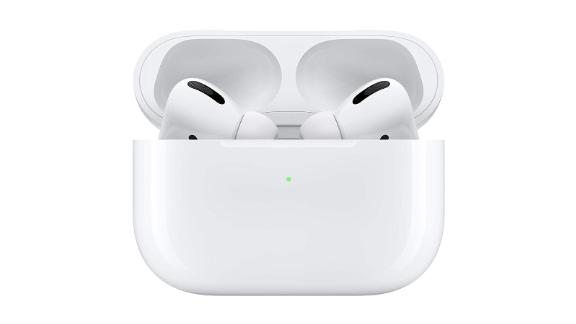 AirPods Pro ($234.95, originally $249; amazon.com)
The AirPods Pro have a more updated design, featuring noise cancellation and better sound. The biggest difference is the silicone ear tip. You'll have options for sizes so they best fit, and they'll feel super comfortable. You can read more about the AirPods Pro here.
AirPods (2nd gen) ($121.99, originally $180; eBay.com)
These AirPods come in a charging case so you can charge your new AirPods on the go (but you'll need a hard plug in to charge the case). The case charges quickly and will give your AirPods up to 24 hours of battery life. This is the lowest price we've seen these AirPods at, so if you've been waiting to purchase now is a great time.
Apple Watch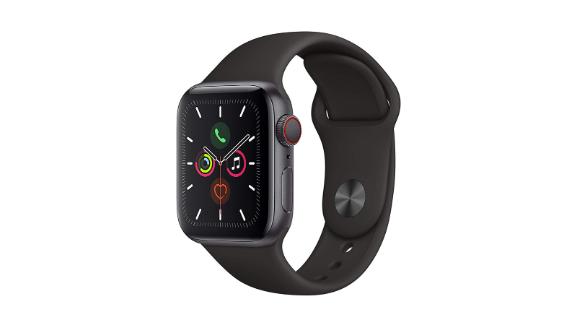 Apple Watch Series 5 (GPS, 44mm) Gold Aluminum Case with Pink Sport Band($414; amazon.com)
This Apple Watch is a perfect pair for your new iPhone SE. The Series 5 features an always on display so you can always see the time and your watch display. If you're looking to set fitness goals this watch will track your exercises and progress (plus, it's water resistant up to 50m if your exercise is in the pool). We like the gold paired with the pink for a light pop of color. This watch is not compatible with cellular but does feature GPS technology.
Apple Watch Series 5 (GPS + Cellular, 44mm) Space Grey Aluminum Case with Black Sport Band ($514; amazon.com)
This Apple Watch features all of the same tools listed above, but is compatible with cellular. You'll be able to make calls and send texts even when your phone is out of range or you're not connected to WiFi. You'll just need to add a data plan from your wireless carrier. The always sleek Space Grey paired with a black band is a classic look that's sure to stay in style.
Your new iPhone SE deserves the best. Whether you're pairing a new Apple Watch, leaning into a trend with a fun PopSocket, or looking for the ultimate screen protection, there's an accessory perfect for you and your new phone. For our full review on the iPhone SE, read more here.
Note: The prices above reflect the retailer's listed prices at the time of publication.