CNN Underscored reviews financial products such as credit cards and bank accounts based on their overall value. We may receive a commission through The Points Guy affiliate network if you apply and are approved for a card, but our reporting is always independent and objective.
Although my overall credit card spending has decreased, my grocery expenses are higher than ever. We're now cooking three meals a day, eating snacks as if they will be gone tomorrow and spending more time baking and trying new recipes.
With people cooking at home more than ever, now's the time to make sure you're getting as many rewards on your supermarket purchases as you can. And with many American Express and Chase credit cards now featuring limited-time bonuses on groceries, it's a great time to earn more cash back that goes directly into your pocket, or to start fantasizing about that future trip you'll take with all the extra travel points and miles you can earn.
But which credit card is best for groceries? With so many great options, we've picked out our current favorite credit cards to use at the supermarket. The right card truly depends on your needs and shopping habits, but rest assured — there's a card for everyone.
The best credit cards for groceries
Blue Cash Preferred® Card from American Express: Best for cash back at US supermarkets
Chase Sapphire Reserve: Best for flexible travel rewards
Southwest Rapid Rewards Premier Credit Card: Best for airline flights
Hilton Honors American Express Surpass® Card: Best for hotel points
World of Hyatt Credit Card: Best for hotel elite status
Amazon Prime Rewards Visa Signature: Best for Whole Foods and Amazon Fresh
Costco Anywhere Visa® Card by Citi: Best for groceries at Costco
Amex EveryDay® Credit Card from American Express: Best for travel rewards with no annual fee
American Express® Gold Card: Best for food perks
United Club Infinite Card: Best sign-up bonus
Let's dive into the details of each of these cards and see how they compare to one another.
Best for cash back at US supermarkets: Blue Cash Preferred from American Express
If you spend more money at grocery stores than anywhere else, then the Blue Cash Preferred from American Express is the card for you. Although many other cards are currently offering increased bonuses on groceries for a limited time, this card will always give you a good return on your supermarket purchases 365 days a year.
The Blue Cash Preferred offers 6% cash back at US supermarkets for up to $6,000 in purchases per year (then 1% cash back after that). There's no other card that offers this high of a cash back return on groceries, so this is truly the best card when it comes to getting cash into your pocket.
Aside from the 6% cash back, the Blue Cash Preferred also offers a strong 6% cash back on select US streaming subscriptions. While being stuck at home, there's a good chance you've upped these subscription services, so this is one way to save some money in that department.
You'll also receive 3% cash back at US gas stations and on transit with the Blue Cash Preferred. Although those are probably a smaller portion of your budget right now, when life goes back to normal, this is an ideal card to use on those categories as well.
Keep in mind that the Blue Cash Preferred does carry a $95 annual fee, but if you're maxing out the 6% cash back at US supermarkets — $360 per year on $6,000 in purchases — then the annual fee pays for itself quite quickly.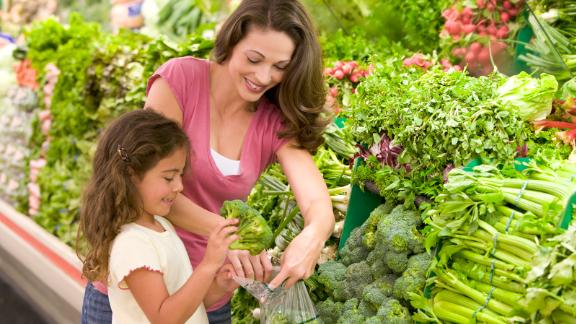 However, if your grocery expenses aren't that high, you might consider the Blue Cash Everyday® Card from American Express instead. The no-annual-fee Blue Cash Everyday earns 3% cash back at US supermarkets (up to $6,000 per year, then 1% cash back). That means if you spend less than about $3,166 in grocery purchases annually, you're better off with the Blue Cash Everyday instead of the Blue Cash Preferred.
Learn more about the Blue Cash Preferred Card from American Express.
Best for flexible travel rewards: Chase Sapphire Reserve
If you're looking to stash away some travel rewards for when planes return to the skies and hotels reopen, the Chase Sapphire Reserve is hands-down the absolute best card to use for your grocery store purchases right now.
With Chase's current limited-time offer, you'll earn a whopping 5 points per dollar spent on groceries with your Chase Sapphire Reserve card. There's no cap to the number of points you can earn, but this temporary increase is only set to last through June 30.
According to CNN Underscored's partner The Points Guy, Chase Ultimate Rewards points are worth 2 cents apiece. That means you're currently getting a 10% return on your grocery store purchases with the Sapphire Reserve. This is the highest return you'll see compared to other cards on our list, so this should be your go-to card for groceries through the end of June if you want to collect travel rewards.