Hundreds of thousands of Florida residents have applied for unemployment benefits in the past month, since the coronavirus pandemic triggered widespread business closures. Only a fraction, however, are receiving payments.
The state reported Friday that just under 22% of the nearly 702,000 unique claims filed since March 15 were being paid – just under 154,000 people. That's up from Monday, when the share was only 6.2%.
Florida has paid out a total of $157.5 million since March 15, including nearly $88 million in $600 weekly checks that were mailed to residents as part of the Congress' historic expansion of the unemployment program in its $2 trillion relief package last month. Florida's maximum benefit is $275 a week.
A portion of Florida's unemployment site that allows residents can check the status of their claims, will go "offline" until Monday in order to process payment faster, according to Tiffany Vause, spokeswoman for Florida's Department of Economic Opportunity.
Those needing to file a new application for unemployment benefits can still do so online.
Florida Gov. Ron DeSantis on Tuesday called the unemployment system a "jalopy" that cost the state $77 million.
Earlier in the week, the state agency said it had conducted "necessary performance enhancements" over this past weekend and expected to speed things up going forward.
"We believe we are going to see results this week," an agency spokeswoman said in an email to CNN.
While many states have struggled to handle the crush of the more than 26 million Americans filing initial jobless claims amid the coronavirus pandemic, Florida has faced particular problems. A recent Associated Press analysis showed Florida ranked at or near the bottom of all states in its speed of processing claims.
Floridians filed a total of more than 1.8 million claims since mid-March, but many were duplicates or even triplicates. The state agency undertakes a four-step system to verify the applications but has processed nearly 219,700, or 31.2%, of the unique claims.
A little more than a quarter of claims processed were found ineligible, though some people still may qualify for benefits under Congress' expansion, which temporarily extends the unemployment program to independent contractors, the self-employed, gig workers and those affected by the coronavirus.
Just over 115,000 initial claims related to the coronavirus – about a quarter of those in that category – were filed by hotel and food services workers, who have suffered many job losses as restaurants shuttered and tourism dried up. The industry is vital to Florida's economy.
Difficulty submitting claims
Like their peers elsewhere, many Florida residents have been unable to file their initial claims because the state unemployment agency's online system keeps crashing and the call center is overloaded.
Among the state's solutions: paper applications.
DeSantis, who called the filing problems "totally unacceptable" earlier this month, directed the department to provide paper forms that residents could download and mail in. Or they could go to CareerSource locations, which can provide the application and assist Floridians in filing it. FedEx is also offering free printing and mailing of the forms at more than 100 storefronts across the state.
Don Walkley is one of those frustrated residents who found themselves having to print applications after being unable to file claims online or by phone, even though the state has added dozens of new servers and hundreds of staffers and has contracted with customer call centers. He donned a mask and dropped off his application at FedEx last week.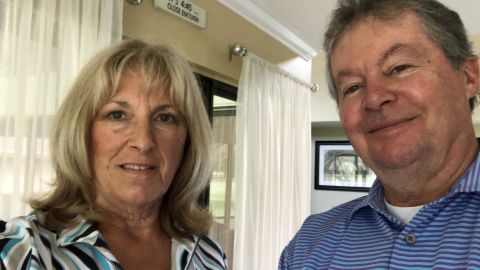 The Palm Beach Gardens resident was furloughed from his part-time job designing closets at The Container Store earlier this month. His wife, Micky, is about to start a three-week furlough from her position at an air conditioner manufacturing company.
Walkley, 70, hasn't heard anything about his application and said there's no way for him to follow up to see if it arrived.
"My question is 'So now what?' " said Walkley, who has started to cut back on food shopping to avoid dipping into savings. "I assume it's there. When does someone actually work on it, process it, do whatever they have to do so benefits can start being sent out? I'm not optimistic."
Demands for improvements
Democratic state and federal lawmakers have pummeled DeSantis, demanding he improve the system.
Rep. Stephanie Murphy, a Democrat representing the northern Orlando suburbs, posted an online survey and has gotten thousands of responses from people who either can't complete their applications online or by phone or can't determine the status of their claims.
"The crime and the shame in this is that they built a system that wasn't functioning in normal times," Murphy said, "and now, in a crisis, are having to scramble to figure out how to compensate for the fact that there are all these workers who are out of work through no fault of their own and try to get them the benefits that they need."
UPDATE: Florida claims totals have been updated throughout.
Rosa Flores and Sara Weisfeldt contributed to this story.