CNN —
Social distancing doesn't mean social isolation. It's important to keep in touch with friends and family, and Messenger from Facebook is here to help.
Yes, you need a Facebook account, but it's essentially breaking out the chat function of the social network into its own app. It's handy and allows you to keep your messages in one place. You can text, send GIFs, create massive group chats and make audio or video calls from Messenger. And there is even Messenger Kids, which aims to be a safe place for your kids to message friends.
Messenger
Ellen McAlpine/CNN
To get started with Messenger, you'll need to download the app from the App Store on iOS or the Play Store on Android. There's also a Messenger app available for download through Apple's Mac App Store and Microsoft's Windows Store. If you're looking to use Messenger on a bigger screen, this option has all of the same features as the mobile app. It's separate from the Facebook app, but you'll need to have a Facebook account. Once you've downloaded it, you'll authenticate with your account and your friends list will be immediately connected.
To chat text style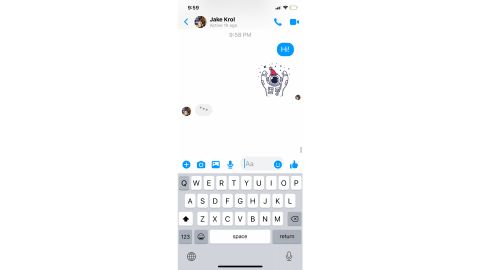 Ellen McAlpine/CNN
To send a message, click the pen and paper icon in the top right corner. Your friends list will pop up and you can tap on a name or search for a name in the search bar to find someone. Once you've clicked a name, you'll see their profile picture appear underneath the search bar. If you select someone by mistake and want to deselect them click the small gray "X." If you want to chat with more than one person, you just have to click on more than one friend. You can chat with up to 250 people at one time.
Once you've selected the person or people you'd like to chat with, click done in the top right corner. Now, your chat will be open and you're ready to chat. You'll know your friend has read your message when their profile picture appears next to your message. If they haven't read it, it'll show up as a blue circle with a white checkmark. If you see a small gray bubble with bouncing ellipses, it means your friend is typing their reply. Aside from your classic keyboard and emojis, click the small blue smiley face to find fun stickers!
To audio chat
Ellen McAlpine/CNN
Follow the same friend selection process as you would to send a chat message. In the top right corner, you'll see a small blue phone icon. You'll need to allow messenger access to your microphone. Once you do, Messenger will call your friend and show the call as ringing until your friend answers. The app will keep a time count of your call until you hang up by clicking the red circle on the bottom right side. If you'd like to put the phone on speaker, the speaker icon on the bottom left side will do the trick. You can call up to 50 people at once using audio chat.
To video chat
Ellen McAlpine/CNN
Next to the phone icon, you'll see a small camera icon. If there's a green circle next to the camera icon, it means your friend is active and using the Messenger app. You can call them whether they're active or not; this is just a handy way of letting you know if they're online or not. Similar to audio chat, you can call up to 50 people using video chat, but your screen will only show up to six people at a time and will change who appears based on who is speaking. There are even fun filters you and your friends can try!
All of these features are available on facebook.com as well. On the top right corner you'll see the messenger icon. Once you click that, you can follow the same steps and you're ready to chat.
Messenger Kids
Ellen McAlpine/CNN
Messenger Kids has a few more steps before you're ready to let your kids chat. Before setting up an account, Messenger Kids gives parents a list of important highlights. Parents have full control over the registration information and this app l stores information regarding messages, videos and photos sent. Facebook also states that a parent or guardian needs to consent for Messenger Kids to collect this information.
Safety
Ellen McAlpine/CNN
For extra security, you can enable an optional four-digit code that your kid can share with friends. If they share this code with their friends, your approved contacts can use it to add your kid to their contacts. This feature is optional, but if you're looking for added security, we recommend it.
Messenger Kids offers guidelines for your child, which include being kind, being respectful, being safe, and of course, having fun.
Ellen McAlpine/CNN
Once you've made an account for your child, it'll add them to your Messenger contacts. Anytime your child wants to add a friend, you can either add them using their code or type their desired friend's name in and it will send a message to your (parent/guardian's) Messenger for approval. If you use their personal code, you'll be all set. If you don't know the code, it'll ask if this friend is a kid or an adult. If it's an adult, it will search the name in the parent/guardian's friends list. If it's a child, you'll have to connect with their parent on Facebook before being able to add their kid.
One of the strongest safety features of Messenger Kids is that nothing can be deleted by your kid. Every chat, photo, video taken or shared is saved within the app.
Games on Messenger Kids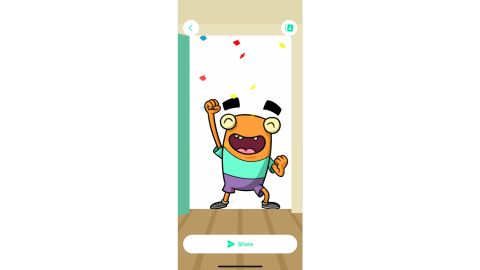 Ellen McAlpine/CNN
If you tap the camera icon in the top left-hand corner and slide through the filters along the bottom, there are fun games your kids can play using your front facing camera. If they want to doodle, your kid can click Play a Drawing to doodle a picture and send it to a friend. There's Play Healthy Habits, where your kid can match photos to help the cartoon character stay clean and germ-free.
Chatting on Messenger Kids
Ellen McAlpine/CNN
Chats your kid starts will appear in large bubbles. The chat features are the same as they are on Messenger. You can send fun stickers, GIFs and emojis. You can find these by clicking the small smiley face in the type box. If you want to add stickers, you can click the small plus sign on the bottom right corner and find fun and free sticker downloads.
Video chatting
Ellen McAlpine/CNN
You can also video chat with Messenger Kids. Click the chat of the person you'd like to see, and on the top right side of the screen, you'll see a camera icon, like you would with regular Messenger. Once you click this, the video chat will start.
Messenger Kids has lots of fun options, including filters, to keep your kids entertained. This app is super intuitive and has tutorials throughout to show you and your kids how to use all of its features. This app is available exclusively through your smartphone app store.
Let's recap
Messenger and Messenger Kids are great apps to use if you're looking to keep in touch with friends and family. Between chatting, audio calls and video calls, you and your family will stay connected virtually while staying socially distant. The safety features Messenger Kids uses will keep any parent at ease while letting their kids stay connected to their friends and classmates.
Note: The prices above reflect the retailer's listed prices at the time of publication.