CNN —
You binge-watched Netflix's "Tiger King" in three days and have already devoured the additional episode? Oh, whoops, maybe that's just us. No matter whose side you took in the series about big cats and the folks who caged them — and those who fought to protect them — Joe Exotic fans and foes alike can agree on one thing: The tales were a riveting escape from current reality for many of us.
Not ready to let go of the bleached mullets and all of those cuddly cubs? All you cool cats and kittens can cue up the series and experience it all over again — and this time, invite friends and family to join you over video calls and cocktails.
Go full-on big-cat theme and dress up as your favorite character, or just put on a cute tiger-print top or fun cowboy hat. Then invite your guests to make a donation to their favorite wildlife or animal welfare charity, like The Humane Society, World Wildlife Fund, ASPCA or Wildlife Conservation Society.
Keep scrolling for a roundup of "Tiger King"-themed clothes, accessories and party supplies.
Oakley Men's Mark Novelty Snap Back ($35; amazon.com)
Jeff Lowe's signature Oakley cap is permanently emblazoned in our brains. This one is pretty close to the original, too.
Tie-Dye Bandana ($12; urbanoutfitters.com)
And you'll need bandanas to go underneath that Oakley cap.
Animal Print Vinyl Bucket Hat ($24; urbanoutfitters.com)
A few of these will come in handy for other occasions, hopefully long after quarantine, too.
Women's Tropicwear Outback Hat ($44.95; llbean.com)
Channeling Bhagavan "Doc" Antle — and helpful for shielding the sun on solo walks come warmer spring days.
Camel Ranger Wool Hat ($29.98, originally $59.50; luckybrand.com)
After the party, you can adopt it for a perennial cool-urban look.
Asos Design Cowboy Hat ($32; asos.com)
You'll need a few flamboyant print cowboy hats; this is a good one to order in multiples.
Floral Headband ($3.50; etsy.com)
If you can't get fresh flowers right now, you can make do — and pay homage to Carole Baskin — with these floral headbands.
Hey All You Cool Cats And Kittens Sweatshirt ($19.67; etsy.com)
And we think she'd appreciate this sweatshirt, too.
Coofandy Men's Western Shirts (starting at $12.99; amazon.com)
How many embroidered Western shirts is too many for Joe Exotic?
Inc Sequin Zebra T-Shirt ($41.65, originally $59.50; macys.com)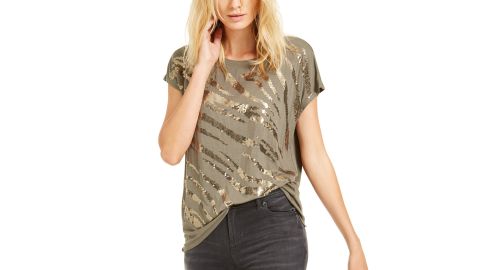 For the full Siegfried and Roy effect.
UO Western Rayon Button-Down Shirt ($19.99, originally $59; urbanoutfitters.com)
A subtler version of the Western shirt that will be super cute come fall, too.
Bershka Fringed Jacket in Tan ($60; asos.com)
The transitional layer every Western-influenced queen needs.
ARD Champs Men's Leather 10 Pockets Motorcycle Biker Vest ($32.99; amazon.com)
Throw on a black leather vest over any item, and you're party-ready.
Vintage Cotton Terry Crewneck Sweatshirt in Leopard Print ($40, originally $69.50; jcrew.com)
This may be in regular rotation in your new Netflix-and-Zoom life, for the comfort factor alone.
Liuhond Skinny Slim Fashion Men's Ripped Jeans ($34.99; amazon.com)
Joe's ripped distressed denim is a look we frankly forgot we needed right now.
Topman Bandana Skinny Fit Stretch Jeans ($50.98, originally $85; nordstrom.com)
These ripped jeans aren't just good for channeling Joe, but will last you long after the show's hype has died down as well.
Ruifan Non-Pierced Stainless Steel Clip-On ($9.99; amazon.com)
Six different sizes of clip-ons, for your ears, your nose, your — wherever.
Set of 3 Temporary Tiger Tattoos ($2; etsy.com)
We know Joe and the gang love their tattoos, so here's to getting in the spirit.
Bevi Sports Sunglasses ($19.95; amazon.com)
Mirrored sunglasses shield your eyes — and a million sins.
Rimmel Scandaleyes Waterproof Gel Eye Liner Pencil ($3.99; target.com)
Those big gorgeous cats came by their black-lined lids naturally; Joe Exotic might have chosen this waterproof option.
Hey All You Cool Cats and Kittens Mug ($12; etsy.com)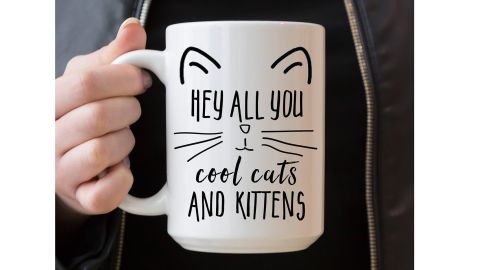 For your coffee or your wine during this party, here's a mug that can take it all. Also, check out this wine glass with an identical message.
Joe Exotic Scented Candle ($20; etsy.com)
Despite the label saying this smells like a fresh-cut mullet and raw meat, the actual aroma is of leather and fruit, which is probably for the best.
Tiger Stripe Party Supplies Pack ($19.99; amazon.com)
Enough supplies for multiple virtual parties, and all the reunions coming later, too!
Martha Stewart Collection Animal Print Faux Fur Throw ($38.93, originally $130; macys.com)
A very tasteful faux fur throw at an excellent discount.
Wappinger Animal Print Handmade Tufted Wool Yellow Area Rug ($95.99; wayfair.com)
Cute for a playful kids' room later on, too.
Melissa & Doug Tiger Plush Toy ($71.99, originally $79.99; kohls.com)
Doubles as a body pillow when times get tough.
Diet Dr. Pepper 6-Pack (prices vary; instacart.com)
Mixes well with spirits — or just a midday work break.
Note: The prices above reflect the retailers' listed prices at the time of publication.