CNN —
With the addition of the 2020 iPhone SE, Apple's iPhone lineup now consists of phones with starting prices ranging from $399 to $1,099, with the maxed-out iPhone 11 Pro Max setting you back $1,449.
But with so many different options in Apple's line, each one with its own set of features and capabilities, how do you decide which iPhone is right for you? That's what we're here for. We'll walk you through each model, what it can and can't do, and who it's best suited for. Let's dive in.
Best iPhones at a glance:
Best bang for your buck: iPhone SE
The newest member of the iPhone family is a throwback, complete with the iconic home button. It's also the cheapest iPhone in Apple's lineup, starting at $399. Don't let its old school look fool you, the new iPhone SE is just as powerful as the iPhone 11 line. It uses Apple's A13 processor, with a 64GB base model. You can bump up the storage to 128GB for $449 or 256GB for $549.
The 4.7-inch screen is ideal for those who don't just can't get on board with big phones. There's a single 12-megapixel camera on the back that can take fancy portrait mode photos, just like more expensive iPhones, and record up to 4K video. The 7-megapixel front-facing camera is also capable of capturing portrait mode photos. If you're hoping the SE's camera will shine bright with night mode photography, we have bad news — that feature is reserved for the iPhone 11 line.
The second-generation SE also supports wireless charging and will fast charge at up to 18W with a compatible wall adapter. The aluminum and glass housing has an IP67 rating for dust and water resistance. You can pick from black, white, or red.
Apple's newest phone is perfect for teens, tweens, or someone who is tired of the rising smartphone prices. At $399, and specifications on par with the high-end iPhone models, it's one heck of a deal.
Apple will begin taking preorders this Friday, April 17. Orders will begin to arrive on April 24.
Best color options: iPhone XR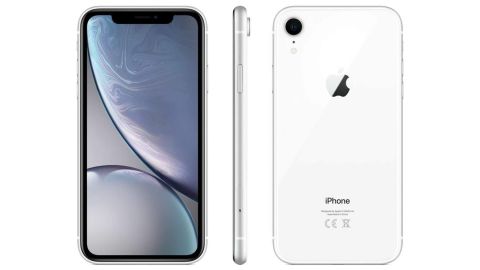 The iPhone XR made its debut in 2018 alongside the iPhone XS. Apple kept it in the lineup after the iPhone 11 line was announced in 2019, dropping its price to $599.
The XR comes in six fun colors: White, black, blue, yellow, coral and red. You have the option of 64GB or 128GB of storage, with the latter bringing the price up to $649.
A 6.1-inch display spans the front of the phone, broken up only by a notch at the top where the True Depth camera is housed, allowing you to use Face Unlock to unlock your phone, sign in to apps, and approve Apple Pay purchases.
The housing has an IP67 dust and water resistance rating, meaning it should survive being submerged for 30 minutes at a depth up to 1 meter.
On the back of the XR is a single 12-megapixel camera that's capable of taking portrait mode photos with the fancy blurry backgrounds, and recording video at up to 4K resolution.
The iPhone XR is caught in the middle of the iPhone SE and the iPhone 11, at least when it comes to price. You're better off spending an extra $100 or saving yourself $200 and getting newer hardware in the iPhone 11 or iPhone SE. Unless, of course, those bright colors are just calling your name. In that case, we can't blame you.
Best battery life: iPhone 11
For most users, the iPhone 11 finds the sweet spot of price and functionality. It uses the same processor as the iPhone 11 Pro line, making it just as fast and capable as the more expensive offering. It has a 6.1-inch LCD display, which won't look as clear or sharp as the iPhone 11 Pro's screen, but that's not to mean it looks bad. In fact, after a day or two of use, we'd wager you won't even notice the difference.
The iPhone 11 starts at $699 for the 64GB model, with the 128GB model priced at $749, and the 256GB model priced at $849. It, too, comes in fun colors like white, black, green, yellow, purple or red.
There are two rear-facing cameras, one wide and one ultra-wide. The wide camera is the same standard camera setup we've had on iPhone's for years, but the ultra-wide camera allows you to zoom out on a photo or video.
With an IP68 rating, you can dunk the phone in up to 2 meters of water for an hour and it'll keep working after you dry it off.
As we stated back in September when the iPhone 11 and 11 Pro launched, this is the iPhone for most people. It's not overly expensive, and you don't have to forgo a ton of features in order to save.
Best camera and display: iPhone 11 Pro
As far as Apple is concerned, it gets no better than the iPhone 11 Pro or 11 Pro Max. These two phones have a triple camera array on the back and an OLED display.
Two of the cameras are the same as the iPhone 11 — wide and ultra-wide — but the 11 Pro also has a telephoto lens. The ultra-wide lets you zoom out, while the telephoto lets you zoom in. All three are 12-megapixels,
The 11 Pro has a 5.8-inch display, while the 11 Pro Max display measures 6.5-inches. Both feature Apple's Super Retina XDR OLED display that results in clearer looking images, with brighter colors and deeper blacks.
Both phones have the same IP68 rating as the iPhone 11.
iPhone 11 prices start at $999 for 64GB of storage, jumping up to $1,149 for 256GB or $1,349 for 512GB. The iPhone 11 Pro Max follows the same pattern, starting at $1,099 for 64GB, $1,249 for 256GB and $1,449 for 512GB.
The gist of the difference between the standard 11 and the 11 Pro comes down to the camera and display, but they're significant improvements and, for many, justify paying extra. If you're an avid photographer or are just someone who wants to have the latest and greatest, there's no other option than the 11 Pro.
Bottom line
To be clear, you can't go wrong with any of Apple's current iPhone line. Each model has its own appeal, whether it's affordability and a home button in the iPhone SE, or a respectable compromise of features and pricing in the iPhone 11. We have no doubt you'll be happy with whichever model you end up with.
Note: The price above reflects the retailer's listed price at the time of publication.