CNN —
CNN Underscored has interviewed experts to find the best options to help you cope during this uncertain time. Find all of our coronavirus-related coverage here, and let us know your thoughts here.
At this point, most of us are stuck inside self-quarantining, which has made things like online grocery delivery and virtual birthday parties the norm. As many of us go weeks without human interaction, we've resorted to buying plants, practicing self-care and playing board games in an effort to boost our mental health. On top of that, we've also found ourselves exercising more in the comfort of our own home.
Since we don't all have enough space to fit an entire workout machine or standing bike, we decided to look for home gym equipment that can provide a killer workout and then fold up neatly and easily be stored in the smallest apartments, as well as picks that are not only beloved by reviewers but come from brands we trust. From foldable treadmills and rowers to bikes that act as a work desk, here are some great options that tick all the boxes.
Space Saving Adjustable Rower ($249.99; sharperimage.com)
This compact rower folds together for slim storage, and when it's time for a workout, you can hit major groups like legs and the back with one simple motion. Plus, it comes with a built-in tablet stand so you can watch your favorite shows (perfect if you've been holding out on "Tiger King") and movies while you're breaking a sweat.
Perfect Fitness Perfect Pushup Elite ($25.98, originally $27.39; amazon.com)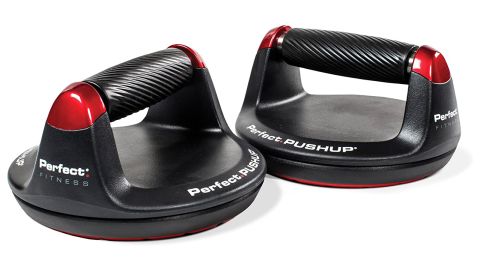 With just a little bit of floor space you can get a hardcore workout with the Perfect Fitness Perfect Pushup Elite. The stands rotate slightly to help you maintain perfect form through the exercise. Plus, they're small and can be tossed in the closet when you're pumped out.
Magnetic Foldaway Treadmill ($299.99; sharperimage.com)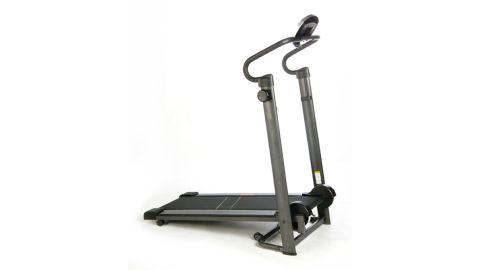 There's nothing like a treadmill for a quick cardio workout, but if you're short on space, this foldable machine folds nearly flat so it can slide right into your closet. Plus, this treadmill doesn't have to be plugged in so you can put it anywhere you want (even if that means in the middle of the kitchen).
Gaiam Performance Dry-Grip Yoga Mat ($69.98; gaiam.com)
All you need for a killer yoga workout is a little bit of floor space and a nice yoga mat. This one from Gaiam provides support and stability while wicking away moisture so it stays dry and grippy.
Full Motion Slider ($279.99; sharperimage.com)
This machine takes the movement of an elliptical and gives it 360-degree functionality with a ball and joint design. Work your legs, hips and abs with a fun workout, plus it folds up for easy storage.
Xterra Fitness FB350 Folding Exercise Bike ($151.99; amazon.com)
If you have an empty corner, you have enough room for this compact, folding exercise bike. It has a small footprint of 20.5 inches by 20 inches to save the maximum amount of space.
Escape Fitness Multi Purpose All in 1 Challenging Deck for Total Body Workout ($349.99, originally $483.99; target.com)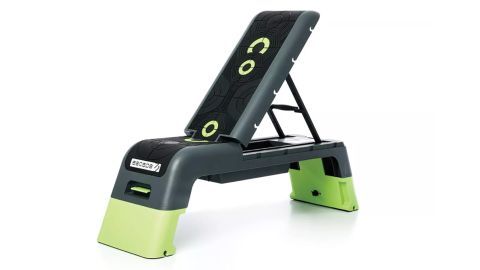 This space-saving workout bench has three different positions and can also be used as a box for step workouts. It even has built-in storage space so you can put your other workout gear neatly inside.
Laptop Workout Desk and Recumbent Bike ($299.99; sharperimage.com)
This workout bike has a large desk so you can keep working as you pedal, pedal, pedal. It also folds up and rolls away for a workout you can break out whenever you need it.
Letsfit Resistance Loop Bands (starting at $15.99; amazon.com)
Resistance bands are an easy way to get in a good stretch or work out those arm and leg muscles. They're small enough to roll up and throw in a drawer so they take up virtually no space.
The Most Space Saving Stationary Bike ($299.99; sharperimage.com)
For people who are incredibly space-deprived, this ultra-compact stationary bike packs down into a small square measuring 25.5 inches long by 7 inches wide by 23 inches high. It's super slim so you can tuck it in between furniture, or slide it right into your closet.
Total Gym Supreme ($599.70; totalgymdirect.com)
This home gym has 12 levels of resistance and features over 60 exercises. Train all muscle groups for a varying, difficult workout. And the Total Gym Supreme folds up so you can tuck it away when not in use.
Leg Sculptor ($69.99; sharperimage.com)
If you lack space and time, this small device can give you a nice, toning workout for your legs while you work or watch TV. Providing a low-impact abduction workout, you can slide your feet against resistance bands horizontally or vertically, and when you're done it folds down flat so you can tuck it out of sight.
Note: The prices above reflect the retailer's listed price at the time of publication.