CNN —
Alongside launching the iPhone SE, Apple isn't forgetting about the Magic Keyboard, the much-anticipated accessory that was announced alongside the 2020 iPad Pro a few weeks back.
The Good News? Orders are now open for the Magic Keyboard in both sizes and orders will start shipping as soon as next week.
The better news? Well, it might just make the iPad Pro a true computer competitor. It's still an accessory case that will attach magnetically to the back of the iPad, and provides you with a trackpad and a keyboard. The keyboard isn't a cloth one (like what the Smart Keyboard delivers), instead it's the same formula for a keyboard that is employed on the 2020 MacBook Air and 16-inch MacBook Pro. It's using a scissor-switch mechanism that allows for 1mm key travel and features hard keycaps. It should be punchy and a smooth typing experience.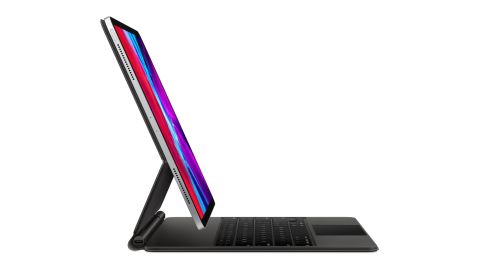 The built-in trackpad will give you yet another way to interact with the iPad. We loved our experience with it on the iPad Pro, and you can read our full thoughts in our review. But having it built into the same accessory as a keyboard might make it even better and more ergonomic. The iPad Pro will actually hover at different angles, so it won't need to sit on the same surface as a keyboard.
Lastly, the best news is that the Magic Keyboard supports the new 2020 iPad Pro, and the previous iPad Pro line from 2018. Those iPads are still a force to be reckoned with and are as zippy as ever. Pairing them with a Magic Keyboard will no doubt deliver a really nice update.
Orders of the Magic Keyboard for iPad Pro are now open and should begin shipping next week. And stay tuned for a full review of the Magic Keyboard on CNN Underscored.
Note: The price above reflects the retailer's listed price at the time of publication.